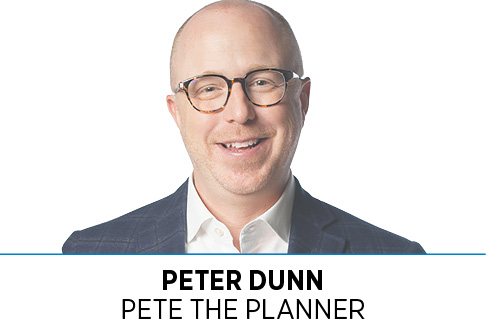 One Sunday when I was 12, my dad made me get out of the car and walk the rest of the way home from church because I had been annoying everyone in the car, especially my sister. I was given ample warnings, then my dad hit the brakes, told me to get out, and he took off.
When I got home about 40 minutes later, my dad was doing some yardwork. Hoping he had illuminated the problem and helped me find a solution, he asked me what I learned that fateful day.
"To wear socks to church," I declared.
I chose to solve the byproduct of the problem—instead of the main problem. I saw that again last week.
I am not a cynical person. I tend to look for the good. And truth be told, there is a lot of good in President Biden's student loan forgiveness order. Yet I'm struggling to get past what this forgiveness means for the future of college expenses and the unintended or unaccounted-for consequences for future college students and their families.
If you were to distill the student loan crisis down to its essence, you would find two major problems. Oddly, one of the problems is actually a byproduct of the other. The main problem is the lack of college affordability (true affordability, not loan-driven affordability), and the byproduct is copious amounts of student loan debt.
Biden's forgiveness plan partially addressed the byproduct. I'm personally not interested in exploring the prudence or fairness of that decision. In my opinion, sometimes policy decisions benefit your household, and sometimes they don't. When they do, households that don't benefit often underwrite your good fortune, and vice versa.
However, I am interested in exploring how the main problem might get worse because of this forgiveness plan.
There are two primary ways in which the problem will get worse. First, the higher ed "buyer" is often a new buyer. This is to say, they come to their buying decision with very little context and very little learned experience. If one of the few pieces of context they have is, "Student loans are forgivable," you could surmise they're going to be more willing to take on more debt. At no point last week did you ever hear anyone utter, "This is a one-time deal." Instead, it felt as much like a new precedent as anything else. Parents and students will now take on school debt more willingly, hoping their loans are forgiven in the next batch.
Again, the price of a degree is the main problem. This policy is likely to increase the cost of college. Author Jeff Selingo tweeted this last week: "College president to me just now: 'Hopefully this takes the pressure off higher ed for now to cut costs and prove our ROI.'"
Yeah, that's a problem.
College presidents have been under immense pressure to keep tuition increases under control. Back in 2004, tuition inflation was just over 9%. It teetered in that range for a few years until a concerted effort (driven by societal pressure) got tuition inflation more under control, back around 1% to 2%. That being said, according to the U.S. Bureau of Labor Statistics, tuition and fees are more than 140% higher than 20 years ago.
You could argue the accessibility of student loans has led largely to the tuition increases. In fact, the Federal Reserve Bank of New York did just that in its 2017 study. The study found "the average tuition increase associated with expansion of student loans is as much as 60 cents per dollar."
Needless to say, this is a complicated issue. Student debt is what made college more accessible for lower-income families, yet that accessibility made tuition more expensive (less accessible). And despite the relief this policy will provide for millions of Americans, reports suggest the aggregate student loan total will be right back to where it was pre-forgiveness, just three years from today.
Watching everyone scream past each other last week wasn't fun; it never is. I'm thrilled for the families who found relief from the president's policy. But I'm still struggling to see how we collectively solve the root cause of student loan debt.
Wearing socks to church wasn't the real lesson. I was supposed to stop annoying my sister. I still haven't learned that lesson. Just ask her.•
__________
Dunn is CEO of Your Money Line powered by Pete the Planner, an employee-benefit organization focused on solving employees' financial challenges. Email your financial questions to askpete@petetheplanner.com.
Please enable JavaScript to view this content.