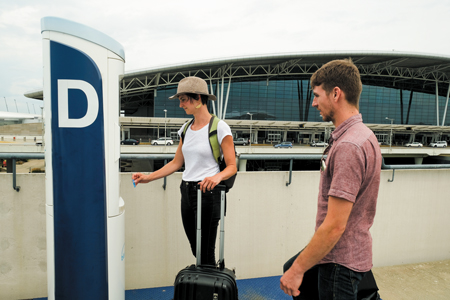 When electric-car-sharing service Blue Indy launched here in 2015, company officials made lofty predictions to the taxpayers that invested millions to help launch the service: By 2020, the company would operate in the black and have at least 15,000 members, 200 stations, and 500 electric cars on the road.
But more than four years in, profitability is still elusive. Blue Indy, backed by French logistics company Bollore and billionaire Vincent Bollore, has yet to see a money-making year, and the company's top Indianapolis official says he can't predict when that will happen.
Blue Indy has 3,000 active members, just a fifth of the total it projected necessary for profitability. It has just 92 stations and 200 cars—80 fewer cars circulating than two years ago.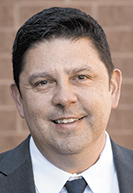 Profitability is "not something that we expect to happen in the next 12 months," said James Delgado, managing director for Blue Indy and vice president of business development for Bollore's Blue Systems.
But Delgado said the company—which since launching here has seen the demise of its Paris car-sharing service but a successful launch in Los Angeles—is still committed to its investment in Indianapolis long term.
"We still have a lot of work to do to grow the membership base here and change the culture from a car-ownership culture to a shared-use and mobility culture," Delgado said.
"Profitability is absolutely one of our goals. It is really a long game that we're playing in the mobility area. We're fortunate we have the backing of the Bollore group that is committed to electric mobility here in Indianapolis."
Blue Indy said it sees signs of progress.
The company saw a 12% increase in rentals from 2017 to 2018, from about 46,000 to 51,600. So far this year, rentals are at 27,000 and on track to eclipse the 2018 total, even though several Blue Indy stations have effectively been shut down because of IndyGo Red Line rapid-transit bus line construction.
The company also has earned more revenue than projected by selling advertising on its vehicles.
And it is having particular success with the younger generation. Its youth and student membership renewal rate is 71%, higher than the overall annual renewal rate of 57%. One of its most popular stations is at IUPUI, which it is hoping to expand.
"They're the folks zipping around on scooters," Delgado said. "Our opportunity is really to develop those members and have them be advocates for the use of shared mobility.
"That generation is really our opportunity, and as Indianapolis continues to grow and innovate, we'll continue to benefit from that."
In a quest to further boost usage, company officials soon will roll out a dynamic-pricing model to attract users who want to take cars for longer periods.
They also plan to add a feature that will allow users to take another car from a station if the one they were assigned isn't clean.
In addition, Blue Indy officials see the soon-to-open Red Line as an opportunity to cultivate more customers, not a threat.
"When you get people using more and more public transit options," Delgado said, "you get people really believing and understanding that maybe they don't have to have a car, or maybe [their family] doesn't have to have two cars."
Return on investment
Blue Indy must eventually turn profitable for the city to recoup the $6 million it invested to help launch the car-sharing service. The controversial deal came at the end of former Republican Mayor Greg Ballard's administration, and spurred a lawsuit from the Marion County auditor, a Democrat, that was eventually dismissed.
In return for the $6 million, Blue Indy promised to share profits with the city—once its own investment was recouped and Indianapolis Power and Light recovered 125% of the more than $3 million in ratepayer hikes that made the charging stations possible.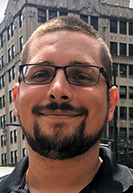 Blue Indy, which has said it invested more than $40 million of its own money to launch the service, did not disclose its annual revenue or what performance it would need to achieve to recoup its investment. So it's unclear how far off profit-sharing might be.
City-County Council Vice President Zach Adamson, who expressed major concerns about the subsidy back in 2015, said he isn't holding his breath about recouping the city's investment.
"I knew it was going to be a long shot to begin with based on what I observed about their model," Adamson said. "I think this is just lost money."
Indianapolis' car-ownership culture remains Blue Indy's "biggest challenge" to substantially growing the service, Delgado said.
"This is a long-term battle in not just Indianapolis, but a lot of cities across the Midwest and across the country," he said.
"Car ownership is like home ownership. It's one of those milestones in life that has always been written into our DNA. Changing that culture remains priority number one."
Austin Gibble, a transit advocate, IndyGo employee and Blue Indy user, sees the issue differently.
"I don't typically say there's a culture problem," he said. "Changing the culture requires changing the options. We're a city where you almost have to own a car to function. When we have a mobility toolbox that enables people to choose the mode based on what is best for them on that particular trip, we'll start seeing more of that adoption."
Tying it all together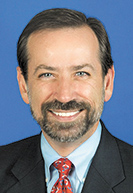 The transportation landscape here has begun to shift. When Blue Indy launched, the Red Line hadn't yet received federal funding, dockless scooters were three years away, and Pacers Bikeshare was just a year old.
Now, transportation advocates are working on ways to tie all those options together through the Personal Mobility Network, an initiative of the Central Indiana Community Foundation.
Among other projects, the Personal Mobility Network is working on connecting transit options using smartphone technology that would allow integrated trip planning and a common payment system.
Ron Gifford, project manager for the network, said Blue Indy is a "critical piece" of the initiative and is encouraged that the car-sharing company is actively participating in it.
"There are just some places you can't get to easily unless you get there by car, because public transit doesn't go there or it's too far away to ride a bike or take a scooter," Gifford said.
"There are Blue Indy sites close to Red Line locations, close to Pacers Bikeshare. Once we get this infrastructure in place, it becomes easier to begin to literally integrate those pieces into a more comprehensive transportation network."
Blue Indy officials said that, when dockless scooters appeared in Indianapolis last summer, they started seeing scooters parked near their stations.
"What that told us is, people were using the scooters for a first- and last-mile solution to get to a Blue Indy station," Delgado said.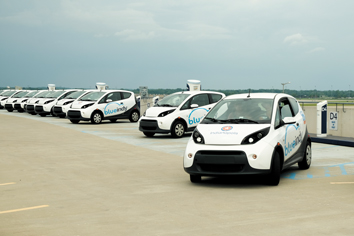 Courtney Hawk, a health care consultant who lives in Indianapolis but travels to Nashville, Tennessee, weekly for work, said Blue Indy has allowed her family to become a "one car, multiple bikes, plus Blue Indy household."
Hawk often takes a Blue Indy car from her home in Fall Creek Place to the airport, though she said she used to take one even more frequently when her family lived in Lockerbie Square, which had more Blue Indy stations nearby.
"I love that it's a car we don't have to maintain that I can get into, drive and leave, and don't have to think about," Hawk said.
"We have a lot of friends that have never driven one and it's mind-boggling to me, because it's cheap and efficient and you don't have to own something. I'm glad they've stuck around."
Paris pullout
This isn't the only place Bollore has struggled with car-sharing.
Autolib, which Bollore launched in Paris in 2011, closed seven years later after city officials refused to contribute money to offset a revenue shortfall.
On the other hand, Bollore's 2017 launch of BlueLA in Los Angeles has gone well, Delgado said.
Los Angeles Mayor Eric Garcetti praised the service last spring, saying it has brought "new transportation options to neighborhoods on the front lines of climate change."
Delgado said the Paris service was "a highly politicized partnership" and the pullout was "not well received by the hundreds of thousands of users that used the service in Paris."
He added: "Here in the U.S., in Indianapolis and L.A., they were done right and in a way that the city and Blue Indy benefit from."
Blue Indy officials said they don't plan to deviate substantially from their current playbook as they strive to boost ride counts, which have totaled 167,000 since launch.
Delgado said the service envisions adding "one or two stations here or there," particularly in areas of downtown seeing significant development.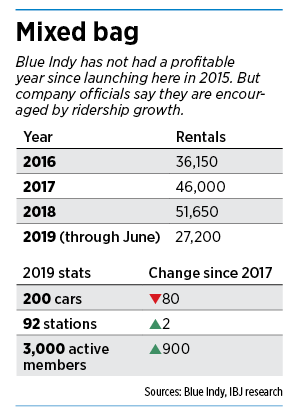 One of those is the eastern end of Massachusetts Avenue, where the $300 million Bottleworks District mixed-use development is under construction. It's an area "where we know there will be a high number of people living and going to restaurants and entertainment," Delgado said.
Longer term, Blue Indy might expand service to the suburbs. Delgado said he met with Carmel officials about bringing the service there, but the area still has "challenges in terms of population density."
"To open one station in Carmel doesn't do much good," he said. "You have to connect the cities, Carmel and Fishers and Zionsville and Indianapolis. That's a few years off. I'd personally love to see that happen."
Experts who've studied the shared-mobility industry say Blue Indy's struggles aren't surprising given the difficulties encountered by operators elsewhere in the country.
Maven, a car-sharing company backed by General Motors, recently pulled out of eight of its 17 markets.
And this spring, Car2go, owned by Daimler AG, announced a $1.5 billion merger with BMW's car-sharing service, Drive-Now.
"Car-sharing is a tough business," said Nick Nigro, founder of Washington, D.C.-based Atlas Public Policy, which researches electric vehicles and personal mobility. "I would have trouble speculating on what [Blue Indy's] runway looks like and how long they would be willing to lose money.
"We're a bit in the wild, wild west days of shared mobility," Nigro said. "It's not clear exactly who the winners are going to be."•
Please enable JavaScript to view this content.