While the pandemic has devastated Indiana's tourism and hospitality industries, the picture is decidedly mixed for manufacturing—the sector that constitutes more than a quarter of the state's gross domestic product.
Many Indiana manufacturers have curtailed production and furloughed workers as a result of COVID-19, especially initially. But for a variety of reasons, the industry has seen nowhere near as many closures and layoffs as have plagued restaurants and hotels.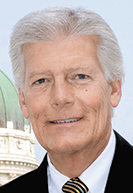 "Generally, the manufacturing sector is doing well—not all the way back yet, but doing well as compared with other sectors," said Brian Burton, president and CEO of the Indiana Manufacturers Association.
In 2019, manufacturing was responsible for 26.9% of the state's GDP and employed more than 16% of the state's workforce.
Designated as essential businesses, most manufacturers were able to remain in operation even as stay-at-home orders forced other industries to pause. And some local companies say the industry was in a better position to handle a pandemic-related slump because it was already addressing a slowdown brought on by international trade wars.
But different manufacturers are feeling varying degrees of pandemic pain, based in large part on what markets they serve.
Indianapolis-based Major Tool & Machine, for instance, has been on a growth tear in recent years that hasn't slowed in the pandemic.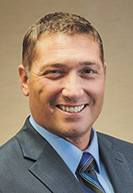 "Things are continuing to be very strong for us," said President Mike Griffith. "We've not seen, really, any appreciable impact at all from COVID-19."
The company, which has just more than 400 employees, has continued hiring and expanding its workforce the past few months.
Major Tool & Machine offers welding and fabrication, precision machining, engineering and other services for customers in a variety of markets, including aerospace, defense and energy.
Those markets are a big part of why the manufacturer is doing so well right now, Griffith said. A lot of its customers are federal agencies such as the Department of Defense and the Department of Energy. "We're talking about government budgets. There's still money being spent there."
At the same time, he said, his company doesn't work in the automotive or commercial aircraft markets, both of which have been hurt by the pandemic.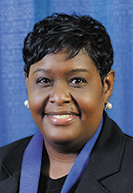 Honda Manufacturing of Indiana LLC, had to shut down last spring, but operations are back to normal, said Honda spokeswoman Yolanda White.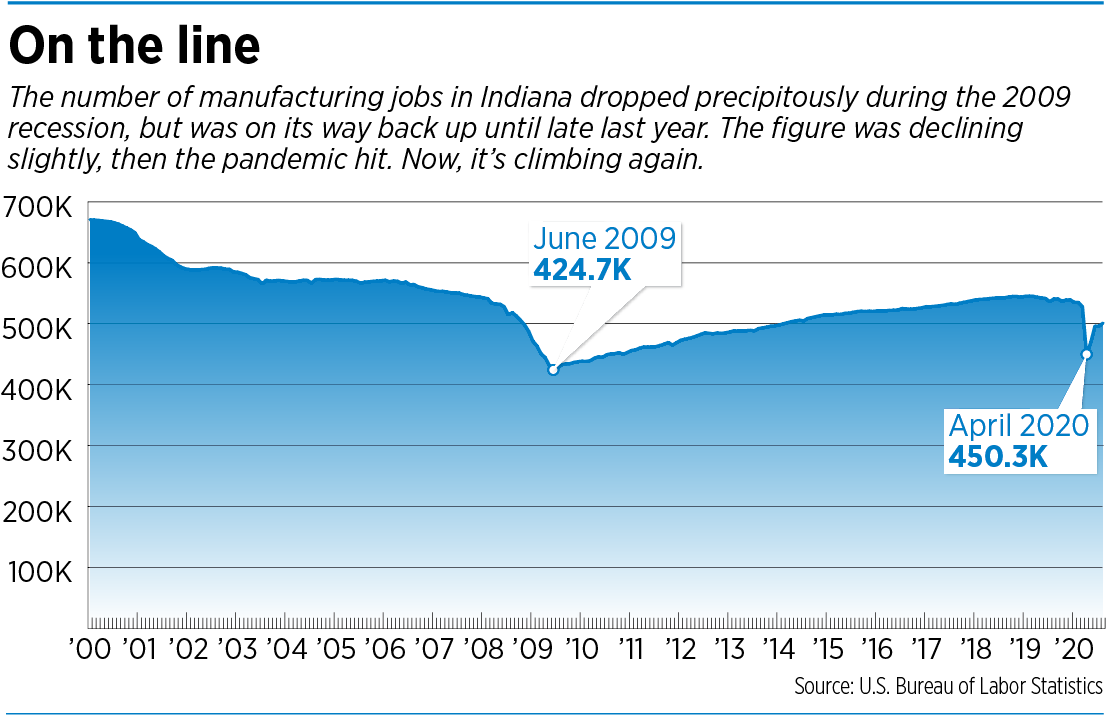 The Greensburg plant suspended auto production for seven weeks beginning in March, White said, but actually added extra production days over the summer to meet the pent-up demand, as did all the automaker's U.S. and Canada plants.
In contrast, Indianapolis-based EnerDel Inc., which makes lithium ion batteries for the transit and off-highway markets, said it's seen a sharp downturn.
"We actually had a pretty good first quarter for our business, but then the second quarter just really, really took a dive," said EnerDel CEO Michael Canada.
Transit systems nationwide have experienced sharp ridership declines and service cutbacks because of the pandemic.
"As [the transit industry] slowed down, the need to continue to update the fleet—with EnerDel batteries or any technology—has slowed down," Canada said.
EnerDel is a privately held company, and Canada declined to disclose revenue. But he said the pandemic has led to "significant shifts" in revenue.
The company also saw a slowdown in its "last-mile delivery" truck market and its off-highway market.
As a result, EnerDel slowed production in the second quarter. It also laid off about 20% of its workforce at the end of July, including both employees and contract workers. The company currently has about 75 employees in Indiana and another 200 or so in South Korea.
Still, Canada said he's optimistic. "We believe there are signs that things will start to rebound here at the end of the year and the first part of next year."
Multiple factors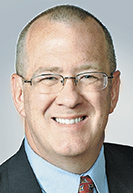 Ball State University economist Michael Hicks offered multiple reasons why the pandemic hasn't been as severe for manufacturing as for other industries.
For one thing, said Hicks, director of the school's Center for Business and Economic Research, consumer spending shifted in ways that benefited manufacturers.
Typically, consumers don't spend as much on durable goods during a recession—but that hasn't been the case in the current downturn, Hicks said.
In the early months of the pandemic, stay-at-home orders meant consumers reduced or eliminated spending on travel and restaurant meals. At the same time, the federal government offered relief in the form of enhanced unemployment benefits and stimulus checks.
"Household consumption patterns shifted at least temporarily away from services," Hicks said. "People spent more money on things."
And since manufacturers are the ones making those "things," the industry saw a boost.
Indiana's manufacturing economy also is getting a boost from the recreational vehicle industry, which is centered in Elkhart. RV makers are going gangbusters, in part because consumers see the vehicles as a way to travel with minimal exposure to COVID-19.
In its latest forecast, issued in late September, the RV Industry Association said it expects to ship 424,400 vehicles this year, which would represent a 4.5% increase over 2019. The boom is expected to continue into 2021.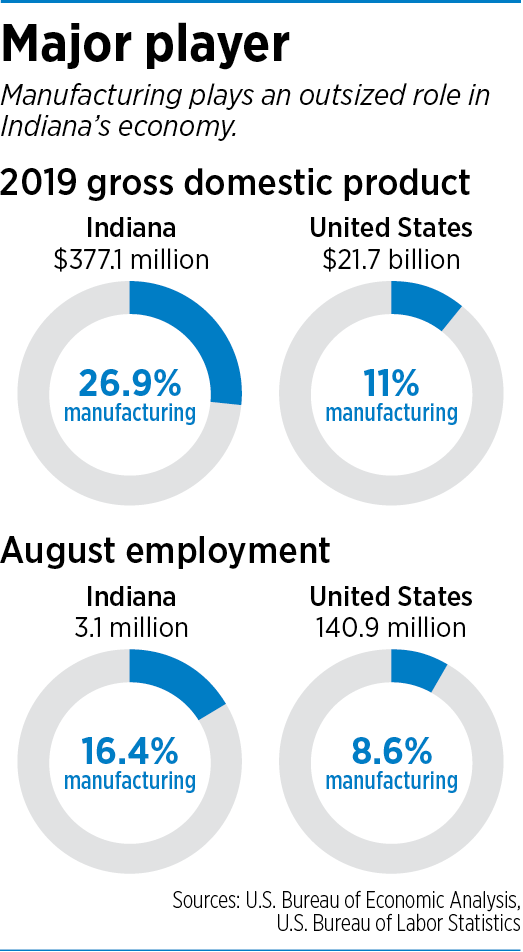 What's unknown, Hicks said, is whether those patterns will hold up. People who spent on home-improvement supplies or a new vehicle during the pandemic won't necessarily repeat that spending next year, which could lead to a slump.
In fact, U.S. manufacturing had been dealing with a trade-induced slump for more than a year before COVID-19.
Indiana's manufacturing employment, which was just above 545,000 during the first three months of 2019, declined to 540,000 by the end of the year. In January and February of 2020, it had dipped to 535,000.
"Because the industry had been under significant pressure for a year or longer, since mid-2018, a lot of the cuts that would have happened in February, March, April [because of the pandemic] had already happened."
How it's played out
That was the case at Indianapolis-based Peerless Pump Co., which has about 250 local employees. The company makes pumps for markets that include fire protection, municipal water plants, and industrial and agricultural uses. Its parent company is Denmark-based Grundfos.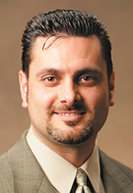 Leroy Williams, vice president of operations and engineering, said Peerless saw a slowdown about 18 months ago, leading it to some restructuring and job cuts that put the company in better shape to face the current downturn.
When the pandemic hit, Peerless did see a drop in demand for its products that are used in commercial buildings. Because that market represents about 30% of business, the company had to cut back production and furlough some employees for four weeks, Williams said.
But by that time, federal coronavirus relief was available, including $600-a-week supplemental unemployment payments. With that, Williams said, most furloughed employees made about the same as they would have earned at work.
Peerless has not had to permanently eliminate any positions during the pandemic, he said, and in fact has done some hiring.
Columbus-based Cummins Inc. also said a pre-pandemic slowdown put it in better position to weather the pandemic.
The company, which makes diesel engines and other types of power systems, began to see orders slow last summer and continue into this year.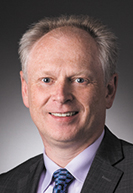 "We started, in 2019, to see that we were going to have to do something different," said Peter Anderson, Cummins' vice president of global supply chain and manufacturing.
In the fourth quarter of 2019, the company announced it would cut 2,000 salaried positions by the end of the first quarter of 2020 as part of a plan to reduce annual expenses by $250 million to $300 million.
By the time COVID-19 hit, Cummins was well on its way to carrying out significant cost-cutting.
"I think it'd be fair to say it helped fairly significantly" in mitigating the effects of the pandemic, Anderson said.
Cummins took other actions once the pandemic began, including suspending production for more than a month, starting in China in mid-January. The shutdowns hit the United States, including Indiana, in March.
The company also instituted pay cuts for hourly office workers and salaried employees. Pay levels were restored to normal for all employees by Oct. 1.
Anderson said revenue has started to rebound, and by the end of September, North American sales volumes were back up to where they were in January and February. "It started to pick up, really, from June onwards and we've seen a good uptick across all areas in North America."
Mixed outlook
Looking ahead, Hicks said he doubts Congress will pass another round of stimulus spending that is as robust as the first.
He also predicted more economic damage, as state and municipal governments face big budget shortfalls caused by the current slowdown.
Both of these situations will be hard on manufacturing, Hicks said.
But those inside the industry are more optimistic.
The Indiana Manufacturers Association's Burton pointed to a monthly COVID-19 manufacturing survey his organization has conducted the past several months.
When asked for their outlook on the health of their business over the next six to 12 months, 16% of 73 respondents in August's survey said they were very optimistic, up from 7% of 123 respondents who said so in May.
Another 36% said they were optimistic, up from 27% in May. And 41% of August respondents said their outlook was stable, as compared with 42% in May. Only 8% described their outlook as pessimistic, as compared with 26% in May.
At Cummins, Anderson said COVID-19 has forced the company to rethink its operations, which he believes is a positive thing in the long run. "We've been through many down cycles, and we've come out of each one of them stronger."•
Please enable JavaScript to view this content.