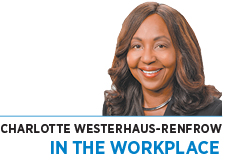 More people are quitting their jobs than ever before. Those that stay may be looking for a different experience than they had before the pandemic started, especially as more employees return to pre-pandemic, in-person work arrangements.
The current market for proficient and skilled workers is tight, and it is getting increasingly competitive. These days, your company or organization probably won't be able to adhere to practices that telegraph to your top performers: "You get what you get, or you don't have a fit."
Framing up your business practices through the lens of positive and productive employee experiences can help your company manifest a best-of-the-best approach to attract and retain top talent, so "they get what they need, so they don't have to leave."
Focus on a positive employee experience
First, start at square one by identifying what a positive experience for your employees looks like, based on your organization's current priorities.
If your company is eager to increase hiring, determine what job applicants and candidates are experiencing during the recruiting stage of the hiring process.
On the other hand, if retaining employees is an issue, perhaps your focus should be on understanding the root of the cause of this high turnover.
Assessing your approach to recruiting and retaining employees needs to be contextual. Every company is different, and the best place to start may vary. However, a major key to success can be found by establishing priorities based on data from your current and former employees.
Maintain an effective hybrid work model
Post-pandemic workers' expectations and needs are evolving. As companies and organizations call the workforce back to work, many skilled and capable workers are not eager to return.
Some individuals have grown accustomed to working away from the office. Others have discovered that the offspring of a remote work setup is a work-life balance that affirmatively impacts and supports a fresh and much-appreciated experiential lifestyle.
To keep good employees, your company should consider implementing and/or maintaining a hybrid work schedule that allows workers to work in the workplace environment for part of the week and spend the rest of the time working remotely at home or another location.
Gallup's Chief Scientist of Workplace Management and Wellbeing Jim Harter told CNBC that managers can successfully implement a remote-work plan if there are clear expectations about what work employees will do and complete when they are in the office and the work they can complete out of the office.
Reduce the number of meetings
No matter what employment model your organization offers, day-to-day life at work should not equate to an endless series of meetings, whether that be in-person or virtually.
Of course, well-planned and executed meetings can enhance communication and teamwork. However, a recent Workfront survey found that U.S. workers believe they spend only 40% of their workday on their primary tasks, due to an over-abundance of interruptions and wasteful meetings. These scenarios not only adversely affect productivity, but they also deplete a positive on-the-job employee experience.
Employees thrive in work cultures that focus on "doing" and "making." To give employees more time to "do" and "make," cutting-edge companies have implemented "no-meeting Fridays," where employees are given a day of no meetings (both internal and external). The goal of this ilk of initiatives encourages employees to block their calendars to create extra time for creativity and innovation.
Emphasize workplace factors beyond just pay
Some companies assume the following about their employees: "If you pay them more, they'll work harder and stay longer." But here's that wake-up call again—employed people are leaving. This year, in a study conducted by Microsoft, 4 in 10 workers said they're considering leaving their jobs. The U.S. Bureau of Labor Statistics reported 4 million people (a record high) quit their job in April 2021.
For decades, studies on employee experiences and expectations have consistently come to the same conclusion—workers expect something more profound than a paycheck in return for their work. This is even more true at this moment in time.
A BetterUp survey of American professionals working across a diversity of industries and companies found that "employees with very meaningful work … spend one additional hour per week working and take two fewer days of paid leave per year." Moreover, the researchers found this breaks down into quantifiable and positive dollars and cents gains for employers, explaining in Harvard Business Review, "Highly meaningful work will generate an additional $9,078 per worker, per year."
Mirroring the growth of experience-based consumerism, a place of work that successfully fosters positive employee experiences needs to emphasize workplace factors beyond pay—from positive recognition to an inclusive culture to meaningful engagement. It's more important than ever these days, and whether it's done virtually or in person, our post-pandemic world is demanding it.•
__________
Charlotte Westerhaus-Renfrow is a clinical assistant professor of business law and management at the Indiana University Kelley School of Business at IUPUI.
Please enable JavaScript to view this content.