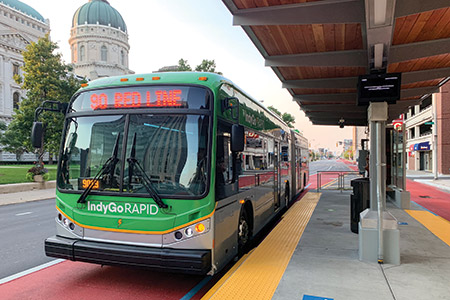 IndyGo vendors are still working to deploy two key features that were supposed to be in place when the Red Line launched Sept. 1—and the delays are both disrupting Red Line operations and hurting IndyGo's bottom line.
IndyGo hasn't yet been able to collect fares on the Red Line because Paris-based Flowbird Group is behind schedule with the installation of a new ticketing system, which means IndyGo will have lost out on more than two months of revenue, which could be hundreds of thousands of dollars.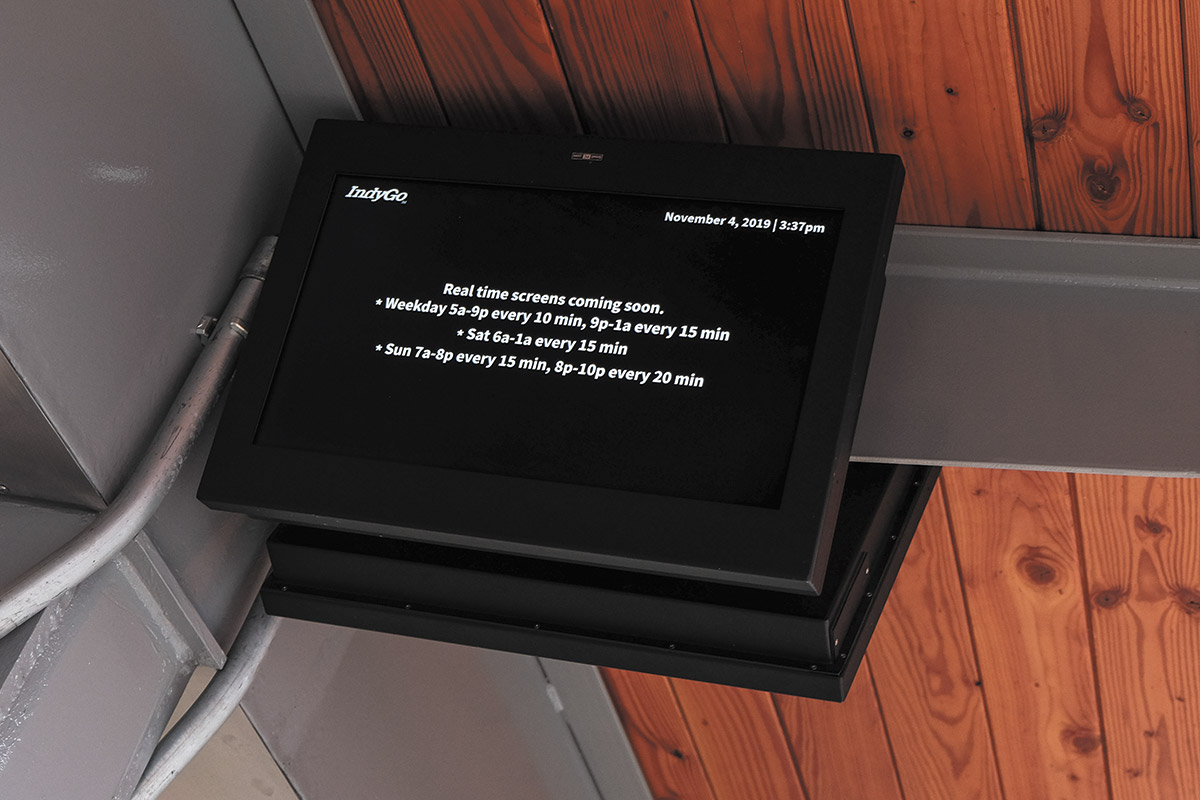 And the transit system is struggling to deliver on a key Red Line promise—making sure that buses arrive at stations every 10 minutes—because a new real-time vehicle information system from State College, Pennsylvania-based Avail Technologies isn't yet working properly.
The latter situation is so serious that IndyGo is hiring a second vendor to get the job done, at an additional cost of $448,500.
IndyGo says it plans to hold Flowbird and Avail accountable for the lost revenue and other costs associated with the delays.
On Nov. 6, IndyGo announced it would extend the free-fare period on the Red Line through the end of the month—its second such extension—because Flowbird's ticket machines aren't ready for use.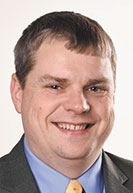 The delay means more weeks of unplanned lost revenue for the Red Line. IndyGo had originally planned to start collecting fares on the new 13.1-mile bus rapid transit route Oct. 1, later postponing that date until Nov. 11 before deciding this week to push it back to Dec. 1.
At IndyGo's Oct. 24 board meeting, the agency's leaders expressed their displeasure with the delays.
"We expected this to be done months ago," JustinStuehrenberg, the agency's vice president of planning and capital projects, told IndyGo's board at that meeting. "They've continued to go past the deadlines that they [Flowbird] have set, that they have agreed to."
IndyGo Board member Richard Harry Wilson Jr. said extending the free-fare period isn't an ideal solution—even with the assumption that IndyGo can recover its lost fare revenue through Flowbird.
"We just cannot keep kicking the can down the road with these free fares every time this company doesn't fulfill their end of the bargain," Wilson said at the IndyGo meeting. "It's certainly not a good thing for the brand that we're trying to create with this new service."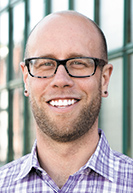 Another aspect of the delay: When the Flowbird ticket machines do go online, they won't be operating as originally planned.
IndyGo's new ticketing system, which it calls MyKey, is supposed to include a mobile payment app, reloadable fare cards, ticket vending machines, fare enforcement and citation management. But that system isn't working, IndyGo spokesman Bryan Luellen said. So as a backup, the ticket machines are being retrofitted so that they can issue paper tickets.
When fare collection begins next month on the Red Line, customers won't have a mobile payment option—all riders will have to use paper tickets. Luellen said it's unclear when Flowbird will have the mobile payment app, paperless ticketing and other MyKey features ready for use. "We don't have a date for releasing the MyKey system," he said.

Flowbird declined to discuss the issue with IBJ, other than to issue a brief written statement: "Flowbird is working in partnership with IndyGo to deliver the new system."
Luellen said it's unclear why Flowbird is so far behind schedule, noting that the vendor has missed several key deadlines without providing an explanation.
"I don't have a good answer for you why there have been repeated failures," Luellen said. "Their failures have financial ramifications for our agency."
October ridership numbers are not yet available, IndyGo said. But based on the early popularity of the Red Line, waiving fares on that route has a significant impact on IndyGo's overall revenue.
Including ridership of 230,651 along the 13.1-mile Red Line route, IndyGo saw total ridership of 974,161 in September. That's an increase of 29.5% over September 2018.
Ridership for the first nine months of the year—including the period before the Red Line launched—stood at 6.8 million, up just 3.6% as compared with the same period last year.
Rides on all IndyGo routes were free the first two weeks of September, and rides on the Red Line were free all month.
Because of the free-fare period, IndyGo's fare revenue for the month was $564,405—32% below budget.
For the first nine months of the year, IndyGo collected $7.5 million in fare revenue, down 10.3% compared with the same period in 2018.
Factoring in both IndyGo's standard $1.75 fare, plus riders who have free or half-fare passes, IndyGo generates about $1 in fare revenue per person per trip. Passenger fares make up about 10% of IndyGo's total revenue.
While it's dealing with the Flowbird issue, IndyGo is also affected by delays with the real-time vehicle information system that it hired Avail Technologies to provide.
As opposed to its other routes, which rely on fixed schedules, IndyGo dispatchers maintain the Red Line by controlling the timing, or headway, between buses. And because Red Line buses are supposed to arrive at stations so frequently, it's crucial that the buses maintain proper headway so that they don't get bunched up.
The issue, Luellen said, is that the Avail system can't yet provide IndyGo's dispatchers with the information they need to maintain proper headway between buses.
"This is really about a level of decision support and analytics that we need from the real-time information," Luellen said. "The tools that Avail has promised us for managing the headway aren't there yet."
The issue also means that the real-time information that riders can access through Avail's MyStop app, or via IndyGo's website, isn't always accurate.
For instance, Luellen said, if a dispatcher sees buses clumped up along the Red Line, the dispatcher could take one of those buses out of service for a short distance so it can gain speed and increase the distance between it and the others. Or the dispatcher might send a new bus into service to fill a gap. But Avail's system can't yet process these on-the-fly changes, making its real-time information inaccurate.
"The system is limited in how it's presenting information to the public in those dynamic situations like that," Luellen said.
To fix the problem, IndyGo plans to hire San Francisco-based Swiftly Inc. to deliver what Avail hasn't yet been able to. Hiring Swiftly adds an additional $448,500 to the project cost over the next three years.
Avail did not respond to phone messages and emails seeking comment.
Another of Avail's customers, Foothill Transit in West Covina, California, said it's been pleased with Avail's work, even though the contractor is years behind schedule on that project.
In November 2015, Foothill Transit awarded Avail a $10 million contract to replace its computer-aided dispatch and automatic vehicle-location system.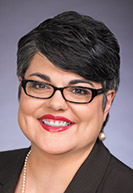 The project was supposed to be completed in two years but it's still not quite finished.
"It is taking longer than the initial projected timeline," said Foothill Transit spokeswoman Felicia Friesema. "We're not there yet, but we're very, very close."
The Foothill system, with its fleet of about 373 buses, posed some unique challenges, Friesema said. The Foothill contract was the largest fixed-route contract Avail had ever won at the time of the award, Friesema said.
Another challenge, Friesema said, is that Foothill uses two outside contractors to dispatch its fleet from two separate bus yards, making system integrations more complex.
Friesema said Foothill has been pleased with Avail's work and never considered switching to a different vendor, despite the extended delays.
"They've been very responsive and hands-on," Friesema said. "They've worked with us in good faith."•
Please enable JavaScript to view this content.