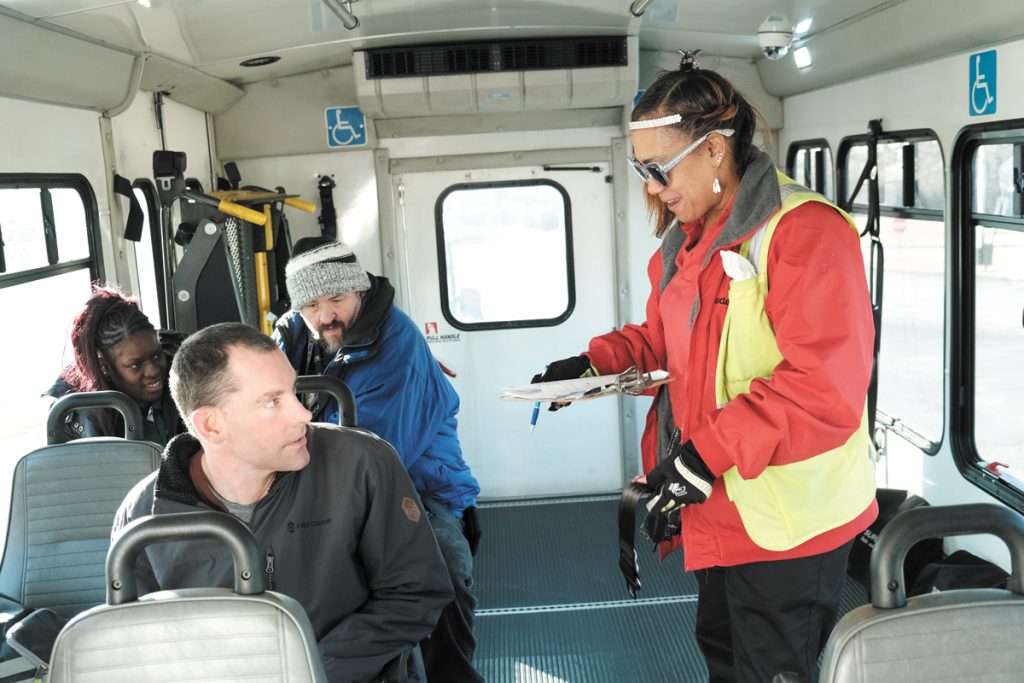 IndyGo says the vendor it hired in 2018 to operate its reservation-based transit service for disabled riders isn't meeting expectations, and it's considering making significant changes—including reducing the service area—to fix the problem.
Chicago-based Transdev North America Inc. operates IndyGo's Open Door paratransit service, which provides transportation for riders whose disabilities prevent them from using IndyGo's fixed-route buses. Transdev's $32.4 million, three-year contract with IndyGo began in April 2018.
But since that time, Transdev has had to pay a significant chunk of its contract revenue back to IndyGo because of the company's consistent failure to meet IndyGo's standards for on-time performance. As of October, the most recent date for which figures are available, IndyGo had required Transdev to repay $493,385.
IndyGo's goal for Open Door is a 95% on-time performance, meaning buses pick up passengers within a 10-minute window of the scheduled time. For a scheduled 3 p.m. pickup, for instance, the bus would be considered on time if it arrived between 2:50 p.m. and 3:10 p.m.
Transdev has never achieved that 95% on-time performance. Its best performance came last January, March and June, when it hit 92%. Its worst performance was in August 2018, at 65%.
IBJ reached out to Transdev via emails and phone messages left on multiple days, but a company spokeswoman did not respond to questions by deadline.
According to monthly IndyGo operations reports, Transdev has provided numerous reasons for its struggles, including staff shortages and route scheduling challenges.
IndyGo's paratransit fleet of 92 vehicles provided 282,281 pasenger trips in 2019.
IndyGo and Transdev have seen improvement following changes that included implementing an updated scheduling system. Representatives from Transdev's corporate office have also visited Indianapolis to discuss the problem.
But IndyGo is also mulling more substantial actions—whether it should change its operating footprint, bring paratransit operations in-house or make other system changes.
"We do realize that there have been some challenges, but we're doing everything we can to make improvements," IndyGo spokeswoman Lesley Gordon said.
In mid-2019, IndyGo hired Bethesda, Maryland-based consulting firm KFH Group to conduct a comprehensive analysis of its Open Door system. Once the report is complete, Gordon said, IndyGo staff expects to have recommendations ready for IndyGo's board to consider later this year.
Under the 1990 Americans With Disabilities Act, transit systems that provide fixed-route service must also offer a paratransit service. They must operate in the same area as the fixed-route service, or within three-quarters of a mile of existing bus routes.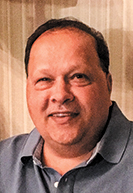 IndyGo currently offers Open Door service throughout Marion County, including areas not served by its fixed bus routes. This means it could cut back its Open Door operating footprint without violating ADA requirements.
IndyGo is also analyzing the comparative costs of bringing Open Door operations in-house or operating on a hybrid model rather than using a third-party contractor.
Transdev's current three-year contract runs through March 2021, with two additional one-year options. Gordon said IndyGo does not intend to remove Transdev before its initial term expires in 2021.
Greg Meyer, chairman of IndyGo's Mobility Advisory Committee, said he's encouraged that Open Door seems to be moving in the right direction, especially since Inez Evans became IndyGo's CEO in August.
Last fall, IndyGo hired a director of mobility service, Michael Roth, to oversee Transdev's daily operations.
"Right now, things are starting to turn in the right direction for the Open Door users," Meyer said. "IndyGo is really watching [Transdev]."
The Mobility Advisory Committee advises IndyGo on paratransit-related issues. Meyer, who is legally blind and has epilepsy, qualifies for Open Door service. For health reasons, he prefers to use other modes of transit, including IndyGo's fixed-route bus service.
Meyer said he's at a loss to explain why Transdev has struggled so much here. "They're doing extremely well in other cities," he said.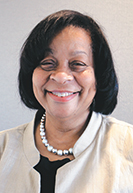 Transdev North America operates numerous modes of transit—including paratransit, bus, bus rapid transit, streetcars and autonomous vehicles—in 200 cities and communities in the United States and Canada.
The company's parent is France-based Transdev Group, which operates in 18 countries worldwide.
Meyer said he doesn't want IndyGo to make any changes that would reduce residents' Open Door access.
"Why do we want to do this to this group of people? It's a very vulnerable group of people," Meyer said. "We've just started moving in the right direction, and I don't see the need."
Rhonda Chapman, an occasional Open Door rider, also hopes IndyGo won't reduce its paratransit footprint.
"That is some terrible stuff," Chapman said of the possibility.
As a resident of Lawrence Township, Chapman does not live near an existing IndyGo route, so a service cutback could leave her without Open Door access.
Chapman is blind and often relies on her husband for rides, but she said he has been diagnosed with Parkinson's disease, which will eventually take his ability to drive.
Chapman does think conditions would improve if IndyGo decided to run its Open Door service in-house.
IndyGo operated Open Door in-house until 2006, when it switched to outside contractors.
"When IndyGo had it all and they were totally responsible, it was just better," Chapman said. "Once they started farming it out, it went downhill."
Under IndyGo's management, Chapman said, Open Door buses ran more predictable routes and drivers had the discretion to make small adjustments mid-route as needed.
Once outside contractors took over, she said, bus routes became much less efficient and ride times climbed to two hours or more each way.
"The scheduling is terrible," Chapman said. "I have seen them send two buses to pick up the same person."
The nature of paratransit service poses several unique challenges.
From a staffing perspective, "This is not the easiest job, so there's a lot of on-the-job training," said Pam Boswell, vice president of workforce development and educational services at the American Public Transportation Association.
For instance, drivers must know how to properly secure riders' wheelchairs, communicate with riders who have developmental disabilities, and determine the most accessible spot for each rider to board and disembark.
Scheduling can also pose a challenge—paratransit buses might travel different routes daily because drivers take riders directly to their destinations rather than to bus stops.
Chapman said she's rooting for IndyGo to succeed in its efforts to improve Open Door. "I really want the system to work. It's the only system we have, so I want them to figure it out."•
Please enable JavaScript to view this content.