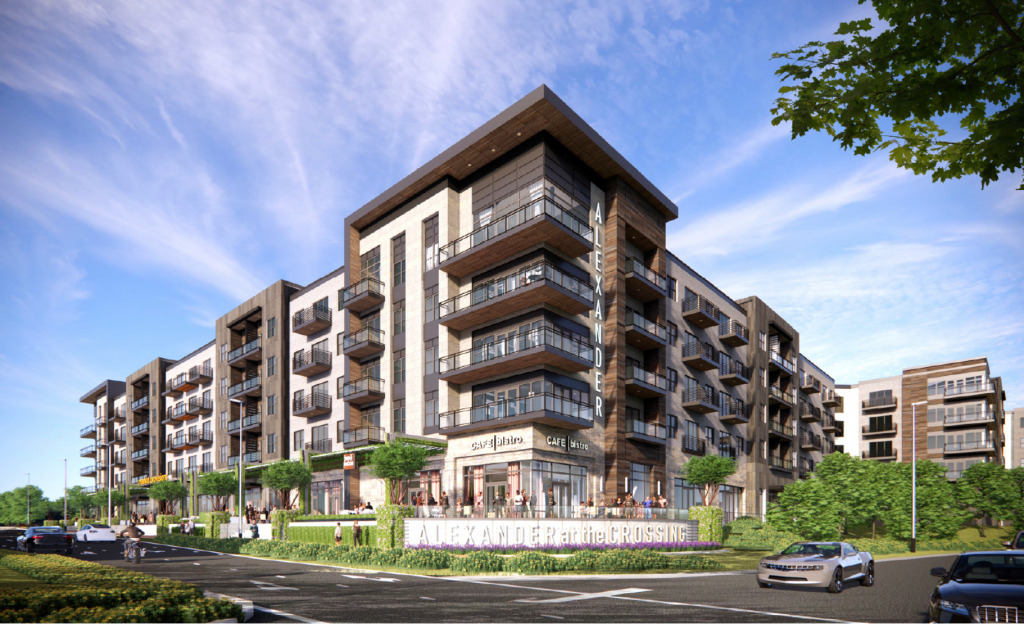 Local developer Keystone Corp. has drafted new plans for its long-simmering Alexander at the Crossing mixed-use project that includes apartments, offices, retail space, town houses, a hotel and an underground garage on 16 acres west of the Fashion Mall on Indianapolis' north side.
The project, proposed for the northeast corner of Haverstick Road and East 86th Street, would sit directly across from the Ironworks at Keystone development on the south side of 86th Street, which similarly includes a hotel, apartments and extensive retail space.
The company's plan calls for a total of five multistory commercial/apartment structures, along with about 35 town houses. It has not disclosed how much the project is expected to cost. The entire eastern edge of the property will retain a line of trees.
The company has sought to build on the land—once a densely wooded area—for more than 10 years but has generally been met with pushback from nearby residents each time. It was even the subject of a court battle that ended with a neighborhood association's victory over the city, which had granted a rezoning request for a portion of the property.
For its latest go-round, Keystone says it has incorporated neighbors' concerns.
"We've owned this property for 11 years, and we wanted this to be a timeless piece that makes what we had originally [proposed] even more thoughtful and diligent," said Jennifer Pavlik, chief of staff for Keystone. "We've listened to the concerns of neighbors. We've heard those and made sure those were incorporated into he project. Now we're back with a fresh, new concept that … will be an exciting, invigorating addition to this part of Indianapolis."
On Wednesday, Keystone will ask the Metropolitan Development Commission for permission to consolidate zoning for the acreage from the DP and DA districts to only DP, which allows for mixed-use developments.
The city's Department of Metropolitan Development is recommending the rezone request for approval, on two conditions: That the company continues preserving trees inside the development—and installs signs designating the eastern portion of the development as a "tree preservation area"—and that it installs sidewalks on Haverstick Road and 86th Street.
Ruth Hayes, president of the Nora-Northside Community Council, told IBJ the group will not oppose the project. However, the neighborhood association for the smaller Driftwood Hills area, whose boundaries include the Alexander project, is vehemently opposed.
A notice on its website about the Wednesday zoning hearing says, "June 1st at 1pm at the City-County Building 2nd Floor, will be our ONLY AND LAST chance to alter/stop this hideous project."
Driftwood Hills is defined by Westfield Boulevard to the west, 86th Street to the south, Keystone Avenue to the east and Interstate 465 to the north.
Jim Heaney, conservation chair for the Driftwood Hills Neighborhood Association, said most residents are opposed to the project because it could bring traffic congestion to a highly residential part of the city.
Heaney said the project is "too dense and too big" for the area and exceeds standards in the city's Comprehensive Plan. Neighbors also fear it would lead to further commercialization of East 86th Street west of Keystone Avenue.
The neighborhood is considering a legal fight if if the project is approved by the MDC and then the Indianapolis City-County Council, he said.
As envisioned by Keystone, Alexander at the Crossing would be built in phases, starting with the five-story, 275-unit apartment building and commercial space. The hotel and office space would be developed later, alongside the town houses.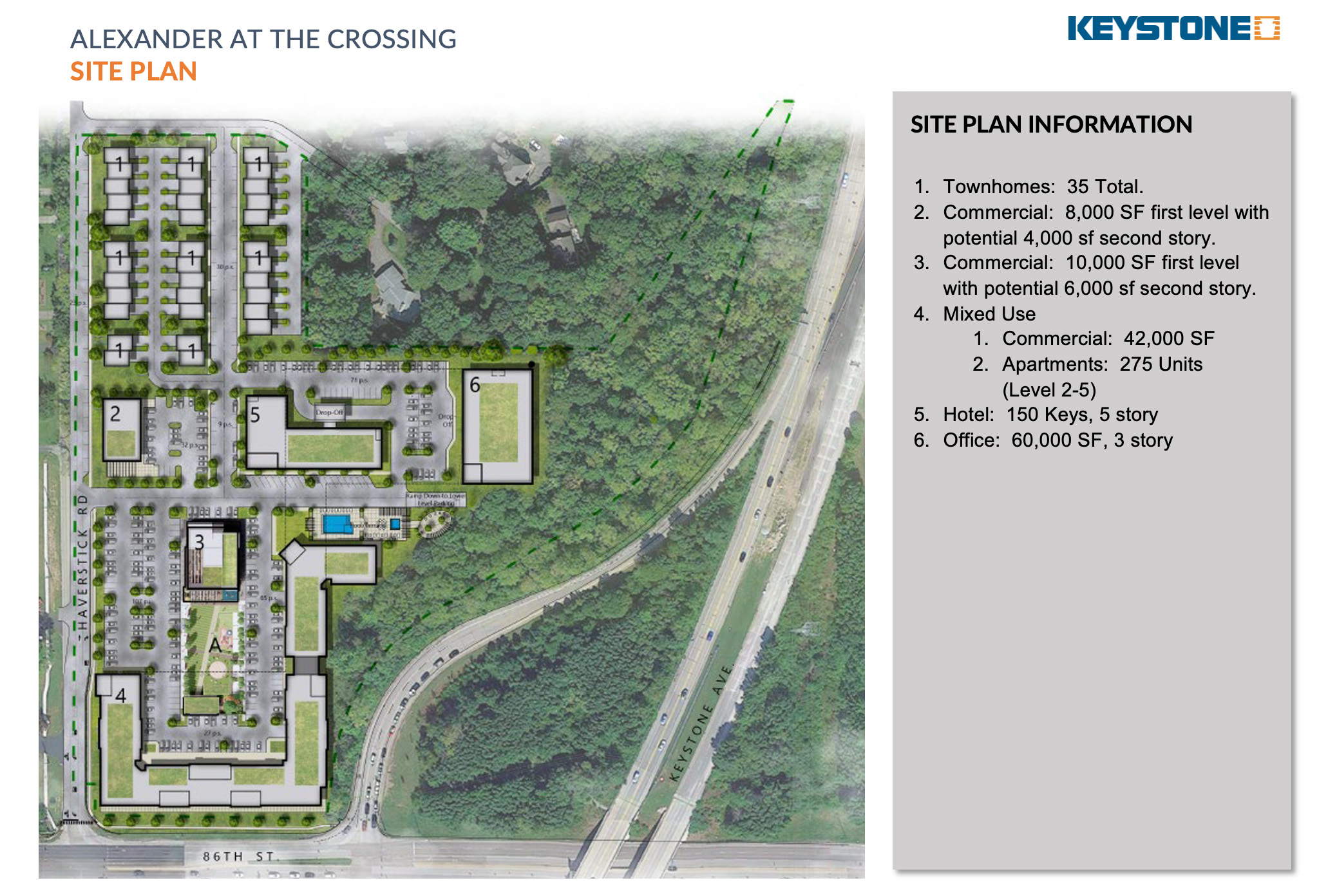 The apartment structure would sit along 86th Street and run about halfway up the eastern side of the site. The apartments, which would be priced for lease at or above market rate, would be on the second through fifth floors of the 70-foot structure. They would range from studios to two-bedroom units.
About 42,000 square feet of retail space is planned for the first floor, which would suit restaurants, stores and service-oriented businesses. There would also be about 142 surface parking spaces surrounding the structure and another 266 spaces below-grade. A pool and other amenities would be northeast of the apartments.
"It's a little bit more luxury—market-rate-plus—so we'll be competing with some of the highest rent rates in the city," said Kelly Mulder, vice president of development, who pointed to the company's recent 220 Meridian Street project as an example of the high-end finishes expected for this project.
Directly north of the apartment building would be a central plaza and a two-story commercial building with about 16,000 square feet of space. Keystone said it plans to model the space after Carmel's Midtown area, as it will have access to dining and offer users a variety of amenities, including seating, an outdoor game space and a small splash pad. About 46 surface parking spaces would be designated for the commercial space.
Another two-story commercial building of about 12,000 square feet—8,000 on the first floor and 4,000 on the second—is planned for the western side of the property, along Haverstick. It's expected to have multiple tenants, along with an outdoor deck or patio area on the second level. The building would have 35 parking spaces.
A high-end, 150-room hotel is planned for the central portion of the property. It would be about five stories tall and include about 49 surface spaces and 101 below-grade spaces. Mulder said Keystone has not yet determined what brand would be associated with the hotel.
The company also plans to add an office building with up to three floors—or 60,000 square feet—on the eastern edge of the development but won't do so until a user is identified. Keystone is eyeing a sole user for the structure and would build depending on the user's needs. About 32 surface parking spaces would be set aside for the project, with another 139 in the garage.
On the northern part of the site, Keystone will build about 35 town houses starting in the upper-$400,000s. The units, spread across about eight buildings, would be three stories tall and include garages for two vehicles, along with driveways and a minimum of 20 guest parking spaces.
In fact, the developer plans to make several infrastructure improvements. That includes adding crosswalks to the stoplight at 86th Street to provide safer access to the Ironworks development. 
"We really want that walkability factor—that was important to the city when we're talking to them about this project, and it's important to us because we want this whole thing to be a live-work-play neighborhood," Mulder said.
Two new, short traffic lanes are also planned: a left turn from southbound Haverstick to eastbound 86th Street and a right turn from westbound 86th to northbound Haverstick.
Mulder said Keystone plans to hold onto the development in perpetuity, particularly because it is named after company owner Ersal Ozdemir's son, Alex.
"This is a legacy project for Ersal, since he's named it after his son—it's something he is going to hold forever," he said. Development costs "are important, but we really wanted to do something that … he can be proud of for a long time."
A firm timeline for the project's construction has not been finalized.
Please enable JavaScript to view this content.