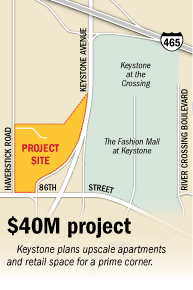 A local developer has acquired the northwest corner of 86th Street and Keystone Avenue and is working on plans for a $40 million apartment and retail project.

Keystone Construction Corp. hopes to build about 240 high-end apartments on the 12.6-acre site, along with a small retail building and outlots along 86th Street. A fizzled plan from another developer a few years ago had envisioned a Whole Foods Market and townhomes for the mostly wooded site.

The company bought the property in late July for about $3 million from the Federal Deposit Insurance Corp., which wound up owning it after Columbus, Ind.-based Irwin Union Bank failed in 2009. Keystone figured the site was perfectly located and decided to buy it before putting together specific development plans, said CEO Ersal Ozdemir.

"We thought it was a great site," he said. "We decided to purchase it and reach out to the neighborhood and figure out the details."

Keystone's plan likely will include a smaller retail component than the 60,000-square-foot Whole Foods that won city approval back in 2006, Ozdemir said.
Ozdemir
He expects to offer outlots at the intersections of 86th Street with Keystone Avenue and Haverstick Road. Apartment buildings likely would be three stories but could be as high as five stories and would be clustered to retain as many trees as possible. Units would include granite countertops and stainless appliances.

The company hopes to file plans for zoning approval later this year and start construction by April 2012, Ozdemir said. He hasn't lined up financing yet, but he has talked with a few banks and is confident it won't be a problem.

Meantime, a sale also could be imminent for another prominent site, the vacant Woodfield Centre shopping center across 86th Street.

An out-of-town developer that wants to build a roughly 100-room hotel and retail space is nearing a deal to buy the 6.4-acre property from Jacksonville, Fla.-based Everbank, said Scot A. Courtney, a principal in the local office of Lee & Associates.

Courtney said the bank and developer, which he declined to name, have agreed on price but are working out details. He said the neighboring projects should complement each other.

Everbank has been trying to sell the site since 2008, when it offered the parcel for $6.75 million. By June, it had lowered its asking price to $5.5 million.

"There are lots of people who want to be as close as they can to Keystone at the Crossing, and there aren't too many places to go," Courtney said. "To the extent one of these projects succeeds, both will benefit."

Neighborhood groups are unlikely to embrace the Keystone Construction proposal, at least if they see eye to eye with Ruth Hayes, president of the Nora-Northside Community Council.

"What are they smoking?" Hayes said. "Evidently their hobby is walking into windmills. We'll fight it just like the others."

She said her group will challenge any effort to build retail space north of 86th Street, a position supported by city zoning maps. She's also opposed to apartments since such communities eventually "go downhill" and the "neighborhood suffers."

Hayes said she would support owner-occupied homes if the plans preserve a significant number of trees on the site.

Developers for years have considered the site northwest of 86th Street and Keystone Avenue a prime prospect for an ambitious mixed-use project.

Developer Paul Kite in 2004 pitched about 200 condos and a grocery-anchored retail center, but he ran into resistance from neighborhood groups and struggled to get zoning approval. By 2006, Kite finally won the city's blessing for a 60,000-square-foot Whole Foods Market and 32 townhomes.

But neighbors continued to complain. The nearby Driftwood Hills Neighborhood sued the city over the plan's approval in hopes of saving the wooded site or at least preventing commercial development.

In 2007, Kite sold the project to Premier Properties, which had hoped to bring Whole Foods across 86th Street as an anchor of its $750 million, 3-million-square-foot Venu project. (Premier moved tenants out of Woodfield Centre to make way for Venu and fell behind on maintaining the center.) Venu later fizzled, and Premier went out of business.

A lender to Premier, Irwin Union Bank, wound up owning the site. Then Irwin failed in 2009, and the property went to the FDIC.

"It's a dynamite site," said Connie Niessink, principal at locally based Niessink Commercial Real Estate. "It's a bulls-eye location with a lot of potential yet to be tapped. Residential makes sense there and so does retail."

For most of the city, new development remains slow. Not so in that area. Locally based PK Partners is redeveloping an office building in front of the Fashion Mall to accommodate the upscale Ocean Prime restaurant and building a new standalone location for Distinctive Diamonds.

The owners of the Sheraton Indianapolis, which is attached by skywalk to the mall, are converting the hotel's south tower into luxury apartments.

That's on top of Simon Property Group's plans to renovate the Fashion Mall, adding new shop space in what's now the food court, and Kite Realty Group's addition of Nordstrom Rack, Container Store and Harry & Izzy's to Rivers Edge a few blocks to the east.•