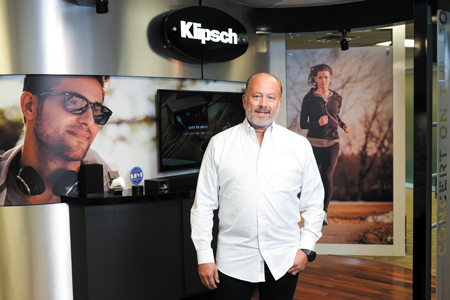 Two years from its 75th birthday, Klipsch continues to belt out a sweet melody.
The local maker of audio products—best known for its speakers and headphones—has reinvigorated its product line, brokered new partnerships, and greatly expanded its sales footprint to maintain its strength in a crowded field.
But the tune emanating from Klipsch's parent company, New York-based Voxx International Corp., is far less melodic.
Analysts and shareholders have blasted Voxx management for a lack of a clear strategy and for a string of questionable acquisitions that have left it with a broad range of businesses—from remote-starter systems and power-lift gates for cars to iris-scanning identity-authentication devices.
Some critics are calling for Voxx executives to sell off some of the company's most valuable parts. Klipsch is at the top of that list.
"I wish they would sell Klipsch. It would unlock a lot of value for the stock," said Brad Leonard, managing member of Zionsville-based BML Capital Management LLC, which owns 5.3% of Voxx's shares. "I think selling Klipsch could absolutely be good for Voxx shareholders."
Leonard said Klipsch, which Voxx acquired in 2011 for $166 million, would attract widespread interest.
"It could be someone in a similar industry or it could be a company simply looking to make acquisitions," he said. "Klipsch is a strong brand. The company's market share in North America is really strong."
And it's growing globally.
According to Voxx, Klipsch has a 25% market share in traditional stereo-type speakers in the United States and 35% in Canada. And Klipsch is expanding worldwide.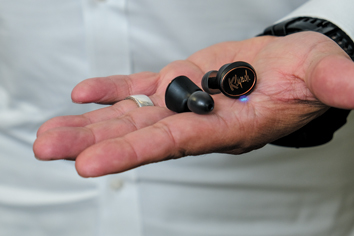 In two decades, exports have grown from less than 1% of Klipsch sales to 45%, according to company officials.
"In 1999, we had $800,000 in export sales," Klipsch CEO Paul Jacobs told IBJ. And though Jacobs declined to say how much Klipsch makes from sales outside the U.S. now, analysts pegged it at more than $50 million.
"Our export business is really on the rise in places like Canada, Latin America, Asia and Europe," Jacobs said. "In some markets, it has really exploded over the last three years. That global growth allows us to be more balanced and sustainable."
Sputtering stock
The strong performance of Klipsch, however, hasn't been enough to propel Voxx's long-slumbering stock higher, or to erase its red ink.
In the first fiscal quarter, which ended May 31, Voxx lost $2.4 million on $93.5 million in revenue. In the same period a year earlier, it lost $2.6 million on $100.9 million in revenue.
An investor who plowed $100 into Voxx shares five years ago has seen that investment shrivel to $48. In the same span, a $100 investment in the Nasdaq Composite, with dividends reinvested, zoomed past $185.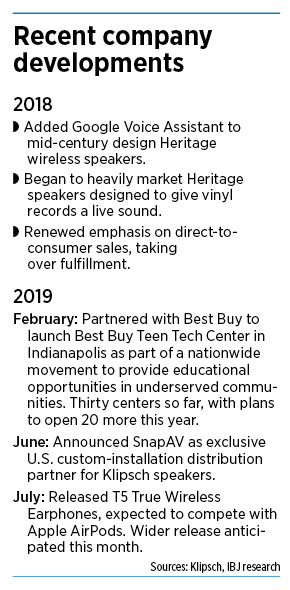 "Frustrations are building at Voxx International," said Vince Martin, who recently wrote about the company on the investing website Seeking Alpha.
"Voxx shareholders see a stock that is substantially undervalued on a sum-of-the-parts basis. They also see a management team that is moving too slowly to unlock that value. As a result, the relationship between management and shareholders is becoming increasingly contentious."
Voxx founder and Chairman John Shalam, 85, and CEO Patrick Lavelle, 67, faced sharp questions from analysts during quarterly conference calls in May and July.
Under their direction, according to Martin, the company has "wasted tens of millions of dollars" on EyeLock, the company developing iris-recognition software, and 360Fly, an action camera manufacturer that pivoted away from the consumer space before being dissolved. Voxx paid $20.2 million for EyeLock in 2015 and provided millions of dollars in financing to 360Fly, starting in 2014.
On the May call, BML's Leonard called Voxx's partnership with ViaTouch, a maker of artificial-intelligence-supported vending machines, "silly."
And on the July call, Martin called Voxx's effort last year to create an iris-enabled slot machine for International Game Technology "bizarre" and "ridiculous."
But on that call, Shalam, who is the controlling shareholder under a dual-class stock structure that gives him extra voting power, defended the company's strategy and pushed back against callers who said the most lucrative path for shareholders would be to liquidate the company by selling it off in pieces.
"Before dismantling the company, we really believe the potential for Voxx is very substantial and is not reflected in the share value right now—the price of the stock.
"And if you were to try and sell the company right now based on these stock valuations, I don't think the shareholders would come up with anything of real value."
A bright spot
The Klipsch acquisition is one of the few that has worked out well for Voxx, analysts said.
Though Voxx doesn't break out Klipsch's financials, Klipsch makes up most of the company's premium audio division—which posted revenue of $167 million in the fiscal year ending in February 2017 and $172 million the following year.
The company attributed the spike to increasing sales of several existing Klipsch lines of home entertainment speakers and the introduction of new products, including lines of high-definition wireless speakers, wireless soundbars, and wireless and multi-room streaming audio systems.
In the fiscal year ending in February 2019, Voxx's premium audio sales decreased to $158 million, a drop company officials attribute primarily to decreased sales of discounted goods.
More important, Voxx executives pointed out, gross margins for premium audio increased from 31% in fiscal 2018 to nearly 35% in fiscal 2019. The company reported that pretax income for premium audio increased from $1.1 million to $6.8 million during the same period.
"In fiscal 2018, while continuing to invest in innovation, we took steps to limit distribution in order to enhance gross margins and improve profitability, while at the same time, protect the margins of our key retail partners," Klipsch's Jacobs said.
"While growth is important, developing the best products for our customers and consumers remains our focus, and that is what drives us at Klipsch."
High hopes

In July, the company released its T5 True Wireless Earphones to rave reviews. They are expected to compete favorably with Apple AirPods. The only problem has been keeping them in stock.
"Those new earbuds look like they have real promise," Leonard said. "They've had great reviews and are backordered everywhere."
Jacobs said the rollout was intentionally slow and a wider release is expected this month.
The T5 earphones—which are not tethered together—are a substantial upgrade over other truly wireless earbuds on the market, Jacobs said.
"Our product has better battery life [eight hours for the earbuds, another 24 hours charging power through the zinc alloy case], better comfort and better sound—by far. Our engineers are the best in the world, and we have the best-sounding products, period," Jacobs said.
The T5 earphones are noise-reducing, are the first to have two microphones in each headphone, and the first to offer high-definition sound, according to industry sources. Most earbuds offer compressed audio.
In addition, unlike Apple AirPods, the T5 doesn't have an antenna hanging down from the ear.
The T5s retail for $199, a bit more than the $159 price for Apple AirPods.
"Considering that Apple sells 40 million pairs of AirPods per year, it's not infeasible the T5 earbuds could generate $100 million in annual revenue for Klipsch," Leonard said. "If they could just sell 1 million pairs a year, it could be more than that."
Apple sold 28 million pairs of AirPods last year, with some analysts projecting that number to hit 55 million this year.
Famed Apple analyst Ming-Chi Kuo predicted a major upgrade for the AirPods in 2020, which could eat into Klipsch's sales.
The earbuds aren't the only thing Klipsch has going for it.
Last year, the company added Google Voice Assistant to its mid-century-design Heritage wireless speakers to get in on the smart speaker market.
In 2018, it also made a strong marketing push for its Heritage line of speakers designed to give vinyl records a live sound. The sales of those speakers doubled last year and are on track to double this year, Jacobs said.
Last year, Klipsch also put a renewed emphasis on direct-to-consumer sales, in part by taking over fulfillment.
In February, Klipsch partnered with Best Buy to launch the Best Buy Teen Center in Indianapolis as part of a nationwide push to provide educational opportunities for underserved communities. So far, 30 centers have opened, with plans to open 20 more this year.
In June, Klipsch announced an exclusive partnership making SnapAV its U.S. custom-installation distributor for Klipsch speakers. Jacobs calls the SnapAV deal "an unbelievable opportunity for Klipsch. They're the Amazon of the custom-installation business."
'Transformative process'
Jacobs said Klipsch has come through "a transformative process that was not easy to get through," and, as a result, "has become very predictable for its parent company and its customers."
"In the last two years, we've focused on innovation in our products and the way we do business," said Jacobs, who has been with Klipsch since 1991.
Martin, the Seeking Alpha writer, said Voxx has done fairly well with Klipsch but that isn't reflected in Voxx's stock price.
That might be one more reason to sell Klipsch, analysts say.
On recent conference calls, Lavelle has insisted that Voxx could sell Klipsch for more than it paid eight years ago. But he said the company has no intention of doing so, seeing "significant potential for continued growth and profitability" in the division.
"Klipsch has been a strong contributor to our business since we acquired them and they are very much key to our future," Lavelle told IBJ.
"Klipsch is a pretty important piece of the Voxx business and it would seem unlikely that they would sell or spin off that portion of the business unless the whole company were to be acquired," said Collin Foster, research analyst for Columbus-based Kirr Marbach & Co.
Klipsch CEO Jacobs said his company would have no shortage of suitors if it were put up for sale.
"There are people who would love to buy us. That's been never-ending because of our success. I get contacted by venture firms on an almost daily basis," he said.
But he doesn't believe Klipsch is on the block.
"It's just the opposite. They're expanding our presence in their organization. All premium audio is being consolidated under Klipsch," he said. "Voxx has been very supportive of what we're doing, and I'm confident we're going to grow together."
But Martin said Voxx's future is clouded by the fact that Voxx's octogenarian chairman and controlling shareholder don't seem to have a clear succession plan.
He said he believes Voxx ultimately will be trapped into selling its businesses, including Klipsch, in part because shareholders don't trust management to achieve growth by making smart acquisitions.
Voxx recently has divested some of its business—a move that has only ratcheted up fears among some analysts that executives will use the cash to make more ill-advised deals.
"If it is liquidate or grow going forward—and I believe it is—the choice eventually will become liquidate," Martin said.
"Voxx management cannot make an acquisition of any kind at this point without a shareholder revolt. Those shareholders can't block the acquisition, but they can sell. Voxx shares are going to plunge if they make any kind of deal."•
Please enable JavaScript to view this content.