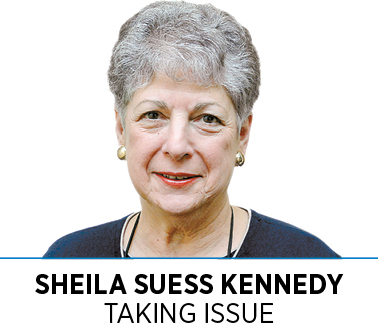 Indiana is so gerrymandered that control of our Legislature remains firmly in the hands of Republicans who represent more rural parts of the state. It is this urban/rural divide—not the red/blue one—that explains the General Assembly's persistent anti-Indianapolis bias. The animus was there back when the city was firmly Republican, and it persists despite the fact that we are Indiana's primary economic driver; thus, measures detrimental to Indianapolis hurt the whole state.
Granted, many of the bills favored by our legislators harm all Hoosiers equally. Just during this (mercifully short) session, we've seen efforts to keep Indiana utilities from phasing out their dependence on coal, and measures protecting the ability of mental health workers to refuse providing emergency assistance on religious grounds. (A "proactive" measure to prevent employers from implanting chips in their workers—a practice not currently occurring in the state—is just weird.)
And of course, Indiana legislators continue to divert resources from the state's public education system to prop up the religious institutions that make up more than 95% of "voucher" schools.
But absolutely their most consistent behavior, year after year, is their adamant refusal to allow cities and towns—especially Indianapolis—to do much of anything unless and until our overlords in the Legislature deign to give local elected officials their official blessing.
Home rule? What's that?
Case in point: It took three sessions for Indianapolis to get permission to hold a referendum on whether to tax ourselves to improve public transit, and then only on condition that we not include light rail. Why no light rail? Who knows? And infuriatingly, legislators are proposing additional roadblocks to the city's expansion of rapid transit; as IBJ has reported, the Indiana Senate just approved an amendment to a bill that could halt work on IndyGo's Purple Line and Blue Line in Marion County.
Another particularly egregious example is lawmakers' move to overrule an Indianapolis effort to protect tenants from abusive landlords.
Mayor Joe Hogsett's proposal to provide more protections to Indianapolis renters now faces an uncertain future. Indiana lawmakers on Feb. 24 added language to a bill that would prevent any city from regulating landlord-tenant relations without approval by the General Assembly. Such regulations include at least two key items in Hogsett's proposal: requiring landlords to notify renters of their rights and responsibilities, and fining landlords who retaliate against renters for reporting problematic housing.
Senate Bill 340 initially moved through the Indiana Senate as a bill addressing laws about condemned properties. An amendment added at the Republican-controlled House Judiciary Committee, though, would undercut a legislative priority of Hogsett, a Democrat, now in his second term as Indianapolis mayor.
The Hogsett administration saw its proposal as a way to balance the scales against unscrupulous landlords, many out of state, who take advantage of lax government oversight in Indiana to prey on desperate renters.
Any lawyer who has practiced real estate law in Indiana—I am one of them—is aware that Indiana law is heavily tilted in favor of landlords. (I'm sure this favoritism has nothing to do with the fact that the tenants who are disadvantaged by Indiana's laws are far less likely to be political contributors than their landlords. Cough …)
When this year's session ends, we'll see what passed and what damage has been done.
We can predict one thing with confidence, however: Thanks to gerrymandering and rural resentment of Indianapolis, we still won't have anything that looks remotely like home rule.•
__________
Kennedy is a professor of law and public policy at the Paul H. O'Neill School of Public and Environmental Affairs at IUPUI.
Please enable JavaScript to view this content.