Calling the long list of jobs and titles held by Mark Miles over the length of his career "eclectic" seems like an understatement. Indeed, ask the man himself about his resume, and he compares it to Forrest Gump's.
"I've found myself in these various, wildly different settings, and then life just sort of plays out," said Miles, 66. "I've never had a job where I trained for four or five years under somebody, that's for sure."
Like Gump, he's spent most of his life plunging from one big, one-of-a-kind task to another—many of which he so ably executed that the results helped cement Indianapolis' reputation for punching above its weight when staging world-class events.
His rich and varied work record includes, among a great many other jobs, chairman of the 2012 Super Bowl Host Committee; president of the organizing body for the 1987 Pan American Games; and president and volunteer tournament director from 1985 to 1990 for the city's professional tennis tournament.
Since 2012, he's served as president and CEO of Hulman & Co., overseeing the Indianapolis Motor Speedway, IMS Productions, and the IndyCar racing league, among other corporate entities.
"I think he's probably had the most diverse career of anybody I've met," said attorney David Frick, who has brokered megadeals including the 1984 move of the Baltimore Colts to Indianapolis and Anthem Inc.'s 2004 purchase of WellPoint Health Networks. "Everything from heavy involvement in the political arena to international tennis. He's really had a great and varied career."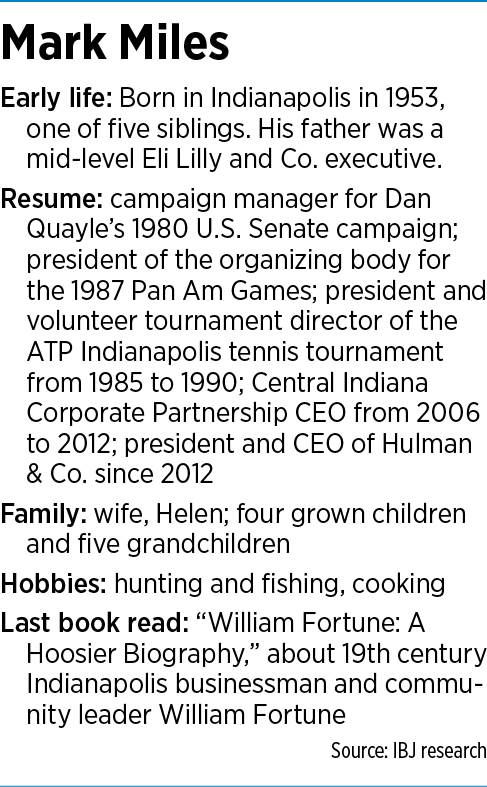 Miles' recurring role as the essential person at the center of so many of the city's most noteworthy public events has earned him the distinction of being the 26th recipient of IBJ's Michael A. Carroll Award, given annually to a man or woman who has demonstrated the former deputy mayor's qualities of determination, humility and service. Carroll was among six people killed when two small planes collided over southern Marion County on Sept. 11, 1992.
Hoosier roots
Miles was born in Indianapolis in 1953, one of five kids, and grew up just south of Broad Ripple. He walked the six or seven blocks to School 70, rode his bicycle to Little League, and occasionally stopped in at Culver Drug Store for a malt. His father was a middle manager at Eli Lilly and Co. and his mother a teacher and, later, a full-time homemaker. As a high school freshman, he attended Broad Ripple High School. But a house fire necessitated a move to Washington Township, where Miles finished at North Central High School.
He then studied political science at Wabash College, and also took up tennis—a sport that would play a central role in his professional life. One of his reasons for taking up the game was purely practical. He'd played baseball in high school, but it occurred to him that if he wanted to keep playing a sport as an adult, tennis was a better choice.
"I began to think, 'You know, it will be easier after college to get one other person together to play a sport than to try to get 17,'" he recalled.
His parents were Republicans, but Miles, in a fit of teenage rebellion, dabbled in Democratic Party politics, at one point volunteering for U.S. Sen. Birch Bayh. Ironically, Miles would later be instrumental in unseating him.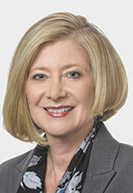 By the time he was an upperclassman at Wabash, Miles was firmly in the Republican camp. So much so that he spent part of his summer campaigning for Richard Lugar for mayor. It so happened that one of his sister's friends was Deborah Daniels, sister of Mitch Daniels, who was working for the campaign. She told Miles to ask her brother for a job and was made responsible for mobilizing youth for Lugar.
"It was fabulous," Miles recalled. "An essential, kind of random happenstance in my life that made a big difference. As a result of that particular responsibility, I had a lot of contact with the scheduling and advance function of the campaign."
Because the campaign wouldn't end until November, Miles sat out a semester to finish his job. And there was certainly plenty to do. Not yet 21, he found himself working seven days a week with fellow campaign operatives, including Daniels.
"If we were done at 10:30 p.m. or 11 p.m., we'd go out to bars after that," Miles recalled. "I just sort of learned that I didn't care much about sleep. Life is precious, so use it."
Useful training
During the '70s, Miles was tapped to work on several other campaigns, including the re-election of Mayor William Hudnut. Even though Miles' stock was rapidly rising, many of his duties were still in-the-trenches grunt work. Frick, who met him during this time, took note.
"I was impressed by his willingness to take on menial tasks, if that's what it took to get the job done," he said. "He's got incredible people skills, and that's part of his secret of success. He likes people, and he treats them well."
For his part, Miles thinks this early work provided useful training for later gigs that involved mobilizing large groups of volunteers to achieve a goal on a fixed, utterly inflexible timeline.
"Campaigns are boot camps for leadership," he said. "You have to work all the time, develop the skills to get people to want to work with you, handle pressure and multitask. All those conditions ended up being relevant to later life."
Ironically, it also led to one of the few jobs he believes he failed at. After serving as campaign manager for Dan Quayle's1980 U.S. Senate campaign (the one that unseated Birch Bayh), he reluctantly signed on as Quayle's chief of staff. Miles, who had recently married his wife, Helen, an Indianapolis schoolteacher, threw in the towel within a year.
"I failed, I think, as Dan's chief of staff," Miles said. "I was not really equipped. I didn't really know the legislative process, I didn't know other members and their staffs. And I didn't really want to be there."
Miles returned to Indianapolis and started a direct mail company. Then, in 1984, he was asked to help put a bid together for Indianapolis to host the 1987 Pan American Games, which Chile and then Ecuador had backed out of staging. Indianapolis won, and on Jan. 1, 1985, Miles became the very first employee of the organizing committee, PAX/I. This meant he'd earned the "honor" of organizing the hemispheric extravaganza in just 30 months (host cities normally get six years). When the dust finally cleared, he'd mustered and led a force of 38,000 volunteers, and was instrumental in making the $35 million event the most successful in Pan Am Games history.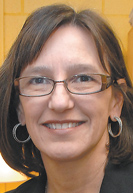 Mr. Fix-it
The career of Allison Melangton, senior vice president of Hulman Motorsports, has been intertwined with Miles' for decades. They met during the buildup for the Pan American Games, though she's not sure if Miles remembers. At the time, he was running the show, and she was one of hundreds of mid-level administrators.
"I would say he was commanding," Melangton said. "He set very high expectations and made us believe in ourselves. Because he was such a good leader, it gave us confidence we could do what needed to be done."
His performance cemented his reputation as the go-to guy for massive, one-off events, and a Mr. Fix-it who could resurrect struggling organizations.
"I think political campaigns made me feel comfortable with the Pan Am Games—along with the team we built," Miles said. "I was surrounded by talented people. No one's dumped out on the street to do these things by themselves."
At about the same time, he was also asked to take over management of the city's pro tennis tournament, then known as the GTE Championships. Miles, who served as president and volunteer tournament director from 1985 to 1990, changed the playing surface from clay to hardcourt, sweetened prize packages, mobilized an army of volunteers and flew in top-seeded players on corporate jets. All of which helped the tournament win the first of 10 consecutive Association of Tennis Professionals Tournament of the Year awards.
His yeoman work caught the eye of the ATP, which made him its CEO in 1990. During the gig, which lasted until 2005, he lived in Florida near ATP headquarters and, for two years, in the south of France.
"Prior to the point when I left to do the ATP, I'd never done anything for more than three years," Miles said. "I didn't quit any clubs or other affiliations here in town because I figured I'd be back. And 15 years later, I was."
Back to Indianapolis
Miles returned to Indianapolis in 2006 to become president and CEO of the Central Indiana Corporate Partnership, a not-for-profit alliance of corporate CEOs and university presidents who work to foster economic development and growth in central Indiana. He stayed until 2012, helping CICP create groups like Conexus, an advocate for the area's logistics industry, and bringing under CICP's umbrella groups that already existed, such as the tech-economy booster TechPoint.
Though one might wonder why Miles would come back to the cornfields of Indiana after spending years in Florida and France, he said returning wasn't a difficult decision. "It didn't matter where we were, this was always home," he said.
In Miles' view, Indianapolis also possessed a "secret sauce" that allowed community leaders and volunteers to pull off near-miraculous organizational feats.
"It is the ability for people who don't have to be elected or appointed to come together, take the initiative, and do something that punches above our weight class," Miles said. "I've seen nothing else like it."
He'd need to use that secret sauce again in 2008, when he served as chairman of the 2012 Super Bowl Host Committee. Though the effort once again required marshaling thousands of volunteers and monumental feats of organization, Miles singles out his work on the game's Legacy Project as the high point for him.
After much debate, it was decided that the project would focus on turbocharging redevelopment of the near-east side. Thanks to the attention brought by Super Bowl involvement, some $150 million was dedicated to various area projects, helping to speed revitalization of the East 10th Street corridor.

"Every Monday morning at 7:30 a.m. for over four years, we sat in the [John H. Boner Community Center's] conference area, a half dozen of us, and kept trying to bring assets together and eliminate problems," Miles said. "That was probably the most satisfying thing."
Melangton, who served as president and CEO of the Super Bowl Host Committee, recalled a particular piece of Miles' advice: "When you have a great idea, go forward boldly." It came in handy when she hit upon the concept of having volunteers hand-knit thousands of Super Bowl-themed scarves for volunteers to wear. She couldn't decide if the idea was brilliant or silly, so she took it to her boss.
"He said, 'I'm not sure that Super Bowl and knitting go in the same sentence, but if you believe in it, I want you to do it,'" Melangton recalled. "'But it better be the biggest, baddest, boldest scarf program that ever existed.'"
It was. Football fans across the country knitted thousands of scarves, and during Super Bowl week, they became sought-after collector's items.
'Minding my own business'
In 2012, the board of Hulman and Co. tapped Miles to be president and CEO, putting him once again in charge of helping to turn around an underperforming sports entity. Only in this case, unlike with tennis, he didn't know the first thing about auto racing.
"I was minding my own business at the CICP, and they asked me to go on the board here and asked me to come to work here," he said.
Miles did know a lot about revving up a sports league, and about marketing and doing television deals. Under his purview, the 100th Indianapolis 500 sold out, NBC forged a new TV contract, new car designs debuted, and more racers joined the field of competitors.
"This league is actually much less complicated [to run], because it's privately held," Miles said. "We would never do it, but if I wanted to, I could just write a new rule and that would be it."
Though he said he's all-in with Hulman, he's also interested in working to improve educational opportunities in Indianapolis.
"A part of that, which I care deeply about, is my seat on the board of The [charter school advocacy group] Mind Trust," he said. "Because I believe that innovating in public education is our best chance to make a difference in the lives of kids and families. Other than that, there's not any particular organization that I'm completely committed to."
Certainly not the pursuit of political office.
"On various occasions over the past several years, people have tried to induce Mark to run for mayor of Indianapolis," said Deborah Daniels. "He would be a very attractive candidate. Certainly, his turnaround capabilities, as demonstrated with [IndyCar], are sorely needed. The attention he's received on this front would turn many people's heads, but Mark doesn't fall prey to such ego-boosting appeals.
"I think he feels, correctly, that he can do a lot for the community through the private sector. It's something he's proved again and again."
For his part, Miles said he has no plans to retire anytime soon. "I never thought there was a year when I wanted to retire," he said. "That's not how I'm wired."•
Please enable JavaScript to view this content.