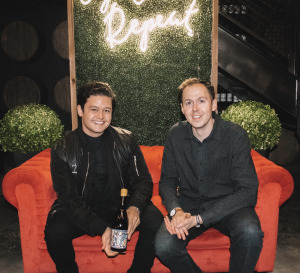 Landon Price and Cesar Paz want to take social media from the realm of cyberspace into the real world.
To do that, the pair of millennials recently launched Plug, a company that created an app by the same name.
The idea behind the Plug app is to allow people to meet socially and professionally on a "hyperlocal" basis, said Price, the company's CEO.
"We're not just technology or an app. We're a movement," said Paz, who focuses on marketing and brand building. "We're trying to pioneer something new—social contact networking. This is a tool and a platform for you to discover the people around you and to connect and collaborate with them. We want to create good technology that helps people make new, genuine connections. We want to bring back human connectivity from online to real life."
Plug is designed to allow people within five to 50 miles of one another to connect either through mutual interests or business needs.
Using geolocation technology, the app lets users know which other users are located in their vicinity at any given time.
"What makes us different is that we allow people to see the hyperlocal view," Paz said. "Plug helps me find the people right in my own community. There's a lot of talent here in Indianapolis, but most people don't know who has it or how to find those people."
The app also helps people locate each other and connect at events like trade shows, conventions, sporting events, concerts and other social events.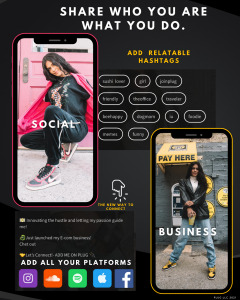 The idea behind plug is that in one place it combines the information of a number of social and business-centric apps including Facebook, Instagram and LinkedIn. The app can contain that information itself and also link to the users other social media accounts.
And the app provides an easy way to exchange that information, kind of like a digital business card. It also provides a way for one person to pay another.
"I would categorize this as a life app," Price said. "You turn Plug on and showcase who you are, your personal life and professional life. It's a 'you' profile. But a big part of the app is facilitating collaborations between people."
The two Ivy Tech State College dropouts met serendipitously. Paz had noticed Price's Instagram account and the photography work showcased on it, but had difficulty identifying who he was because his account always featured other people. Then when they bumped into each other at an event, Paz realized who Price was "and we kind of ran with each other ever since," Paz said.
"Cesar was my other 50% of what I didn't have," Price said. "And God has opened up doors for us. We can't take all the credit."
Plug's hyperlocal approach and idea of personal contact is in stark contrast to many social media sites that help people link globally to others they might never meet or get to know.
Price and Paz are as unique a pairing as is their startup idea.
Price, 27, is a Hoosier born farm boy who grew up in Jonesboro.
He has a professional background in continuous improvement engineering in the food manufacturing sector, where he helped develop a bin methodology organizational system. He's a self-taught techie and more than a little handy with a camera. Price also has an affinity for music and musicians, and said their need to make connections for work was a real inspiration for Plug, which has a sizable following of various artists.
Paz, 26, was born in Venezuela and moved to the U.S. when he was 6 years old. He spent most of his formative years in Westfield, where his family moved for work and to be close to other family members. While working to put himself through college, Paz got into network marketing and never looked back. At some point, he decided he didn't need a college degree to pursue his professional goals.
Paz worked on promotional tours and event marketing for myriad top-shelf brands including Coke, Kellogg's, Starbucks, Mountain Dew and American Arts Association.
Paz inherited his creativity from his mom, Luz Paz, a world-renowned balloon artist who has worked on projects for Tommy Hilfiger, Jennifer Lopez and the Kardashians, among others.
"My mom taught me to create the wow factor or wow moments and give people those experiences," Paz said.
Price and Paz had a crystalized vision, but raising capital for the venture wasn't easy.
"Raising capital for a [business-to-consumer] app can be difficult," Price said. "Especially in this market where there's so many [business-to-business] software companies. We've had real challenges raising capital in the Midwest."
So the duo raised more than $100,000 from friends and family members and launched a plan in 2019 to host events that would help draw attention to the Plug app.
Price and Paz began testing their app in August 2019 with beta premium access granted to 100 people. The app officially went live in January 2020. To get the company off the ground, the two founders have pulled a team of 17—mostly contractors—together to design, develop and promote the app.
The events side of the business, Plug Live, has taken on a life of its own. The idea is to host attention-catching events and promote and broadcast the happenings of those events through the app. Paz said the company has generated a lot of marketing muscle through the glitzy events, which always incorporate features and photo opportunities that will prompt activity on the Plug app. Price often organizes a photo shoot at events.
"Through the events, we're not just showcasing the app, but showcasing people using the app," Price explained.
They're also using the app to showcase how it can be used for good, including helping Wheeler Mission gather needed clothing for people that go to the mission.
"We have four pillars with this company," Price said. "Community, collaboration, connections and putting people first. That's what this is all about."
Price and Paz are now trying to raise a $5 million Series A round of capital to expand the company—which is headquartered downtown at 120 E. Market St. and currently focused solely on Indiana—to Chicago, New York, Miami, Atlanta, Phoenix, Los Angeles, and parts of Texas and Oregon.
The Plug partners are confident they'll have their Series A round closed later this year and they have a business plan that calls for the company to become profitable in 2-1/2 to three years.
Price and Paz declined to say how many users Plug has, but said it has "thousands" and emphasized it's more than a few thousand.
The duo said they're focused on improving the app and providing a solution to people's problems now, and will wait to activate plans to monetize the app. But they've clearly thought that out.
"Eventually, we think Plug will be the solution for the new gig economy," Price said. "This opens up the door for multiple streams of income."
There are features on the app that facilitate peer-to-peer payment. Price explained that Plug could get a cut of those transactions.
"One thing I can tell you for sure is we're not selling data and any advertising we sell on the app would be down the road," Price said. "We're going the [financial tech] direction."
Privacy is "one of the biggest focuses" for the Plug founders, Price said. Users can turn off or limit access to their social or business information and can operate in ghost mode.
Growth, of course, is another big focus.
"We could have created just another app and nobody would care," Paz said. "This company is about more than an app. We want to start growing so Plug is a movement to empower the doers."
Please enable JavaScript to view this content.