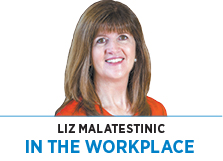 Search in Google's news category for the term "the new normal" and you will find 22 million results. You might feel as though you have heard the phrase repeated in conversation almost as often.
We are all painfully aware of the many changes in the workplace and world around us, and we are eager to come up with solutions that will help us manage those changes going forward. By defining our expectations and formulating detailed plans, we hope to reduce uncertainty and the anxiety that comes with that uncertainty.
If only it were that easy.
The changes in the way we work have been dizzying this year. Managers who, until a couple of months ago, believed that people who worked from home probably weren't working as hard as those in the office, have had their eyes involuntarily opened.
Not only are people often just as productive at home, in many cases they are working harder. For many, the blurring of lines between home and office means longer working hours. After all, if you're no longer commuting, taking lunch hours or even chatting with colleagues in the hallways, it's easy to spend longer hours at the computer without realizing it. A study published in the Quarterly Journal of Economics in 2015 found that remote workers were actually 13% more productive than those who worked in the office.
Of course, that study did not include one important variable we face in the current equation: More than half the kids in the nation are out of school right now, and all of Indiana's K-12 students are learning remotely.
As economist Nicholas Bloom, one of the researchers involved in the remote worker study, pointed out in a recent interview with Stanford News, the conditions in 2020 are very different from those in 2015: "We are home working alongside our kids, in unsuitable spaces, with no choice and no in-office days." He stressed that those in-office days are important for collaboration, communication and even innovation. It is telling to note that, after the study was over, half the employees chose to return to the office due to feelings of isolation, loneliness and even depression.
The stress involved in working at home under these conditions has taken a toll on many workers. A survey conducted by Eagle Hill Consulting found 45% of employees report they are burned out; among those, 25% say the burnout is "due to circumstances related to the COVID-19 pandemic." One finding of note: 36% of employees who say they are burned out believe their company isn't doing anything to relieve the situation.
While Indiana is cautiously moving toward "normality," it won't be that simple in the workplace. The current guidelines indicate that offices and retail stores can be fully open in June, but they also state that companies should do so "with social distancing." Social distancing in the workplace is not always easy, though, and the challenge will be how to make that happen.
Certainly, the retail industry has had to be on the forefront of social distancing and other safety measures. As statewide restrictions relax, though, attitudes will as well. It will be important for those public-facing occupations to be vigilant with regard to protecting their employees' health—continuing to provide hand sanitizer and encouraging masks and even physical barriers where possible. Staggering breaks and lunches so employees won't be crowded together might help also.
As far as offices are concerned, the issues are somewhat different. Whether or not to return at full force will have to be carefully considered. Employers might simply decide that, due to ongoing concerns with the pandemic, most of their employees should continue working remotely. A more likely scenario is that employers might choose to use alternating schedules for in-office days in order to reduce office congestion. Consideration will have to be given for those employees whose children attend school year-round, of course. And accommodations might need to be made for workers who are older, have health conditions or are simply afraid to be in places with large numbers of people.
The pandemic has unfortunately become somewhat politicized, but employers can't allow those arguments to creep into their decision-making process. Decisions need to be made based on state and federal guidelines, with the health and safety of the organization's employees taking precedence.
Perhaps the biggest key to making effective plans in all this is flexibility. There won't be a new normal for a long time—if ever. Our normal will continue to evolve, and employers will have to think creatively to plan for a variety of situations and employee needs. When unemployment numbers move lower and employees can be more "choosy" again about where they work, they will likely choose a place of employment that demonstrated during this crisis that their employees matter.•
__________
Malatestinic is a senior lecturer in human resource management at the Indiana University Kelley School of Business at IUPUI.
Please enable JavaScript to view this content.