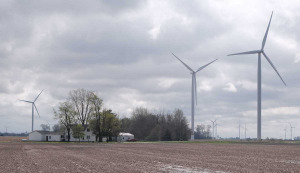 Much-debated legislation to boost wind and solar farms in Indiana was thwarted during this legislative session, but a key state lawmaker said Thursday he hopes to revive the issue next year to help meet the growing need for renewable energy.
"We'll bring back something," vowed Rep. Ed Soliday, the bill's author, as this year's regular legislative session came to a close. "I don't know whether it will look like this (bill) or what it will be."
The Indiana House passed House Bill 1381 in February, hoping to set statewide siting standards for wind and solar projects. But when local officials began fearing the loss of control over future projects, support for the bill began to unravel and the Senate significantly amended the proposal to offer some local zoning control and financial incentives for counties to approve the projects.
Still, the changes weren't enough to win approval in the Senate, where sponsor Sen. Mark Messmer, R-Jasper, pulled the bill before it came up for a vote.
"They only needed one more vote in the Senate to pass it," Soliday said.
Opponents feared that a last-minute attempt would be made to slip the proposal into another bill before this year's session ended, but that never happened.
The bill failed despite support from a strong coalition of major businesses, large manufacturers, energy associations and renewable energy developers.
The measure wasn't a partisan issue, though, with support and opposition mixed among Democrats and Republicans.
Opposition came from local government officials, such as the Indiana Association of County Commissioners and the Association of Indiana Counties, and citizens' groups that want zoning decisions to be completely made by local government bodies.
Ryan Hoff, director of government relations for the Association of Indiana Counties, said he was pleased the bill did not pass, but he stressed the counties are not opposed to renewable energy development.
"But protection of local control is obviously a big priority for our members," he said. "We want to make sure the development is happening with local officials' input and to make sure local citizens' thoughts are known. Our concern was solely making sure that local concerns were part of the process."
Hoff said local officials are still learning and becoming better informed about renewable energy and trying to make the best decisions for their communities. While he recognized some counties are turning down these projects, he said other communities are saying "yes."
"That's for the local officials to decide, whether renewables have a place in their communities," he added.
Supporters maintain, however, that something must be done to counter the 34 Indiana counties that have such restrictive ordinances that they prevent or make it very difficult for wind and solar developers get their projects approved.
The bill's demise was disappointing to the Indiana Chamber of Commerce, said Greg Ellis, vice president of energy and environmental policy.
"It's something we've pushed for the last couple years. We thought it was legislation that was needed. We thought we were going to make it this year, but it didn't work out," he said.
Nevertheless, he said, the state is going to have to do something to encourage wind and solar development as more energy companies commit to reducing their carbon emissions and their reliance on coal-fired power plants.
"What killed it, in essence, was the local control issue. Local governments seemed to flip flop in the end," Ellis said.
But he's hopeful that the role of wind and solar development will be discussed again during this summer's meetings of the 21st Century Energy Task Force, a group of legislators and energy representatives, who were appointed to recommend a regulatory framework for Indiana's future energy production.
Soliday also said the task force will provide more opportunities to continue speaking with experts on the state's energy policy. "We will take their testimony into consideration if any legislation is crafted in the future," he said.
Under the Senate version of this year's proposal, state standards would have been created for such projects but more restrictive local ordinances would have stayed in place if adopted by July 1. The bill also offered a financial incentive for modifying local rules, amounting to as much as $3,000 per megawatt capacity of the projects.
Counties would have had the option to adopt "renewable energy districts" called RED areas. These districts would have provided ways for governments to approve wind and solar projects— if a group of property owners wanted the projects on their land.
But some citizens groups expressed concerns that the projects-sometimes encompassing thousands of acres-would reduce the value of nearby homes by limiting their appeal and livability. Some said they weren't opposed to renewable energy but emphasized that the projects need to be proper distances from people's homes and meet local zoning requirements.
Soliday stressed the demand for renewable energy remains strong.
He argued that Indiana businesses and other entities will either pay a lot more money for transmission costs to access renewable energy or the state can reduce those costs and create a more appealing climate for economic development by doing more to attract developers of wind and solar power.
CORRECTION: This story has been changed to remove the Citizens Action Coalition from a list of organizations that supported House Bill 1381. Citizens Action Coalition remained neutral on the bill but supports the long-term goal of having more renewable energy generated in Indiana. You can see other corrections here.
Please enable JavaScript to view this content.