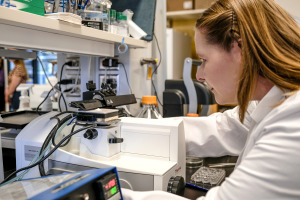 Bridget Perkins turned on the slicing machine and got to work.
On her laboratory bench at the Indiana University School of Medicine's Stark Neurosciences Research Institute, a razor-sharp blade sliced cleanly through the tiny section of a mouse's brain, serving up a delicate shaving smaller than a fingernail and thinner than a sheet of paper.
Perkins, a research analyst, ran the blade through again and again, serving up more shavings. "It gets us these really, really thin slices in different sections of the brain," she said.
The machine, called a sliding microtome, can slice a single mouse's brain into more than 500 shavings, which laboratory workers then stain with antibodies and place on slides to study.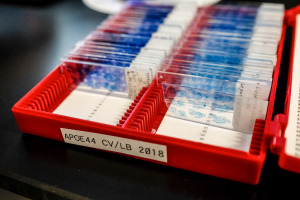 All those brain sections are meant to help scientists unlock one of the toughest riddles in modern medicine—how to identify the factors most at risk for Alzheimer's disease—then help develop treatments.
It's a huge challenge. Alzheimer's disease kills more than 100,000 Americans a year, making it the fifth-largest cause of death among Americans age 65 and older. The disease has no cure. Current drugs only temporarily ease symptoms and do not slow mental decline.
Last month, the IU School of Medicine announced that it won a five-year, $48.8 million grant from the National Institute on Aging, a division of the National Institutes of Health, to create in mice genetic mutations similar to those found in people with late-onset Alzheimer's.
The goal is to discover new insights into a disease that has mystified researchers for decades.
The program, which the NIH helped set up at the medical school in 2016 and had funded with a total of $35.7 million before the latest grant, has developed 40 new models of genetic mutations.
Like much of scientific research, the process is slow and expensive. Researchers say they have identified several promising targets in the brain as well as chemical compounds that have been demonstrated to hit the targets that might slow progression of the disease.
"I think we need to move forward with those as fast as we can," said Bruce Lamb, executive director of the Stark Neurosciences Research Institute and professor of Alzheimer's disease research at the medical school.
But he acknowledged it will likely be years before researchers can advance those compounds out of mice and into humans for large-scale clinical trials, either alone or with a partner in the biotech or pharmaceutical worlds.
Decades of discouragement
The history of research into treatments for Alzheimer's is filled with setbacks. From 1998 to 2017, 146 candidate medicines were unsuccessful in clinical trials, according to America's Biopharmaceutical Companies, a coalition of the world's largest drugmakers, including Indianapolis-based Eli Lilly and Co.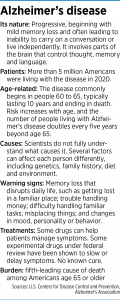 During the same time, just four received U.S. Food and Drug Administration approval, and those drugs only treat symptoms. They are unable to slow the disease's progression.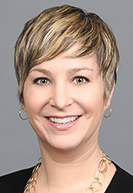 The cost of developing a typical Alzheimer's drug is $5.6 billion, and the process takes 13 years from preclinical studies to regulatory approval, according to the Alzheimer's Association. For comparison, an estimated cost of cancer-treatment development is $793.6 million per drug.
"Although Alzheimer's research and drug testing has significantly advanced in recent years, the field still faces challenges translating basic science discoveries into effective treatments and care practices," Rebecca Edelmayer, senior director of scientific engagement for the Alzheimer's Association, told IBJ.
"At the same time, genetically engineered rodent models of early-onset Alzheimer's disease have provided key insights into genes implicated in human Alzheimer's and how they lead to the destructive brain changes observed in Alzheimer's disease," she added. "There is a critical need now to generate multiple new animal models of Alzheimer's, particularly focused on late-onset Alzheimer's disease, that can help facilitate the development of novel Alzheimer's therapies."
Indeed, more potential treatments are in the wings. Last month, Japanese drugmaker Eisai and its American partner, Biogen, announced their work on an experimental Alzheimer's drug that they say slowed cognitive and functional decline 27% in a clinical trial, a development that increased the therapy's chance for approval as soon as early next year.
Meanwhile, Lilly is testing an Alzheimer's drug called donanemab in clinical trials. That effort comes after disappointing results in recent years for three high-profile experimental Alzheimer's disease drugs that cost the company more than $3 billion to develop.
Scientists have offered many explanations for the failure of Alzheimer's disease trials, including incorrect drug doses, wrong treatment targets and starting the tests in patients with the disease too advanced, according to British medical journal The Lancet.
But perhaps at the top of the list is an inadequate understanding of the biology of Alzheimer's disease.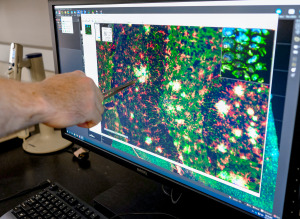 Attacking the puzzle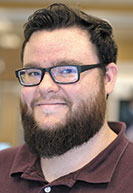 That's where laboratories like this one are playing a part, trying to advance the understanding of the basic science of the disease.
At his bench in the IU laboratory, Chris Lloyd flicked through a series of magnified slides of brain sections on a computer.
The slides lit up with brightly colored images: green showing the abnormal, decaying neurons; blue showing clumps of a protein called beta-amyloid plaque often associated with Alzheimer's disease; and red showing the white blood cells of the brain, typically clumped around the plaque to fight the intruding proteins.
"We use a fluorescent microscope that shines different wavelengths of light that excites the specific areas," said Lloyd, an immunohistochemistry project manager, whose job is to oversee the process of identifying which parts of the brain tissue to stain with antibodies that light up in colorful images.
The laboratory has studied thousands of mice in its effort to create research models to identify genetic and environmental risk factors for the disease.
The program includes partners from Jackson Laboratory in Bar Harbor, Maine (which supplies the mice); the University of Pittsburgh School of Medicine; and Sage Bionetworks, a not-for-profit in Seattle that promotes open science.
The consortium goes by the official name Model Organism Development and Evaluation for Late-Onset Alzheimer's Disease, or MODEL-AD for short.
The laboratory has more than 1,000 mice on hand for research, Lamb said. He declined to let IBJ see or photograph the live mice. But he allowed IBJ to watch Perkins, one of the lab team members, slice a mouse brain that would be used for analysis.
Mice are favored by Alzheimer's researchers because their anatomy, physiology and genetic makeup are similar to that of humans.
From the ground up
Lamb, a neuroscientist who has a doctorate in molecular biology, came to Indianapolis to set up the program from the Cleveland Clinic, where he researched the basic disease mechanisms of Alzheimer's, including the genetic factors involved in the metabolism and buildup of the protein that makes up the plaque deposits associated with the disease.
His first task was to set up a brand-new laboratory in a space on West 15th Street, just south of Methodist Hospital, that had yet to be built out and was just a dirt floor.
"We literally started with nothing," Lamb said. "The first year really was just hiring staff, setting up the lab, getting animals ready and starting to do the genotyping"—a process of determining the DNA sequence that can be used as markers in studying the disease.
His researchers started with all the information that has come out of human genetics studies that have identified risk genes for late onset of the disease, which typically is defined as onsets that start at 60 and older or 65 and older.
They had plenty of help. Around the world, huge groups of researchers have identified genetic risk genes and mutations that are associated with higher or lower risk of the disease.
"We have used all of that information and then translated it into the mouse," Lamb said. "Can we model those specific genes into the mouse? Some of them we can because the genes are conserved—[or sequenced]—and we can essentially make the same mutations. But some genes don't even exist in the mouse. Then we have to come up with new ways to model those."

Over the past six years, researchers have combined different genetic risk factors to learn which specific combinations of genetic risk drive the disease.
Using a process called genome editing, researchers can make precise genetic alterations in the mice to discover higher or lower risk of Alzheimer's disease.
Researchers are able to combine the genetic variants in a broad assortment of ways. One protein, called apolipoprotein E (or APOE for short), is involved in the metabolism of fats and has been linked to Alzheimer's disease. A genetic variant, called APOE 4, increases a person's lifetime risk of getting Alzheimer's disease fourfold, Lamb said.
Types and subtypes
The researchers are also testing the hypothesis that the so-called Western diet, high in fat and sugar, might increase risk of Alzheimer's disease in people. But like most Alzheimer's research, the results were complicated, meaning there's likely not going to be a one-size-fits-all therapy for patients.
"There's some gene variants which seem to really respond to the effects of the diet, and there's others that really don't match at all," Lamb said.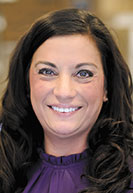 Making the job more challenging is the widely held theory that Alzheimer's disease has many types and subtypes. That keeps researchers busy identifying all the targets in the brain that different people stricken by the disease might respond to.
"I think the lab provides sort of a way to help Big Pharma get to personalized medicine for patients," said Adrian Oblak, principal investigator for the MODEL-AD consortium, who has a doctorate in anatomy and neurobiology.
The consortium is just one of many research projects at the IU School of Medicine focusing on Alzheimer's disease. The Indiana Alzheimer's Disease Researcher Center was established in 1991 to bring together investigators and resources at the medical school with scores of researchers.
Meanwhile, the school established a Drug Discovery Center three years ago with a $36 million federal grant to accelerate the development of promising Alzheimer's treatments.
So far, mice have helped researchers get a better understanding of the brain and the disease. But the process of turning science into treatments promises to be a long one. Already, Lamb and his colleagues are girding for a long road with possible assistance from partners in the biotech and pharmaceutical world.
"We've had some initial discussions with some different companies who potentially have interest," Lamb said. "That is something that we are working on."•
Please enable JavaScript to view this content.