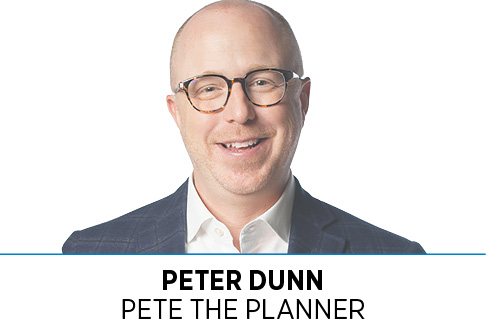 Dear Pete,
With everything still shut down, and our unwillingness to put ourselves and others at risk by traveling, we find ourselves with a surplus of discretionary income. And since we are spending so much time at home, we're thinking we could undertake some major home improvement projects. Is that foolish from a financial perspective? Should we just save the money instead?
—Dre, Fishers
It takes one glance out a residential window to realize many people have come to the same conclusion you have come to, Dre — If I'm not going on vacation, I want my home to feel like a getaway. I know my neighborhood streets are filled with contractors in white vans. And assuming they're not federal agents masquerading as painters, the home improvement business is going bananas.
There's something incredibly practical about putting money into your home, in the right places. The key is to not get carried away by convincing yourself every dollar spent is wise or even an investment. The "i" word gets a lot of people in trouble, especially in housing. You must also ensure you haven't created a giant ongoing expense, when what you thought you were getting was a one-time purchase.
Investment might be the most overused word in the world of consumer purchases. When used wisely, it can bring deep satisfaction, as well as possibly even a financial return. Used incorrectly, you'll become the king of warped justification and unsatisfying excess. In fact, the more you hear a salesperson use the word investment when you're contemplating a purchase, the less of an investment it likely is.
Yes, a house can be an investment, especially if it's specifically an investment property. But no, not every home improvement expenditure is an investment. It might be an investment in your ability to gain personal satisfaction, but it certainly isn't necessarily an investment that will generate financial gain. Just as smashing a triple cheeseburger is an investment in ending your personal hunger, you must be sure you don't conflate the word "investment" with the concept of "investing for financial gain."
You need to know the difference between the two for very practical reasons. I don't believe a person should make financial decisions based only on whether an expense generates a financial return. If I did, I would never go out to eat, go on vacation, or buy a better mic for Zoom meetings.
Our desire to strengthen our homestead during uncertain times (sorry) is both understandable and prudent. In these last few months, I've found myself repairing and installing everything from door handles to light fixtures, all the while praying for Bob Vila to christen me his successor. Honey-do lists throughout the world are shrinking faster than global bakers' yeast supplies. On top of that, real pros are getting called in to renovate and expand square footage, from bathrooms to outdoor sitting areas, thus creating a booming industry.
There's a reason the RV, home improvement and bicycle industries are doing record levels of business, in spite of near-record unemployment. Dollars usually reserved for air travel, hotel stays and car rentals are being redirected to other discretionary-spending categories. Some of these expenditures are one-time purchases, while others open a Pandora's Box of spending.
On the surface, I think increasing the value of your home via renovation or expansion makes sense. That is, as long as you don't significantly increase your maintenance costs in the process. For instance, the pool installation expenses don't stop when you fill the pool with the last drop for the first time. If you're already aware your bank statement will be saturated with new expenses, be sure to decrease spending in another category to ensure you don't get in over your head. Frankly, this is one of the biggest mistakes I see on a regular basis. Your financial priorities are allowed to shift, but you need to tell your habits.
If you have a full emergency fund, consisting of three months' expenses set aside in a non-qualified savings account, go ahead and dip your toe into the world of home improvement. If you don't have the necessary stability provided by a full emergency fund, make that the priority, then revisit the home improvement project once the fund is full.•
__________
Dunn is CEO of Your Money Line powered by Pete the Planner, an employee-benefit organization focused on solving employees' financial challenges. Email your financial questions to askpete@petetheplanner.com.
Please enable JavaScript to view this content.