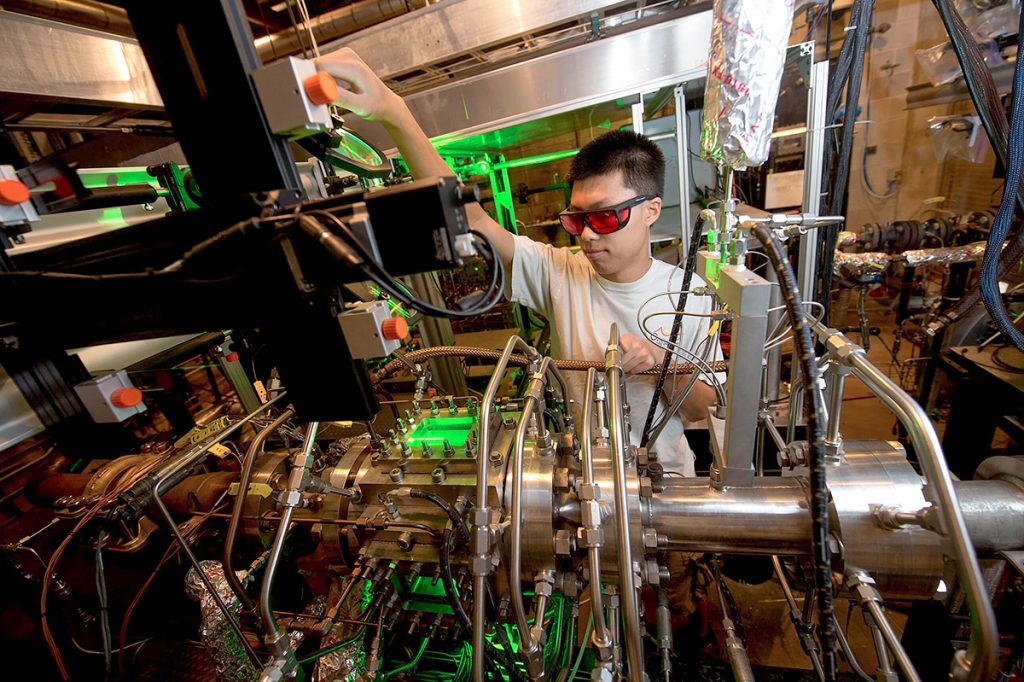 It was two years ago when a report commissioned by BioCrossroads, the Indianapolis-based group that promotes and invests in the state's life sciences sector, raised a red flag about the relatively small amount of federal funding for research at the state's three major research universities: Indiana, Purdue and Notre Dame.
But now, BioCrossroads officials say a closer look at those numbers revealed some unique characteristics about this market that actually paint a picture that is hopeful rather than dire.
The study done in 2017 by Columbus, Ohio-based Teconomy Partners LLC found that, while 54% of university research expenditures nationwide came from federal sources, that proportion was only 41% at Indiana universities.
That was based on figures from 2016, the latest year data was available when the study was done, and raised questions about whether Indiana schools were pulling in their share of federal money.
But the subsequent analysis—in 2018—drilled down into the numbers to get a grasp of the situation and came up with better news, establishing that Indiana's federal funding percentages were low in part because the schools are bringing so much money in from other sources.
Those numbers matter. It's been clear to state leaders since about 2000—when Indiana was hemorrhaging manufacturing jobs—that universities, not factories, would have to be the engines of the state's future economy.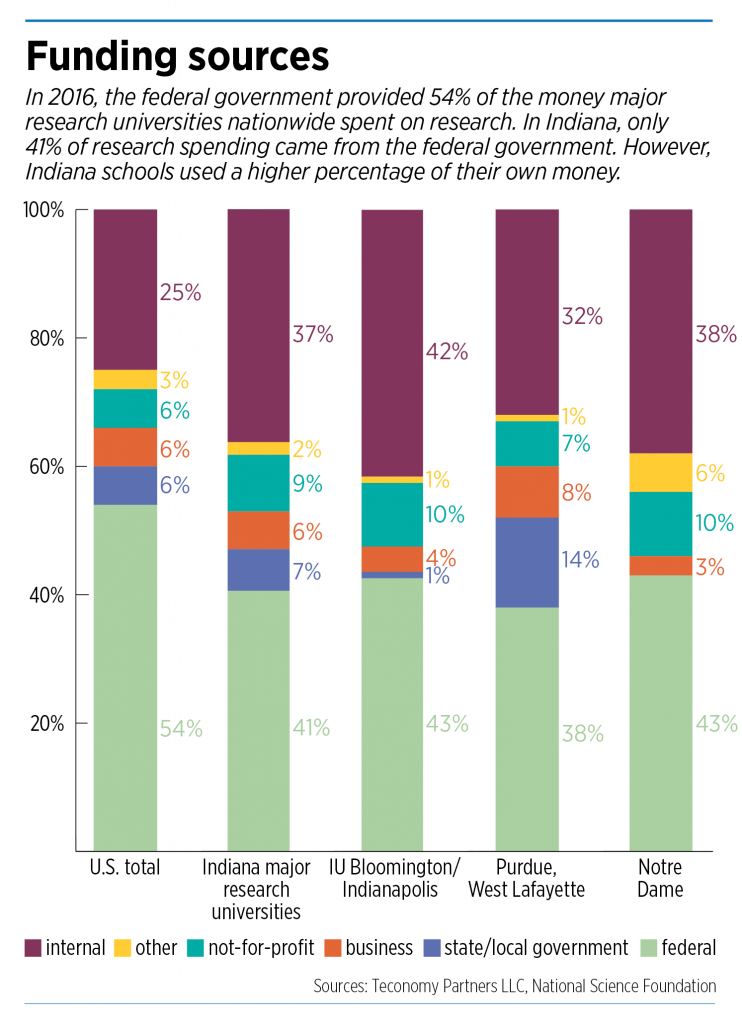 So the research budgets and federal funding levels are seen as increasingly important drivers to attract and produce more jobs here, give rise to more licensed technology and startup companies, as well as boost some of the state's biggest and most promising existing companies.
"The state's research universities have a great role to play that goes far beyond their tech transfer," a term that refers to the commercialization and spread of research outside the school setting, said David Johnson, who was CEO of BioCrossroads when the Teconomy report was commissioned. He vacated that role last year but remains CEO of Central Indiana Corporate Partnership, the umbrella organization that oversees BioCrossroads and five other initiatives.
The research enterprises at Purdue, IU and Notre Dame employ more than 6,000 workers, based on data from the schools. The research also gives rise to myriad commercially licensed products and processes as well as a bevy of startups.
"The sheer economics of it is huge," said Fred Cate, Indiana University vice president for research. "The money the state's research universities bring in adds to the prosperity of the state in a big way."
Diversified funding
The most recent Teconomy study, Johnson said, shows some circumstances here that hold down the percentage of federal research funding at Indiana's three main research universities.
First, he pointed out, Purdue is a land-grant university, which means it is required to get local and state matches for the federal money it attracts.
The Indiana universities also get major contributions from the business sector, including significant funding from corporate giants such as Eli Lilly and Co. and Rolls-Royce.
For instance, Eli Lilly and Purdue in late 2017 announced that the pharmaceutical company would provide up to $52 million over five years for a life sciences research collaboration.
The local presence of the massive Lilly Endowment—which pumps millions into state schools' research efforts—also tips the percentage scales lower in terms of federal funding.
In fact, the studies found IU and Purdue are ahead of other schools in the types of additional funding they draw.
"Purdue is one of the leaders in the country in this because companies continue to reach out to the school," Johnson said. "IU is also a leader in this type of funding because so many companies are reaching out to the IU medical school."
That diversity is happening by design, said Theresa Mayer, Purdue's executive vice president for research and partnerships. Mayer was hired away from Virginia Tech earlier this year to replace Suresh Garimella, who left Purdue to become president of the University of Vermont.
The Teconomy report found that Purdue's and IU's corporate-sponsored research and not-for-profit support are higher than the average of all top-quartile U.S. research universities nationally.
"The fact that funding from our industry partnerships is higher is reflective of work being done to diversify our portfolio," Mayer said. "From where I sit, that's very positive."
Notre Dame, too, has had significant success with corporate-funded research projects, including recent funding from GE Aviation, Pratt & Whitney, IBM and Intel, among others.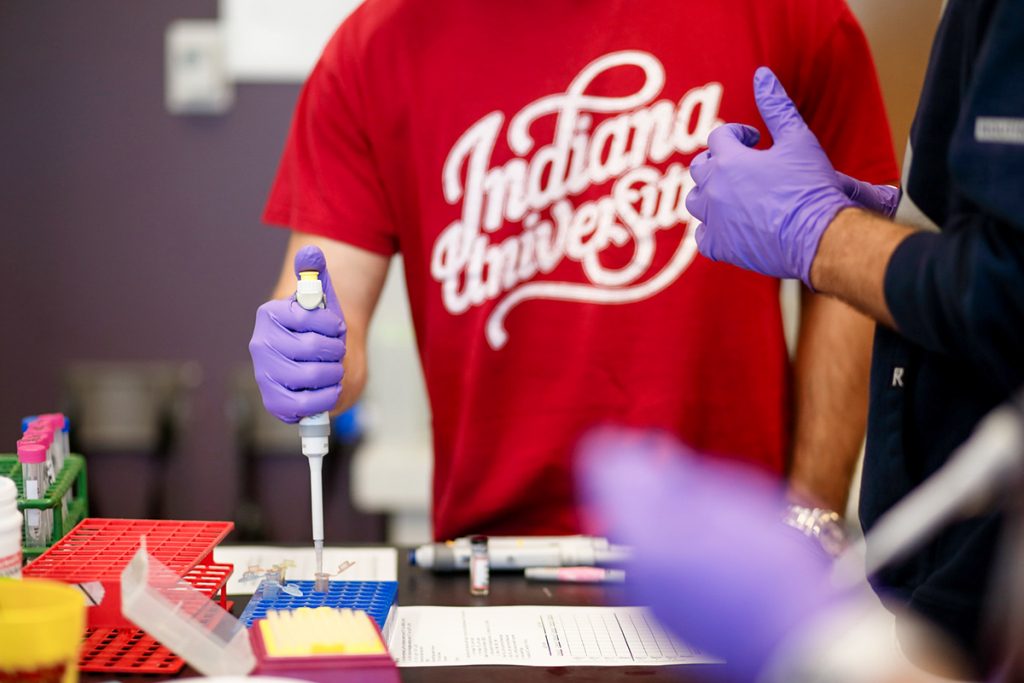 This year, Notre Dame landed a $33.7 million grant from Switzerland-based Unitaid to study the prevention of mosquito-borne diseases such as malaria.
The emphasis by Indiana's three primary research universities—which account for 98% of university research expenditures in Indiana—to diversify their research income is coming at a good time, said CICP's Johnson.
"Since it peaked in 2006, overall levels of federal funding for research are not going up," he said.
Internal contributions
Indiana, Purdue and Notre Dame also are ahead of the curve, the Teconomy report found, in making internal contributions to research projects, which further dilutes the federal funding on a percentage basis.
"Indiana universities are not investing just to keep labs open," said Marty Grueber, Teconomy Partners principal and research director. "They're taking a proactive approach to research investment."
The University of Notre Dame is relatively new to the research game, having taken a major plunge about 15 years ago. "They invested $80 million of the school's own money to get started," Johnson said.
During recent fiscal years, at least 35% of research expenditures at Purdue and Notre Dame have come from internal sources, while IU has had years above 40%. The national average in recent years has been below 30%, according to federal accounting reports.
"Internal funding for research is critically important. It's the way you prime the pump," IU's Cate said. "You don't go to a federal funder and say, 'I dreamt of a good idea last night.' You say, 'I've been doing this research, and let us show you how promising it is.'"
Internal funding is also necessary for projects that need to be fast-tracked. Federal funding can take months or years to secure. Problems that need to be addressed more urgently—the state's opioid crisis, for instance—often need to be fueled with internal research dollars, Cate said.
Purdue President Mitch Daniels, IU President Michael McRobbie and Notre Dame President John Jenkins have all made serious commitments to use internal funding to boost research, sources familiar with the schools' strategies told IBJ.
"This isn't new money. It's repurposed in a more strategic way," Cate said.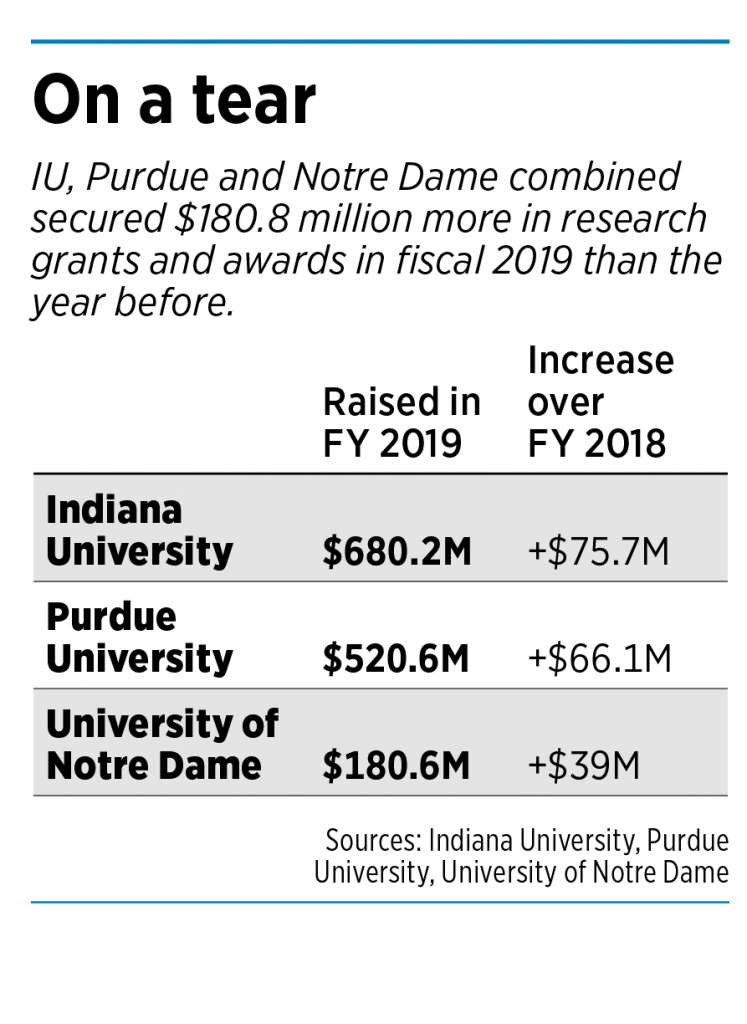 The commitment to internally fund research doesn't decrease the importance of external funding, he added. "Those federal dollars are critically important."
Two important monetary measures gauge the health of universities' research efforts.
One is the annual amount of outside funding secured—from federal agencies such as the U.S. Department of Health and Human Services, corporate partners and other grants, awards and donations. This reporting usually doesn't include internal funding.
The second measure is the universities' annual spending. Those two columns don't necessarily line up because, while a school counts the entire amount of a grant or gift as income in the year the deal is secured, that money might be spent over several years.
A company might agree to give a school a $50 million grant, for example, to be spent in increments of $10 million annually for five years.
Annual research spending also usually counts internal funding—money that comes from the school's coffers or foundations.
While federal agencies and most analysts track the annual expenditures, colleges often report the annual amount of committed income in separate reports, which can confuse the picture. The Teconomy report is based on annual expenditures.
University officials say the amounts of income reported can shed light on the pipeline for years to come.
Record research income
In terms of research grants and awards secured, IU, Purdue and Notre Dame are all on a tear. Combined, the three schools brought in $180.8 million more in fiscal 2019 than in fiscal 2018.
For fiscal 2019, which ended June 30, IU reported securing a record $680.2 million in external funding to support research. IU has increased such funding nearly 45% since 2009.
"The past two years for IU have been fabulous," Cate said. "We've been up 20% each of those years."
One of the reasons Cate said IU has been doing so well is that the "IU medical school is hitting it out of the park. The medical school is incredibly focused and strategic in doing research and development."
Just last month, the IU School of Medicine was awarded a grant expected to total $36 million over five years from the National Institutes of Health to launch a drug discovery center to accelerate the development of promising treatments for Alzheimer's disease.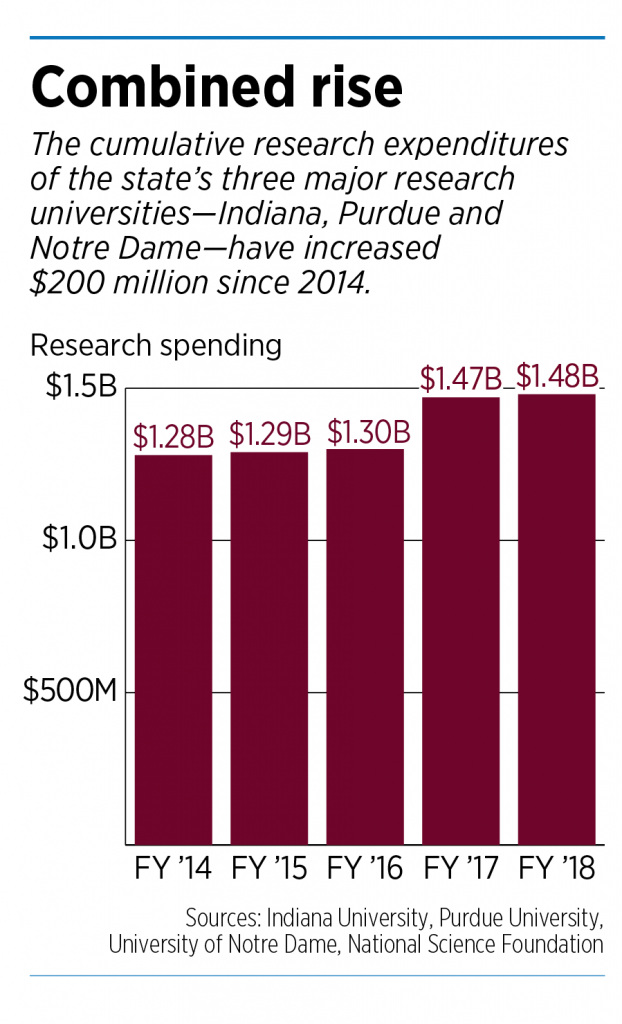 IU is also making waves in tech, including cybersecurity and artificial intelligence; in psychology and brain sciences; in precision health care and genomics; and in climate change.
In FY2019, Purdue generated $520.6 million, shattering the previous year's record of $454.5 million. This marked the fifth consecutive year the university has set a funding record.
Purdue scored a number of research grants and awards in 2019 in the areas of agriculture, aeronautics, technology and medicine. Among the highlights was $22 million from the U.S. Agency for International Development for long-term assistance services for Partners for University-led Solutions Engine—PULSE—to build research capacity in developing countries; and $15.2 million from the Centers for Medicare and Medicaid Services to disseminate best practices for opioid addiction recovery, cost-effective quality care for Indiana's long-term-care patients and statewide Medicaid technical assistance.
Notre Dame received $180.6 million in research funding in FY 2019—$100 million more than 10 years ago and an increase of more than 27% from last year. The funding was awarded to support a broad range of projects that tackle globally significant issues, including vector-borne diseases, cancer, psychology, nanotechnology, hypersonics and more, said Robert Bernhard, vice president for research and professor in the Department of Aerospace and Mechanical Engineering at Notre Dame.
"Last year was a remarkable year for Notre Dame, and the faculty deserve all the credit," Bernhard said.
Increasingly, research universities look to hire professors and faculty members who can bring in research dollars. "That's absolutely something we look at," IU's Cate said.
Increased collaborations among the three schools has also pushed the research funding higher. For instance, IU's drug discovery center has a strategic partnership with the Purdue Institute for Drug Discovery.
"The research universities in this state are highly cooperative, and it's not like that in every state," Cate said. "We can do more for the state by working together."
Promising progress
The state has made steady progress in several key areas.
The research and development expenditures of a state's colleges and universities as a portion of the state's gross domestic product is a key indicator of how much emphasis a state puts on R&D to fuel its economy, according to economic development experts.
On that measurement, Indiana has moved to 17th in the nation in 2017, up from 21st in 2007 and 26th in 2000.
Indiana spends $4.17 for every $1,000 of state GDP, compared with the national average of $3.84. Indiana ranks above all its contiguous neighbors, with the exception of Michigan, which comes in at $5.26. Michigan is fueled by the University of Michigan's $1.6 billion in annual research expenditures.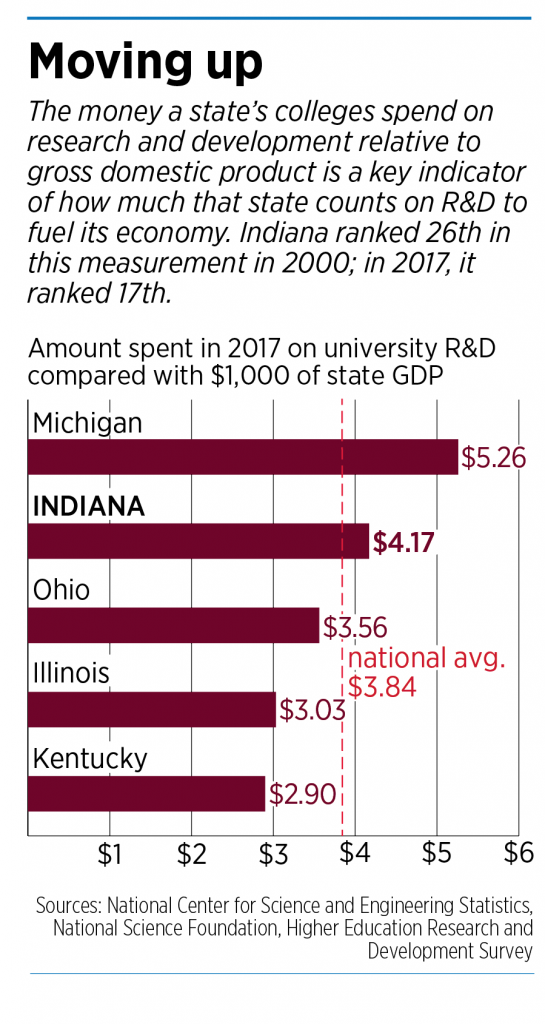 While Indiana doesn't have a super-powerhouse research institution like that, the annual research expenditures of Indiana's three research universities have increased from $1.28 billion in fiscal 2014 to $1.48 billion in 2018, the latest available data.
There are signs, too, that Indiana is making progress on the federal research funding front. IU's medical school for instance, climbed from $97 million in 2013 funding from the National Institutes of Health—one of the leading sources of federal funding—to $149 million in 2018.
IU's ranking in that category nationally climbed from No. 41 among university research hospitals to No. 33.
"That's a 54% increase during a relatively tough time," CICP's Johnson said. "That's taking market share from someone else. There's real prestige in moving in that direction."
While the state research universities have made progress, they continue to lag their peers nationally in percentage of federal funding that makes up their annual research expenditures. The data for fiscal 2019 won't be released until later this year.
"It's something to monitor," said Teconomy Partners' Grueber. "But given the [Indiana] universities' diversified approach to research fundraising, it's not overly concerning."
Still, no one is denying the importance of outside funding for IU, Purdue and Notre Dame.
"The federal government is by far the largest source of basic research funding," Grueber said. "These are resources that come from outside the state and fuel the state's economy. They're a strong economic signal for the state."
Bernhard, who worked at Purdue for 25 years before joining Notre Dame 12 years ago, said it's a challenge to set research fundraising marks year after year. That said, he noted Notre Dame was $10 million ahead of last year's pace during the first quarter.
IU and Purdue also are also confident 2020 will be a strong year.
"A lot depends on timing, so you never know with research funding," Cate said. "But for IU, I'm very optimistic about 2020."•
Please enable JavaScript to view this content.