Get the latest news on protests in the Indianapolis area against police violence in this ongoing series of updates available outside IBJ's paywall.
9:15 a.m., June 5
Mayor announces times for Friday, Saturday curfews
Curfews in Marion County on Friday and Saturday will run from 8 p.m. to 6 a.m.
Mayor Joe Hogsett earlier this week suspended overnight curfews on Wednesday and Thursday, but warned they would be in place again for the weekend. The county had been under nightly curfews from Sunday through Tuesday after peaceful protests turned violent and destructive last Friday and Saturday.
During the curfew, no person may travel public streets or be in public places in Marion County, except for individuals experiencing homelessness, traveling to or from work, seeking medical care or fleeing from dangerous circumstances. Excluded are law enforcement, media, and federal, state or local public officials conducting necessary work.
"We are closely monitoring planned events in Indianapolis in order to ensure the safety of the protestors, residents, and area businesses," Mayor Joe Hogsett said in written comments. "It's clear the weekend provides residents greater opportunities to make their voices heard. These protestors should be applauded for their commitment and advocacy and it is my hope that the curfew will ensure the types of peaceful evenings we have experienced over the last several days."
—
10:25 a.m., June 4
Indianapolis Fire Department received 3,112 calls over weekend
Editor's note: The number of dispatch calls in this story has been updated.
The Indianapolis Fire Department was overwhelmed with calls and incidents over the weekend as rioters set property ablaze around the city, according to figures released by the department Thursday morning.
IFD dispatch received 3,112 calls from 8 p.m. Friday through 10 p.m. Monday, and firefighters responded to 1,601 incidents during that period.
That compares with 2,867 calls and 1,465 incidents in a similar weekend period a year ago.
IFD reported a total of 18 structure fires, 15 dumpster fires, two vehicle fires and "numerous" trash fires. All of the fires were ruled intentionally set.
Thousands of people participated in protests downtown that later devolved into riots, with some people setting fires, breaking windows and looting stores. Police fired pepper spray at some of the demonstrators.
Demonstrations across the U.S. came in response to the death of an unarmed black man, George Floyd, who died May 25 after a Minneapolis policeman knelt on his neck for more than eight minutes.
"While the IFD continues to work closely with the community and other public safety agencies, to support peaceful demonstrations, the unfortunate actions of some led to a busy weekend for firefighters and investigators," the department said in a written statement.
IFD said it has been working with business owners to help process the events that took place over the weekend. A joint Fire Investigator Task Force canvassed locations where arson fires occurred during the unrest.
The task force included investigators from IFD, the Indianapolis Metropolitan Police Department, the State Fire Marshal's Office and the Bureau of Alcohol, Tobacco, Firearms and Explosives. Accelerant detection dog Ariel also assisted.
Chantel Stone, coordinator with the Mass Ave Merchants Association, said in a message to members that police have confirmed that some buildings were tagged with graffiti hearts to mark them for arson. She said building owners who find hearts on their properties should remove them or mask them, if possible, in case of further unrest.
—
12:55 p.m., June 3
Hogsett pausing curfew until this weekend
Indianapolis Mayor Joe Hogsett announced Wednesday that he would not enact a curfew in Marion County for Wednesday and Thursday nights, but would reinstate one for the weekend.
The curfew is intended to address public safety needs associated with the larger projected crowd size of planned weekend gatherings, he said.
Marion County has been under a curfew since Sunday night following a weekend of peaceful protests that turned violent and destructive, resulting in two deaths and damage to public property and more than 112 businesses.
The announcement from Hogsett did not indicate what time the curfews would be in effect Friday and Saturday, and a spokesman for the city didn't immediately respond to questions from IBJ.
"After a difficult weekend, Indianapolis has experienced three days of peaceful protest that has powerfully contributed to a national conversation on our criminal justice system," Hogsett said in written comments. "For the safety of what we believe will be much larger demonstrations this weekend, and given the violence and property damage we experienced this past weekend, we intend to reinstate the curfew order for Friday and Saturday."
"I do not make this decision lightly, but it is my belief it will better allow our city to preserve this promising peace," he aded.
—
6:32 p.m., June 2
Protesters march through downtown, chanting, as police stand by
A few hundred protesters lay down in the streets near the City-County Building on Tuesday afternoon, before the group marched west to the Statehouse where they were met by Indiana State Police officers and members of the Indiana National Guard standing on the west steps.
The protests remain peaceful but animated, as protesters sought to honor African Americans who have died in police custody or been killed by officers, including George Floyd, a Minneapolis man who died after an officer knelt on his neck for eight minutes.
Protesters said they are seeking justice for him and other victims.
"If we don't get it, vote them out," they chanted as they walked along downtown streets that have been scarred by previous days of vandalism and looting.
Tension mounted when the protesters reached the Statehouse, but the officers made no move to quell the demonstration. And eventually, the group broke up, with one of the Indiana State Police officers shaking hands with one of the protest's organizers.
A few minutes later, a woman returned to pray with and for the officers and Guard members.
The group is now reassembling at Monument Circle.
—
4:20 p.m., June 2
Carmel enacts curfew after receiving threats
Carmel Mayor Jim Brainard on Tuesday enacted a nightly curfew for his city that will last until further notice.
The curfew, beginning Tuesday night, starts at 9 p.m. and lasts until 5 a.m., and is the similar to the one enacted by Marion County to increase safety in the wake of weekend protests that turned into riots.
Carmel said the mandatory curfew applies to all public streets and places in the city.
"We have received threats directed toward our community and we cannot ignore their implications," Carmel Police Chief Jim Barlow said in written comments. "I appreciate the fact that the mayor is taking this matter with the attention necessary to better ensure the safety of our community."
Protests in Carmel so far have not turned violent. About 300 protesters marched peacefully in Carmel around the Arts & Design District and the Monon Trail for three hours Monday, until about 8 p.m., city officials said.
Brainard on Monday threatened to sue the city of Minneapolis for the cost of increased security to deal with protests and threats of violence, but said he had changed his mind later in the day. Minneapolis is where police officer Derek Chauvin knelt on a suspect's neck for more than eight minutes following an arrest. The man, George Floyd, died later that day, sparking protests throughout the country.
–
12:45 p.m., June 2
Hogsett extends county curfew for another night
Mayor Joe Hogsett has extended a curfew for Marion County by an additional night.
The curfew will be in effect from 9 p.m. Tuesday until 6 a.m. Wednesday, he announced.
Violation of the curfew order is a Class B misdemeanor and punishable by up to 180 days in jail and fines up to $10,000.
Officers with the Indianapolis Metropolitan Police Department will engage residents who violate the curfew with an "education first" approach before making arrests, the city said.
During the curfew, no person may travel public streets or be in public places in Marion County. Exceptions to the order include individuals traveling directly to or from work, seeking medical care or fleeing a dangerous circumstance. Law enforcement, members of the media, federal, state or local public officials conducting necessary work and homeless individuals are exempt from the order. People performing election-related activities also will be exempt.
Marion County has had a curfew in place during the evening hours since Sunday following a violent and destructive weekend in the city. On Monday night, protestors were out past the 8 p.m. curfew but remained orderly, with police officers joining in for a short march.
—
11:30 p.m., June 1
A protester's perspective: Willie Griffin
After a standoff on Meridian Street deescalated on Monday night, IBJ reporter Mickey Shuey talked with Willie Griffin of Indianapolis, one of the protesters, about why he was there and what he thought about the outcome.
—
9:09 p.m., June 1
Protesters, police deescalate Meridian Street standoff by talking, walking together
Police and protesters negotiated a truce and walked together on Meridian Street, following a tense standoff that lasted about 30 minutes near the Governor's Residence on Meridian Street.
The move led to cheers from protesters as well as hugs and handshakes among the two groups.
"I feel like our message was heard by some at least," Malik Muhammad, one of the organizers, said after the walk as the group started to disperse. "And it wasn't for nothing."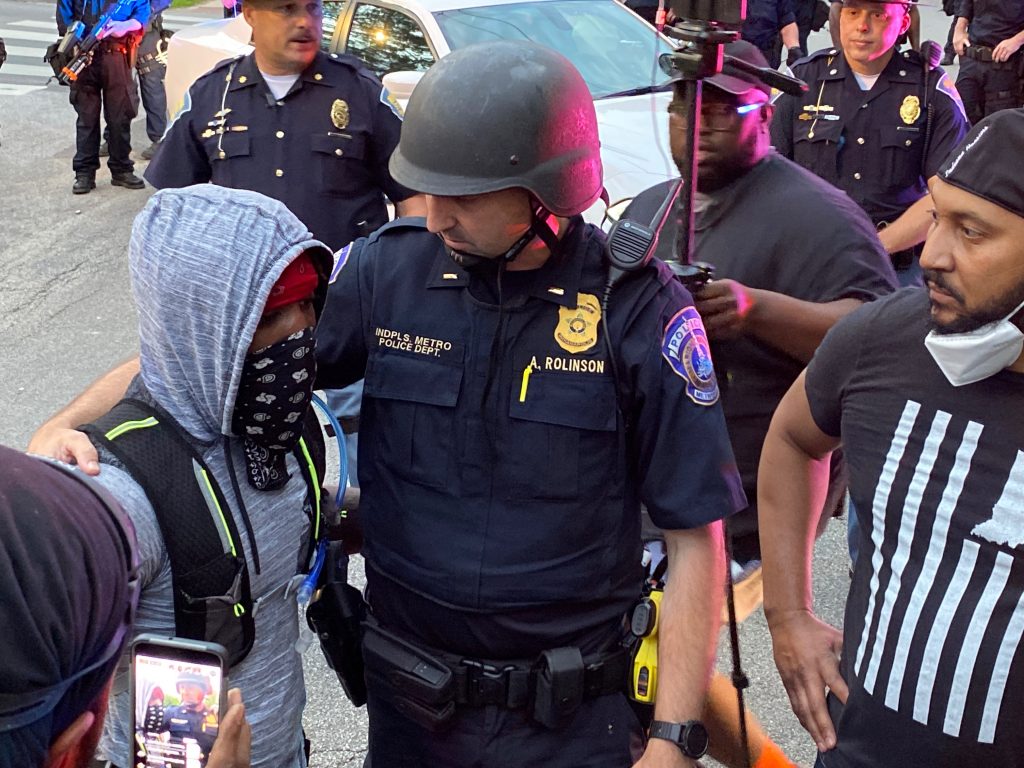 The group of protesters had walked more than four miles from Monument Circle to 45th and Meridian streets, a block short of the Governor's Residence. Muhammad said that, when he saw a line of police waiting for the group, he was "100% ready and willing to die right there for this cause."
But then he and an officer talked and worked out a compromise—walking together.
"I never in a million years thought I would embrace a cop like that," he said.
From the crowd, a protester yelled, "Will you march with us again tomorrow?" And the officer said, "We're taking it one day at a time."
"At this pivotal moment in our country's history, it is critical that we preserve the right to have voices of change be heard–and that we listen," Indianapolis Mayor Joe Hogsett said in a written statement. "Tonight, I was proud to watch a moving example of what that can look like.
"We have a long, difficult road ahead if we are to address decades of mistrust and create meaningful change. In joining arms, these peaceful protestors and their police department came together to take a small step forward. It was an inspiring reminder of what makes Indianapolis a special place to call home."
"I want to thank the men and women of the Indianapolis Metropolitan Police Department, as well as the Indiana State Police, for their continued hard work, as well as the advocacy of those who peacefully and powerfully made their voices heard today."
But not everyone was happy with the outcome.
Black Lives Matter Indianapolis accused police of staging the moment.
"IMPD staged a media moment near the Governor's mansion, hugging and high-fiving protesters to create a distraction while they let off rubber bullets and tear gas blocks away [with] no media present," the tweet said.
IMPD staged a media moment near the Governor's mansion, hugging and high fiving protesters to create a distraction while they let off rubber bullets and tear gas blocks away w no media present.

— BLM INDY (@indy10people) June 2, 2020
—
8:50 p.m., June 1
Protesters in standoff with police near Governor's Residence
A group of about 100 protesters who walked north from downtown have been in a standoff with police for about 30 minutes a block south of the Indiana Governor's Residence.
A group that included Indiana State Police and Indianapolis Metropolitan Police ordered the group to disperse. About 10 minutes later, police shot pepper balls into the crowd, agitating the protesters. It appears a representative of the group talked to an officer in an attempt to deescalate the situation.
But the crowd continued to chant "hands up, don't shoot," as they stood and sat across Meridian Street.
The group started walking from downtown north on Meridian Street before the 8 p.m. curfew took effect, but did not reach 45th Street, a block south of the Governor's Residence property, until about 8:30 p.m.
After initially stopping about 50 feet from the police, the group has been inching forward.
Protests had been relatively peaceful—although animated—most of the afternoon. Residents lay down on Market Street in remembrance of George Floyd, a Minneapolis resident killed when a police officer there knelt on his neck for more than eight minutes following an arrest.
That event—combined with other incidents involving police and black suspects or victims—ignited protests and rioting across the country.
—
8:40 p.m., May 31
A look at downtown streets
Forty minutes after the curfew took effect, large parts of downtown are empty.
—
8:06 p.m., May 31
Downtown largely empties out as curfew takes effect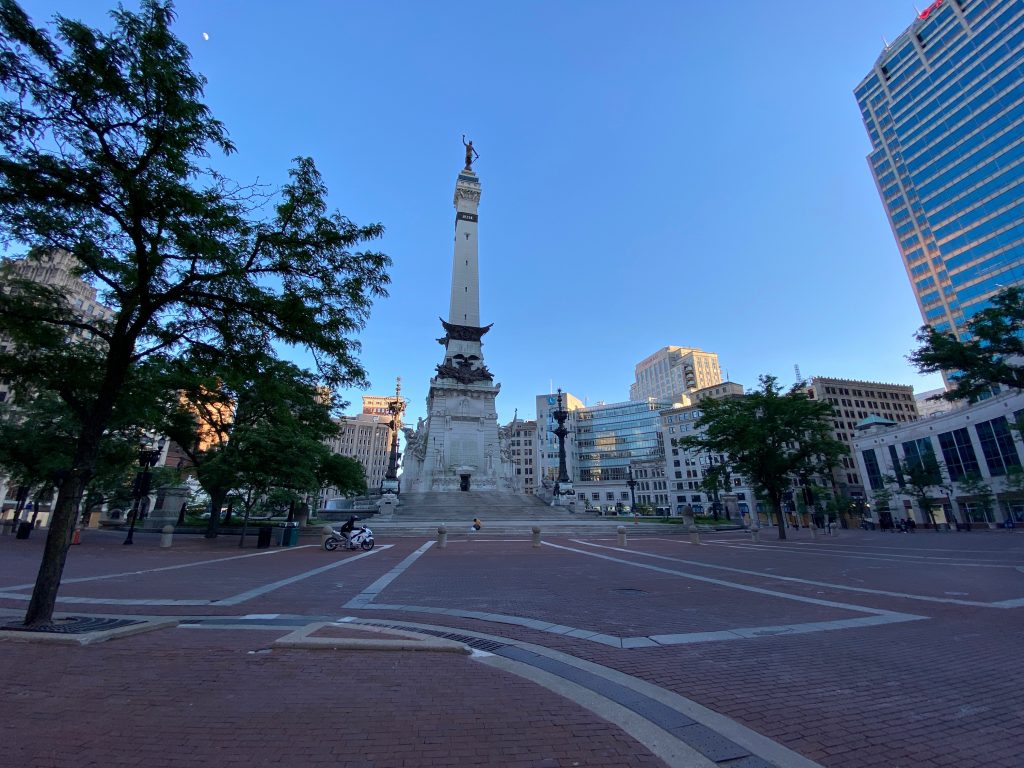 Indianapolis police began locking down the Mile Square as a city-wide curfew took effect at 8 p.m.
The curfew affects all of Marion County, but police were blockading streets downtown and moving out people who were walking and biking in the area—including protesters and non-protesters, although a few small groups and individuals continued to walk in the area.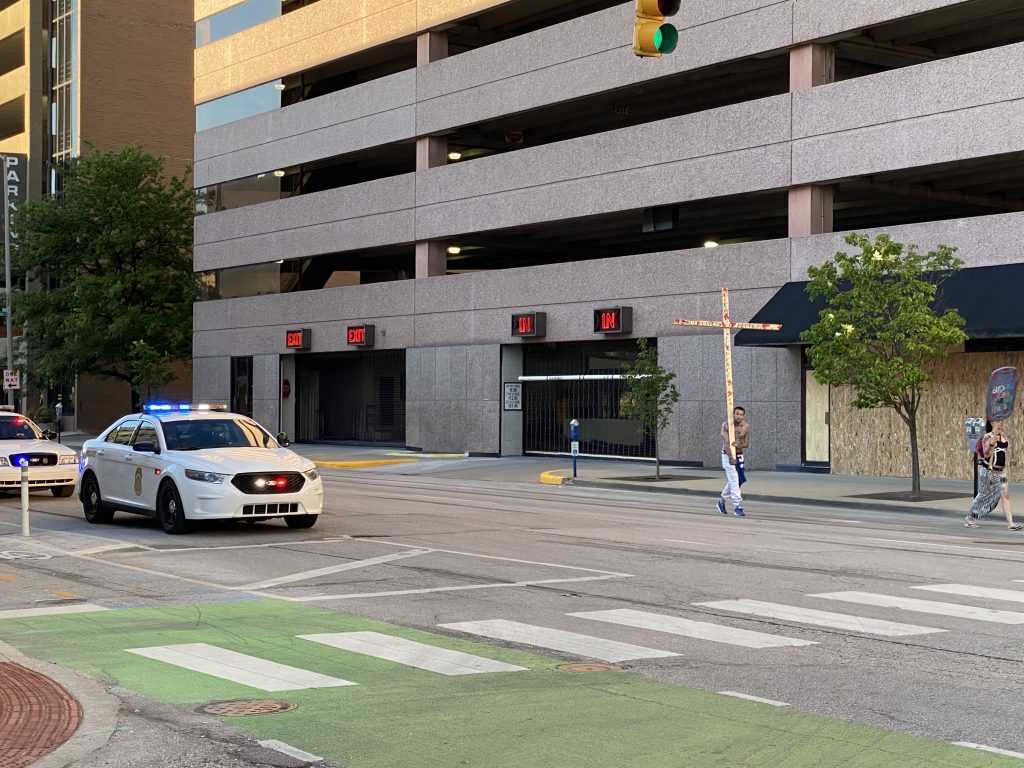 At a press briefing shortly after 8 p.m., Indianapolis Metropolitan Police Chief Randal Taylor implored residents to go home.
He said that, earlier, officers started reminding protestors of the curfew and encouraging them to go home. Those who are still out are subject to arrest and a fine of up to $10,000.
Taylor said on Friday and Saturday officers had been using tear gas and pepper balls to disperse crowds, and earlier this evening, officers used tear gas on a crowd that was trying to surround officers. Officers will use those tactics when they feel in danger or see criminal activity, he said.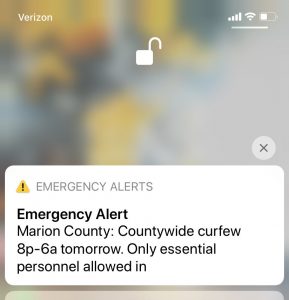 The curfew—which Hogsett announced earlier Sunday—requires most residents to stay home through 6 a.m. Exceptions will be made for people traveling to and from work, for medical treatment or to aid family members.
Public safety workers and journalists are also exempt.
After the curfew took effect, police were using the sound system at the Soldiers & Sailors Monument to announce that it was unlawful to be outside.
Smartphone users in Indianapolis received alerts about the curfew, reminding them that "only essential personnel are allowed" out.
Taylor said he understands the protesters' anger, but he asked them to go home and stay home.
"Please go home for yourself, go home for your family, go home for your city, go home for your cause."
—
7:32 p.m., May 31
Downtown is relatively calm 30 minutes before curfew
Thirty minutes before a downtown curfew is set to take effect, most streets across the Mile Square are fairly empty.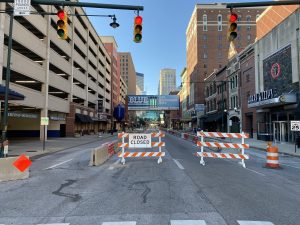 But about 150 protesters gathered along Washington Street at the Statehouse.
Police on bikes rode along, trying to move protesters to the sidewalk, while other officers stood across the street in front of the Simon Property Group headquarters across West Washington Street.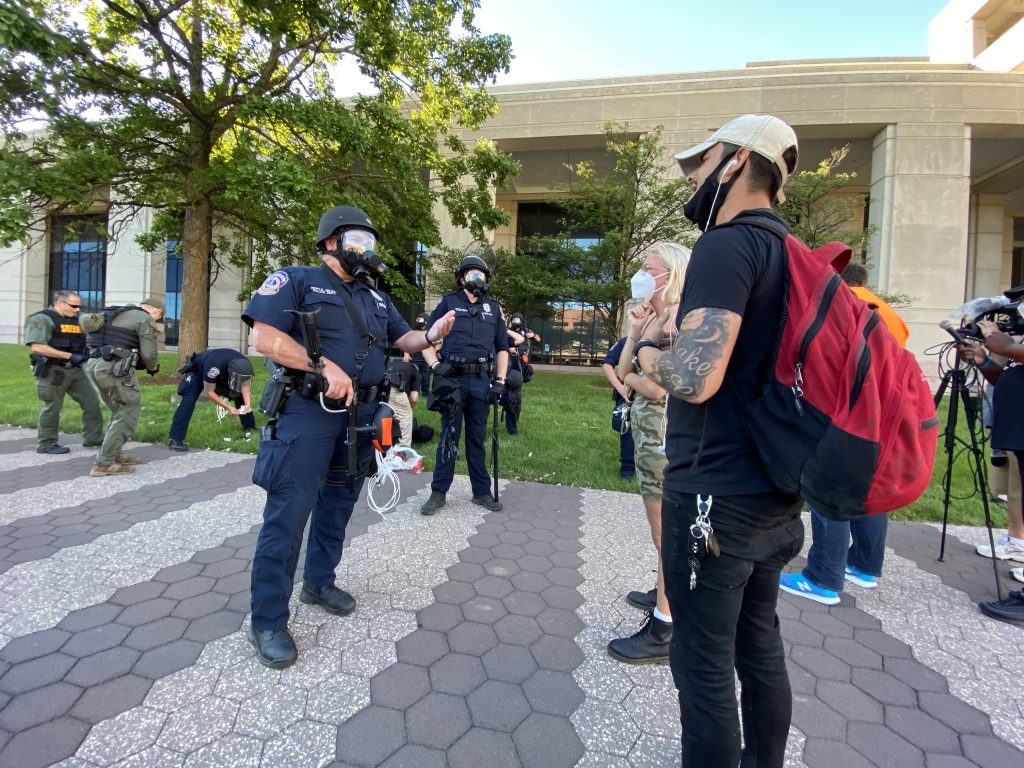 To the west, police released tear gas along the street the Indiana Government Center South.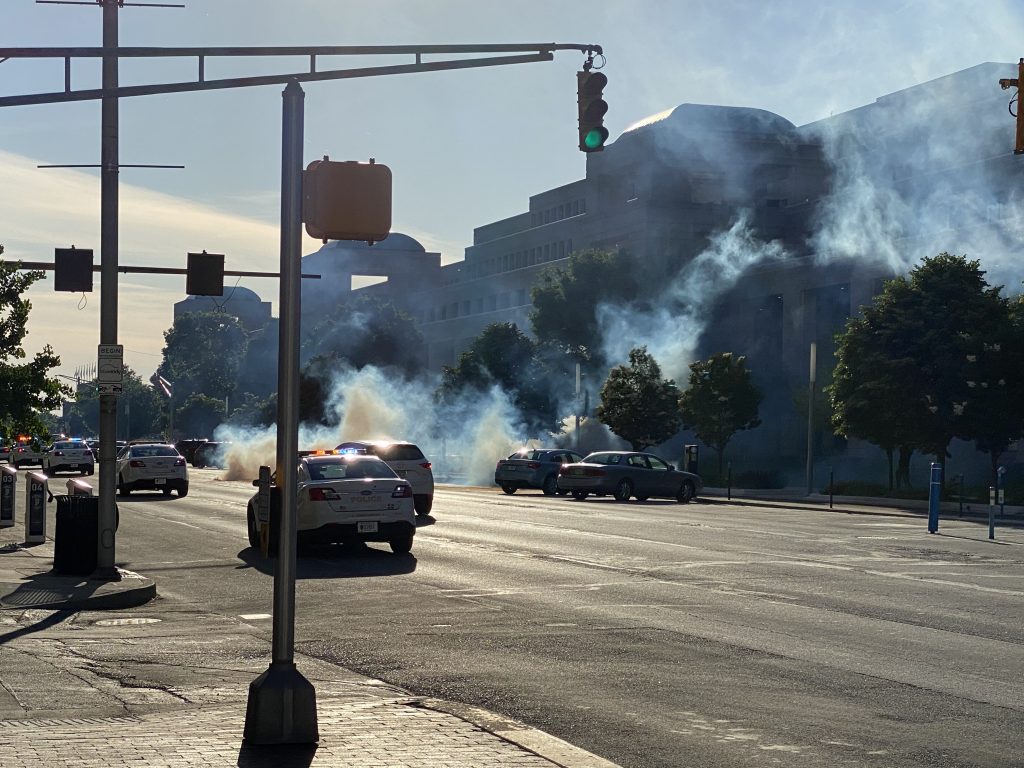 —
6:55 p.m., May 31
IndyGo adjust routes, closes Red line stations for protests
IndyGo announced Sunday that due to protest-related street closures downtown, bus service would be disrupted in the area bordered by Michigan, East, South and West streets and the Julia M. Carson Transit Center will be closed until further notice.
Red line stations at 9th, Vermont, Capital and New Jersey streets will also be closed.
Due to street closures, bus service will be disrupted south of Michigan St, west of East St, North of South St, and east of West St. Red Line Stations at 9th St, Vermont and New Jersey streets as well as Capitol Avenue will be closed.
Other service will still be operating.
IndyGo said on Twitter that riders can still transfer at Lucas Oil Stadium at the McCarthy Street entrance. Shuttles were moving riders at the transit center at the time of the closure to the Lucas Oil Stadium stop.
—
6:20 p.m., May 31
Tensions grow downtown after peaceful day
After several uneventful and peaceful protests, tension have started rising downtown.
WTHR-TV reported that police have released tear gas near the intersection of New York and Pennsylvania streets and ordered people in the area to disperse.
But a small but growing crowd continued to gather at a park at that intersection, where they are chanting, as the police stand in a line nearby.
IndyStar's Chris Sikich tweeted from the scene.
— ChrisSikich (@ChrisSikich) May 31, 2020
Minutes later, protesters moved away from the park, heading down Vermont Street.
Earlier in the day, hundreds gathered at the Statehouse for a faith-based rally and then walked to the City Market for what they called a "die-in."
8:46 "die-in" in memory of time George Floyd was held on the ground with a knee on his neck by a Minneapolis police officer. #IndyCallForAction #FaithInIndiana pic.twitter.com/hFd8aRHYQo

— Rich Nye (@RichNye13) May 31, 2020
—
1:42 p.m., May 31
Holcomb eases travel rule for local governments, paving way for Hogsett emergency order
Gov. Eric Holcomb has lifted his restriction preventing local governments from imposing stricter travel warnings beyond his order for the state, apparently to accommodate an order announced Sunday by Indianapolis Mayor Joe Hogsett.
In his executive order issued May 1, Holcomb prevented cities and counties from imposing travel advisories higher than a "watch" status, which recommends residents only travel for essential purposes.
That is less strict than a "warning" level, which limits travel to only emergency personnel and directs others to refrain from all travel.
However, in an executive order issued Sunday morning that takes effect immediately, Holcomb removed that restriction, giving local communities the freedom to issue whatever travel advisory is deemed appropriate.
Earlier on Sunday, Indianapolis Mayor Joe Hogsett announced that Marion County would be under a curfew beginning at 8 p.m. In addition, he issued a warning-level local nighttime travel emergency, noting that Holcomb would rescind the temporary preemption of local warning-level travel restrictions.
A spokeswoman for Holcomb has not responded to IBJ's request for comment.
—
10:25 a.m., May 31
Photo gallery: Significant damage is widespread across downtown businesses
Click to see photos by IBJ's Greg Andrews of the damage that erupted after Saturday night's protests.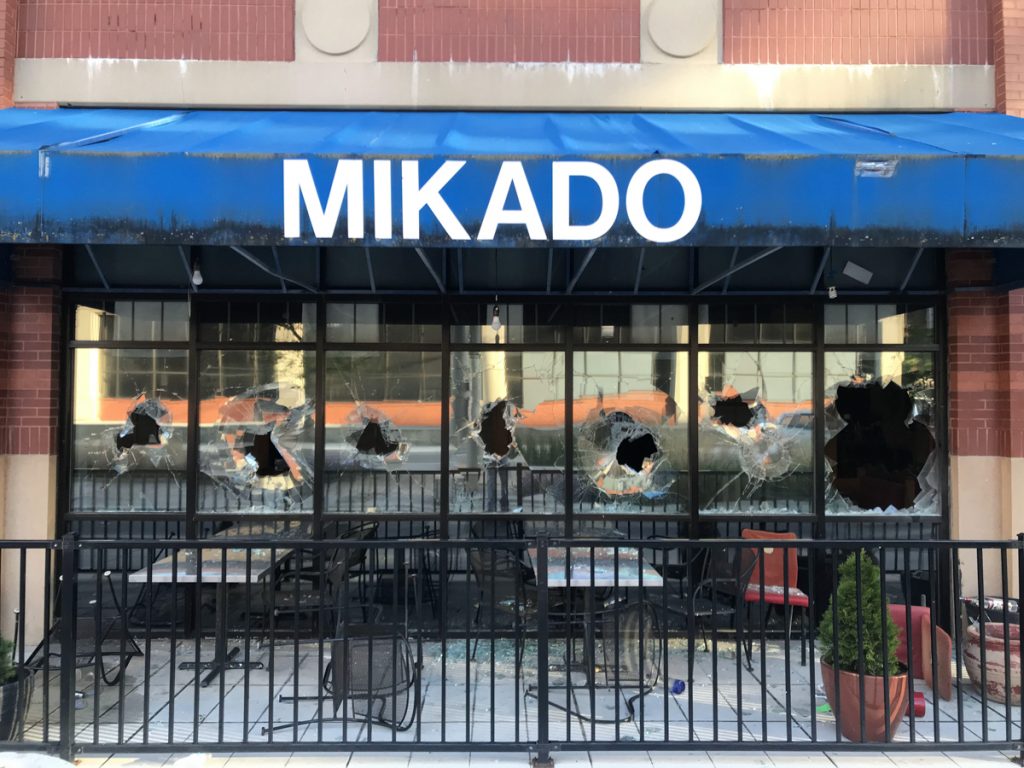 —
9:40 a.m., May 31
Mayor, police chief to address crisis with morning press conference
Mayor Joe Hogsett and Indianapolis Metropolitan Police Chief Randal Taylor will hold a media availability at 11:15 a.m. to address the the violence and vandalism of the past two nights.
City officials were working to arrange a livestream of the event on Channel 16, which is available online at indy.gov.
—
8:53 a.m., May 31
Hogsett said overnight that violence 'is unacceptable' and 'must stop'
Mayor Joe Hogsett posted a statement on Twitter at 1:23 a.m. Over two tweets, he said:
"This afternoon, our city hosted a successful protest that allowed hundreds to lift up their cause and have their voices safely heard. Since it ended, a small group of people have chosen to diminish that activism through inexcusable violence. It is unacceptable, and it must stop.
"Continued dialogue and a shared commitment to reforms that address centuries of inequity– that is how we heal our city, not through looting and riots."
—
8:20 a.m., May 31
Photo gallery: Images from Saturday night protests
The gallery begins with peaceful protests late in the afternoon and early evening and ends with vandalism, fires and police response.
Click the photo to see the gallery.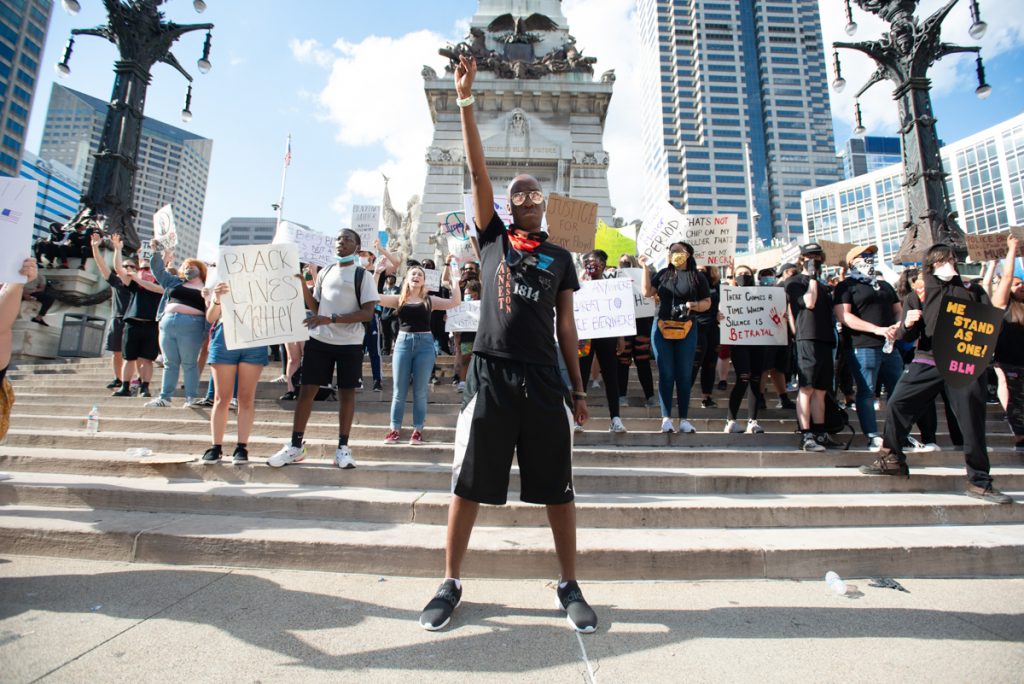 —
1:55 a.m., May 31
Ram restaurant is burning; hotels have been 'breached'
A downtown Indianapolis restaurant is on fire and several hotels have been broken into.
Ram Restaurant and Brewery, 140 S. Illinois St., has been set ablaze and at least two fire trucks are on scene, said Patrick Tamm, president of the Indiana Restaurant & Lodging Association. He said there is also a heavy police presence in the area, but did not directly indicate what may have caused the fire.
"Downtown is being destroyed," he said in a text message to IBJ.
He said "most hotels in the area have been breached," leading most hotel staffs to shelter in place.
Several fires have been reported throughout Indianapolis Saturday night, including various parts of Georgia, Maryland and Pennsylvania streets.
—
12:30 a.m., May 31
Police say three people shot, one dead as violence escalates downtown
Indianapolis Metropolitan Police Department Chief Randal Taylor said three people were shot Saturday night and one has person died as protests continue to escalate in downtown Indianapolis.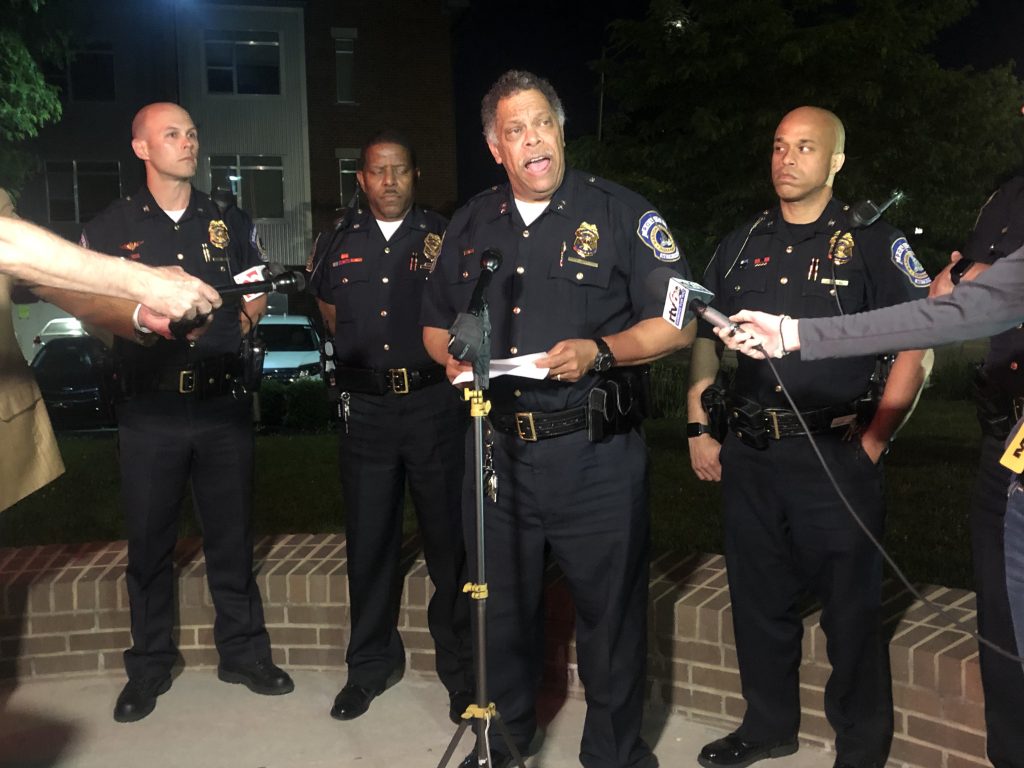 The confirmed reports come on top of numerous reports of shots fired, IMPD officials said during a press conference late Saturday night.
"We've lost count," IMPD Deputy Chief Josh Barker said.
Barker said he did not know the number of arrests police made during Saturday night's protest.
"I can tell you it has been a number," Barker said. "And that's been driven by violence and riotous behavior by some of the individuals that have come to the downtown areas."
Barker also said one IMPD officer suffered minor injuries on Saturday night but they were not believed to be series.
Police officials said that when the protests started Saturday afternoon, hundreds of people demonstrated peacefully.
"Today we saw what we consider one of the most successful protests that Indianapolis has experienced," Barker said.
But he said the situation escalated after several protestors caused damage to the City-County Building.
"There were several people down here that had no intention to protest, their intention was to riot," Barker said, adding that police witnessed people loading backpacks with rocks and milk to counteract chemical agents used by law enforcement.
When asked whether IMPD officials believe the riots are being driven by out-of-town individuals, as officials in Minnesota have suggested, Barker said that "would be speculation at best" at this point.
Taylor said he's talked to Indianapolis Mayor Joe Hogsett throughout the night and again encouraged everyone who doesn't live downtown to go home.
"Downtown is not safe at this time," Taylor said.
Taylor said the violence and vandalism underway "is not acceptable in this community; this will not be tolerated."
He continued, "Enough is enough. Indianapolis we are better than this."
—
11:30 p.m., May 30
IMPD tells resident not to go downtown
Downtown is not safe at this time. Residents are advised to avoid the area. pic.twitter.com/8gwoocScTd

— IMPD (@IMPDnews) May 31, 2020
—
10:52 p.m., May 30
Shots fired through mens store window on Washington Street; banks set on fire
Shots were fired Saturday night at J.Benzal Menswear at 22 E. Washington St. as protesters vandalized businesses and public property downtown.
Initially, people were trying to break the store's windows by throwing a sledge hammer at the store. When that didn't work, one person fired four shots at the window.
This is the second night of damage for the store, which sits between Pennsylvania and Meridian streets, just about a block from the Circle.
On Friday night, protesters broke a window out of the store that a crew boarded up on Saturday morning.
Other news outlets are reporting damage across other parts of downtown.
Fire outside the Convention Center in downtown Indy and damage to the glass as well via @RussMcQuaidNews pic.twitter.com/A0h536mBlv

— FOX59 News (@FOX59) May 31, 2020
WISH-TV aired video showing a man with a baseball bat smashed windows at the National Bank of Indianapolis, while protesters tried to rip out the bank's ATM machine.
WISH also tweeted images of the National Bank of Indianapolis and Huntington Bank on fire.
Multiple small fires were put out at the National Bank of Indianapolis and Huntington Bank. @WISH_TV pic.twitter.com/MP7lRXFfim

— Charlie Clifford (@cliffWISH8) May 31, 2020
WIBC has reported that those fires have been out, but other first—including this dumpster fire near Wild Beaver Saloon—continue to burn.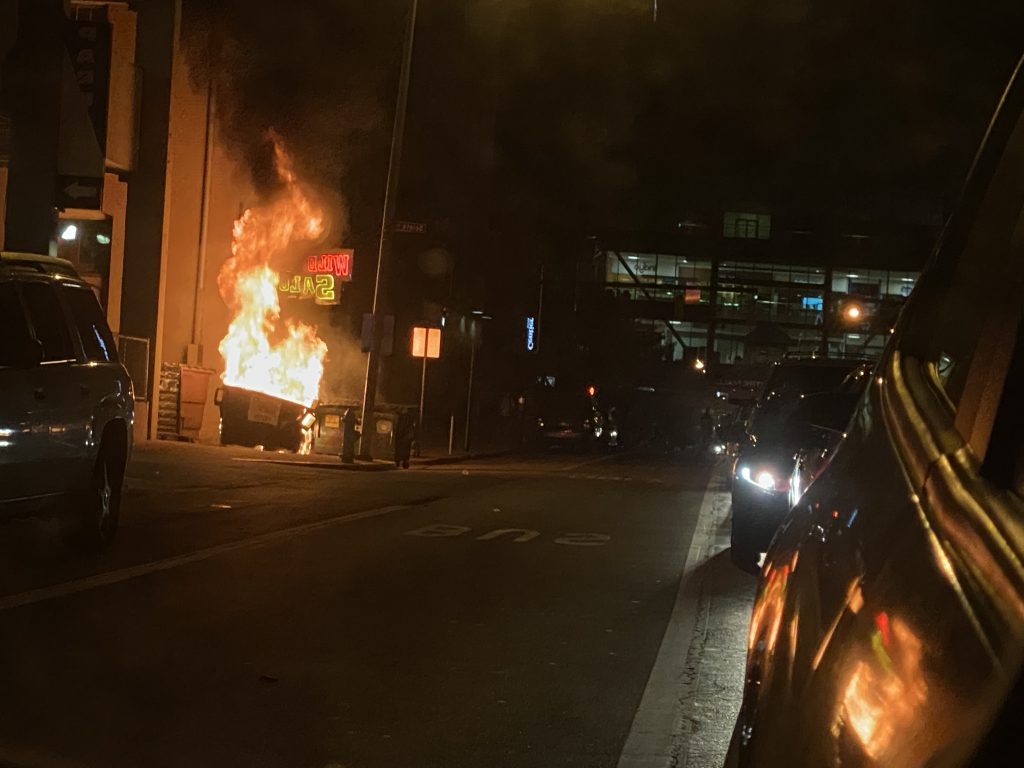 —
10:12 p.m., May 30
Police use more tear gas at intersections along Washington Street
Police have released more tear gas near the intersection of Washington and Pennsylvania streets, sending protesters running in several directions to escape.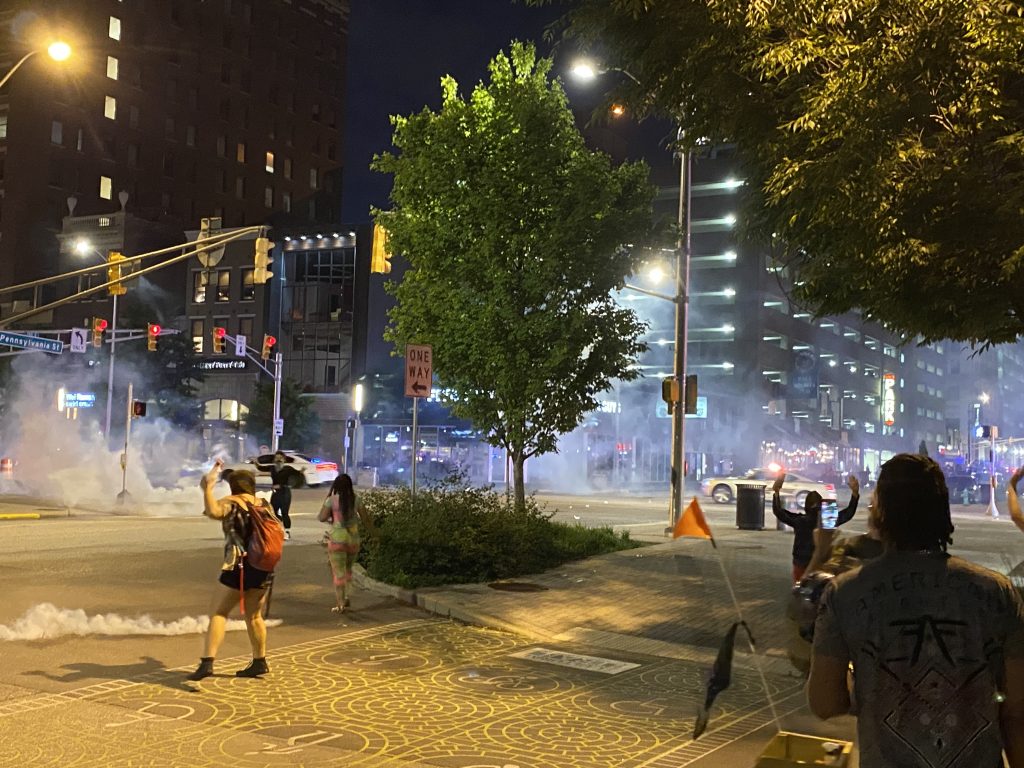 Media reports say police also released tear gas at Market and Pennsylvania streets.
A dumpster fire raged at Washington and Ohio streets, with fire in the street as well.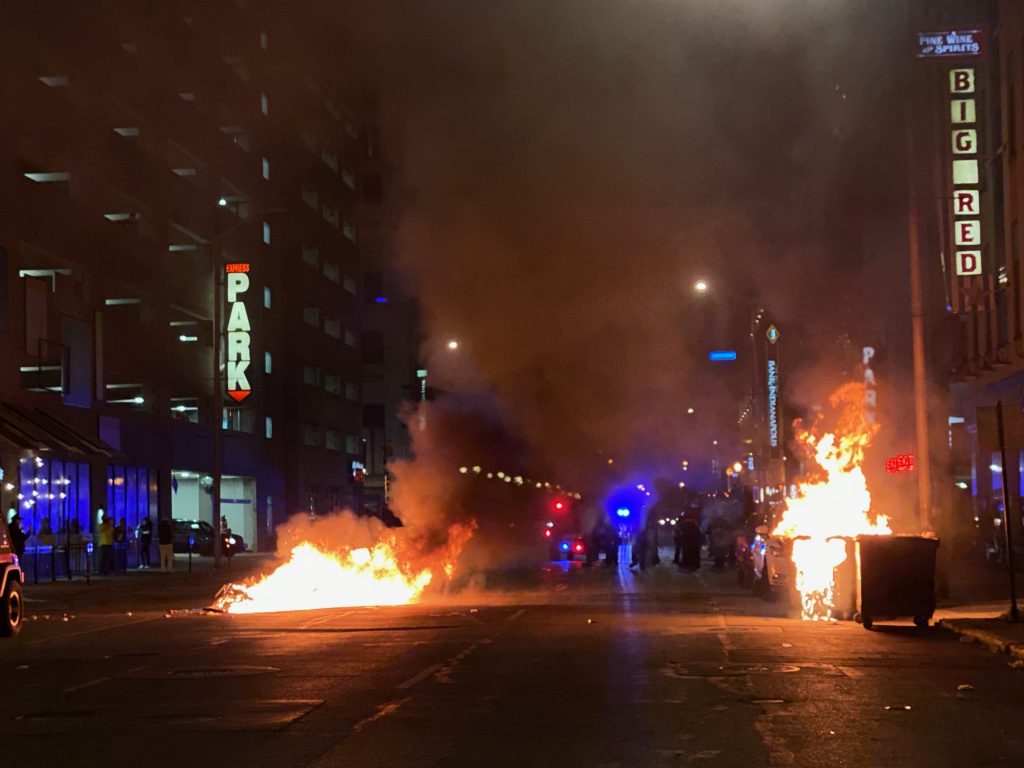 —
9:50 p.m., May 30
Protesters fleeing tear gas break windows, damage property
Protesters moved away from the City-County Building after police shot tear gas into the crowd, but are reassembling in other parts of downtown, including at the intersection of Market and Pennsylvania streets.
Some protesters threw rocks at the Huntington Bank branch there, breaking windows and entering the building.
Blocks away, others broke windows at AAA Bail Bonds and at 251 E. Ohio St. and turned over downtown planters lining the streets.
At 10 p.m., a group headed south on Pennsylvania Street toward Bankers Life Fieldhouse.
The vandalism mirrored actions that took place during a first night of protests on Friday, when businesses around and near the Circle had their windows smashed. A few were looted.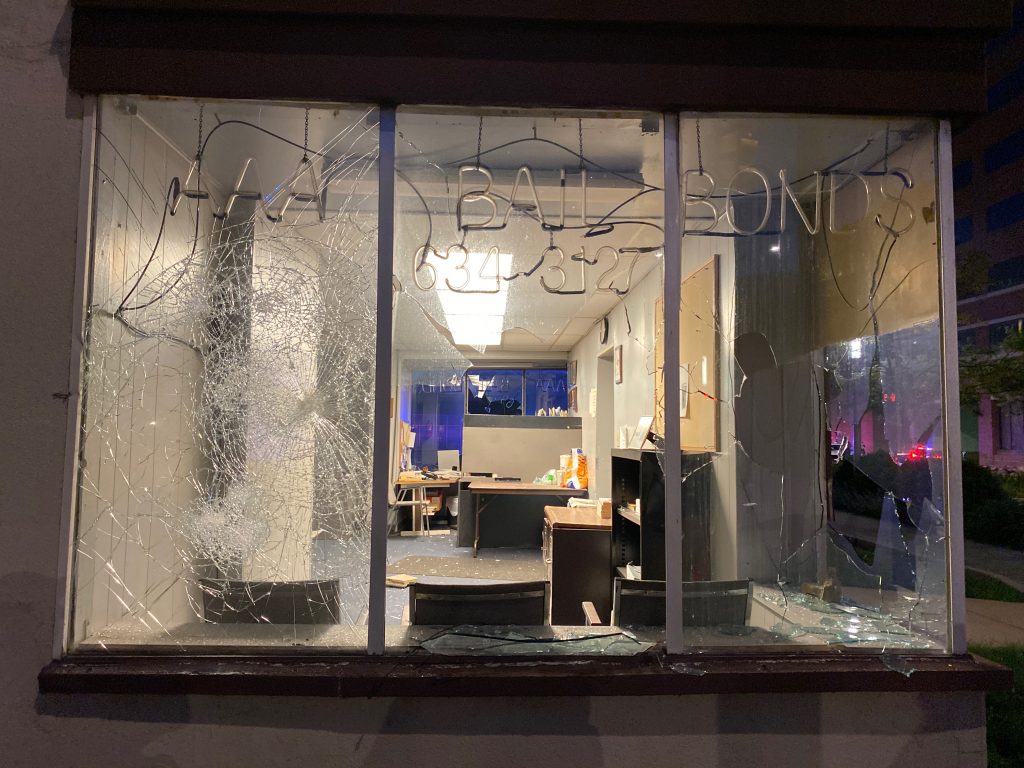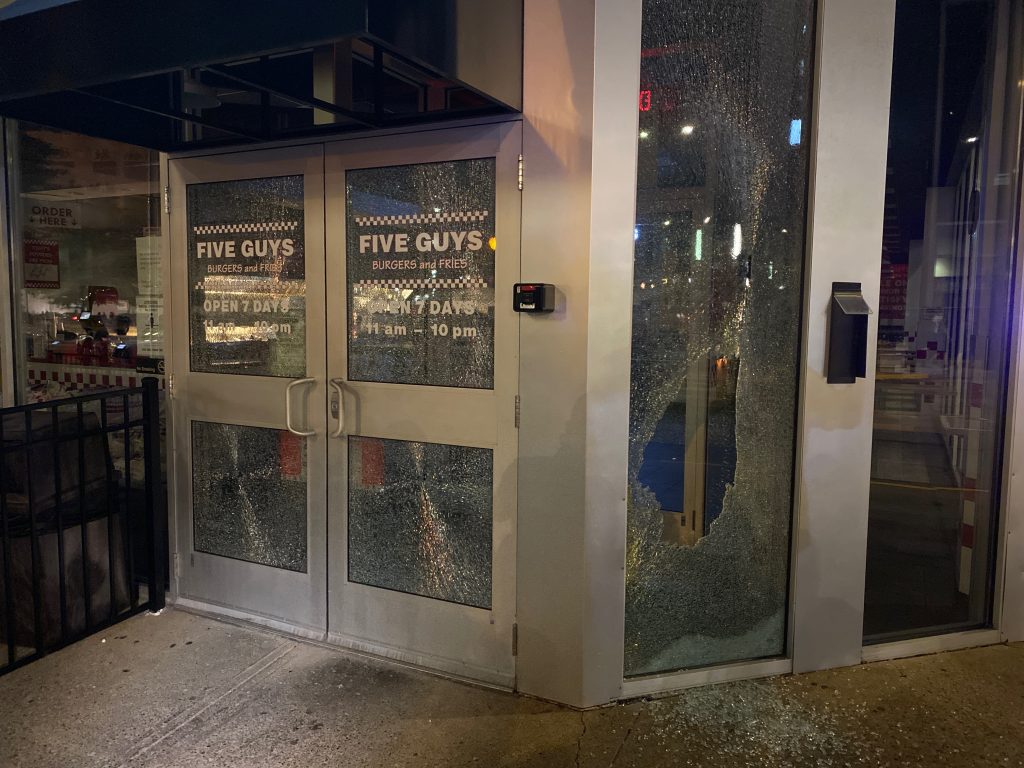 —
9:20 p.m., May 30
Police make arrests as throng of protesters breaks up
Police had taken at least a half dozen protesters into custody and appeared ready to arrest more after using tear gas to break up a crowd of at least 1,000 people who were shouting and chanting near the City-County Building.
Police officers moved in after the crowd began pounding on the government building's doors and windows and did not disperse when ordered to at about 9 p.m.
But even after the tear gas, some protesters remained, yelling at police.
Others sat in the street or refused to move and were taken into custody.
The Indianapolis Metropolitan Police Department issued a statement on Twitter that said:
"We support our residents' right to lawful and peaceful protests. Unfortunately, IMPD officers had to disperse a crowd at Market and Alabama Streets after projectiles were repeatedly thrown at officers and windows were broken at government buildings."
We support our residents' right to lawful and peaceful protests.

Unfortunately, IMPD officers had to disperse a crowd at Market and Alabama Streets after projectiles were repeatedly thrown at officers and windows were broken at government buildings.

— IMPD (@IMPDnews) May 31, 2020
—
9:08 p.m., May 30
Police order protesters to disperse; use tear gas to break up crowd
Indianapolis police are using tear gas to break up a crowd of thousands outside the City-County Building, after the group failed to disperse when police ordered them to minutes ago.
Using a bullhorn, a police officer at the corner of Alabama and Market streets—just outside the City-County Building—told protesters to leave, saying their protest was no longer lawful. But some of the protesters started throwing bottles toward police officers.
The order and the tear gas came just a few minutes after protesters had been banging on the windows of the City-County Building, breaking at least one of them, and two hours after the time Mayor Joe Hogsett had set for the end of the protest of police actions against black citizens in Indiana and across the nation.
Officers were starting to make arrests at about 9:05 p.m.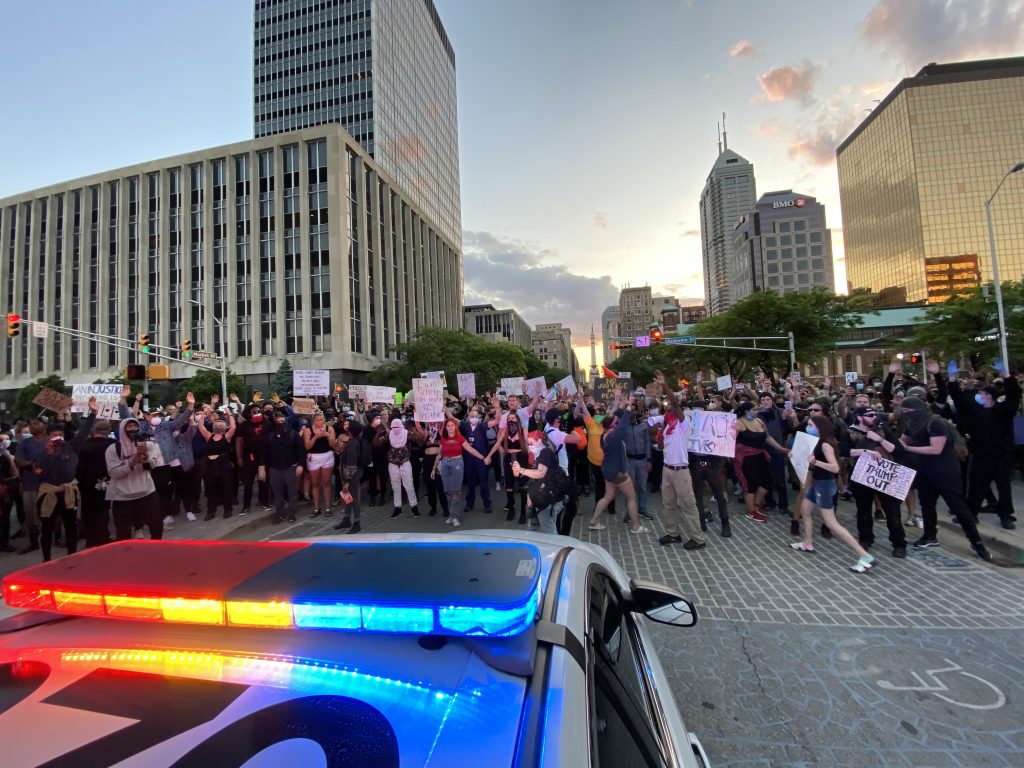 8:48 p.m., May 30
Protesters stop at City-County Building; some pound on windows
The throng of protesters in downtown Indianapolis has stopped at the City-County Building where the Mayor's Office and Indianapolis Police Department are located, with some protesters pounding on the windows as police officers watch from inside.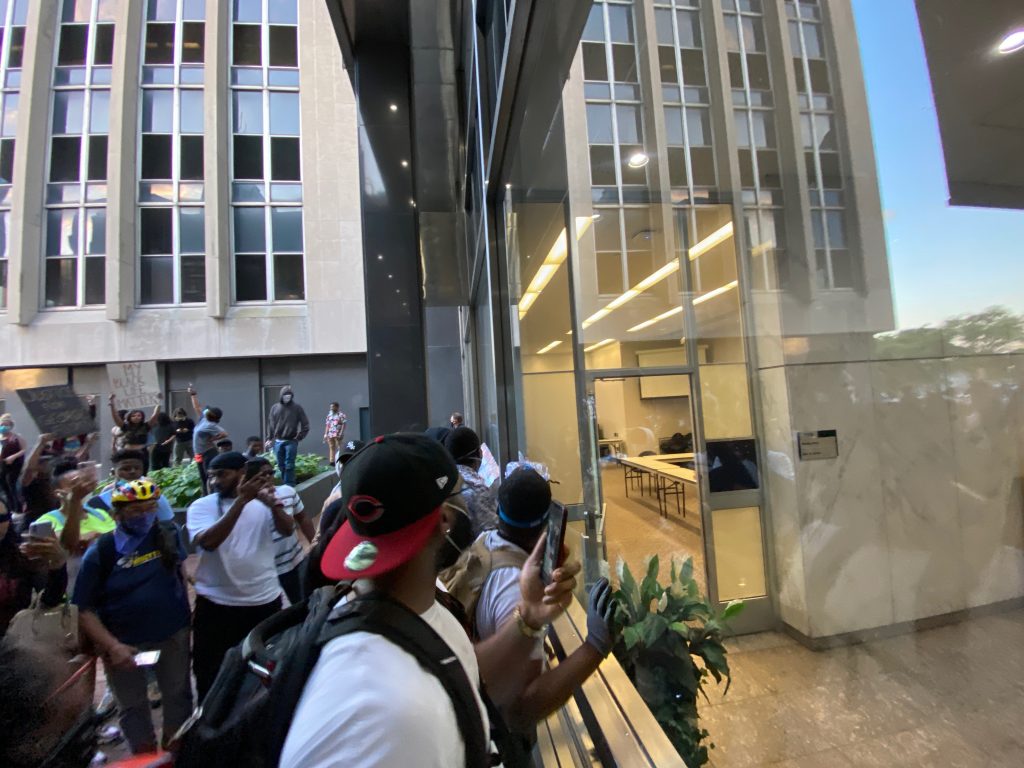 Other protesters were imploring them to stop.
"If you break the window, there ain't no justice," some were yelling.
But it appeared some of the protesters did break some glass on the building.
Officers had not made any moves to stop the protesters by 8:50 p.m.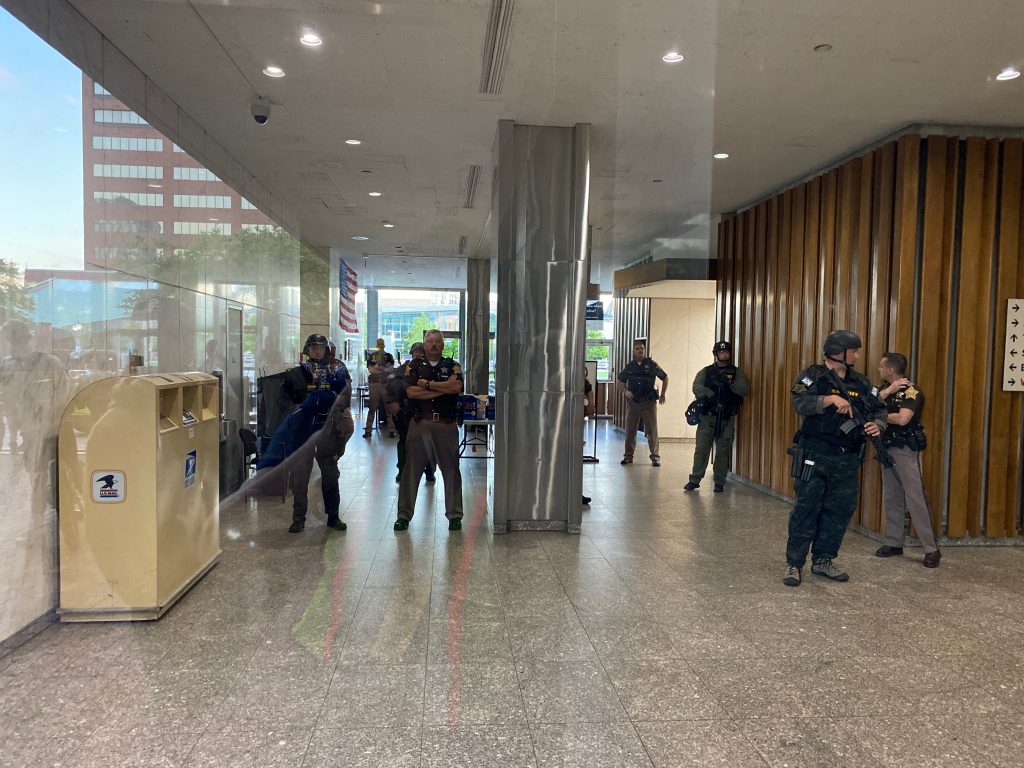 —
8:30 p.m., May 30
Thousands of people continue protests well past mayor's time for dispersing
Although Mayor Joe Hogsett asked earlier Saturday that protesters disperse at about 7 p.m. after an event at the Circle, thousands of people continued to march through downtown streets, chanting and waving signs.
The protest remained animated but peaceful, as the crowd made their way along Ohio Street, into the Mass Ave neighborhood and were heading west on Vermont Street and turning south on New New Jersey Street. at about 8:30 p.m.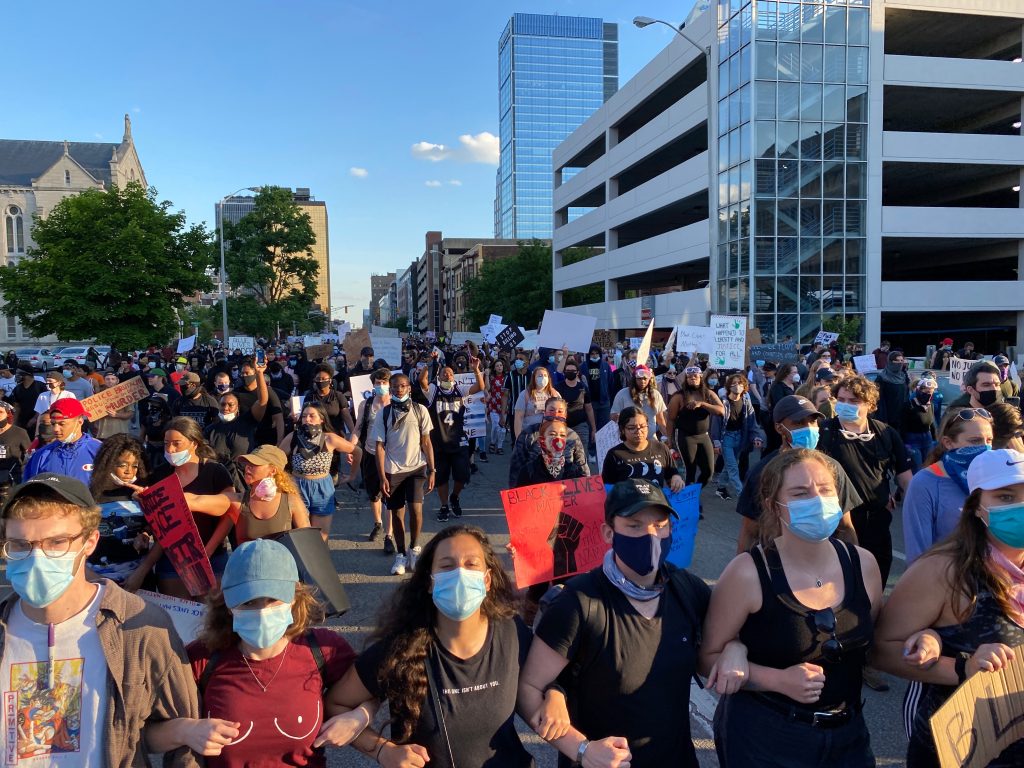 —
8:15 p.m., May 30
Protesters chant as they make their way through Indy's downtown
—
7:30 p.m., May 30
Protesters have a moment of silence at War Memorial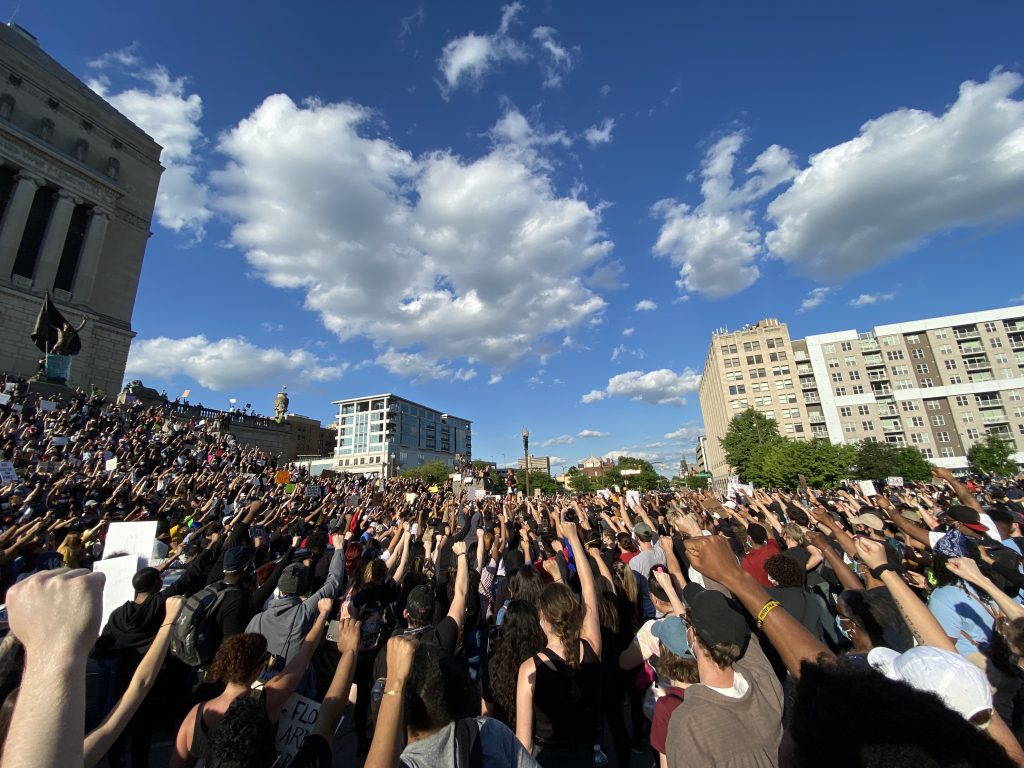 A couple of thousand protesters remained downtown on Saturday night at about 7:15 p.m., despite Mayor Joe Hogsett's appeal for people to go home by 7 p.m.
But the event remained peaceful and police were not pushing people to disperse on North Meridian Street.
As protesters moved away from the memorial, they started lining Meridian Street.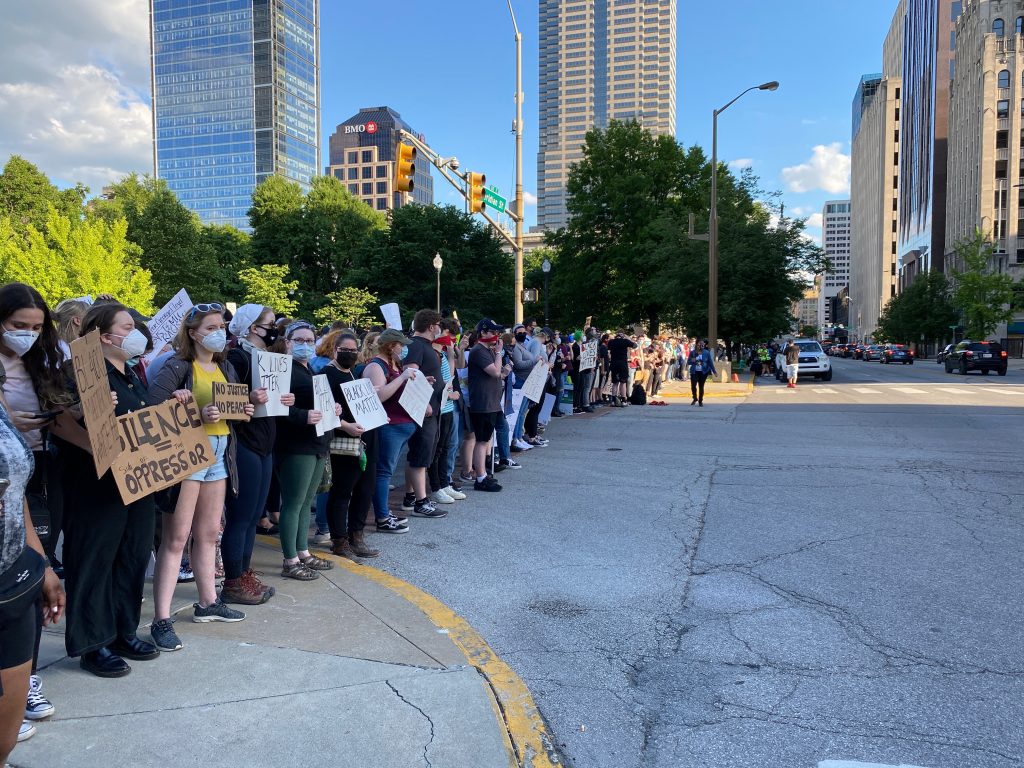 —
6:52 p.m., May 30
Protesters move north to Indiana War Memorial
Hundreds of protesters have now moved on from the Circle and are gathering at the Indiana War Memorial a few blocks north.
The group is chanting—and some in the crowd are sharing ways to bail out of jail in case they are arrested.
On Friday night, police arrested 27 people during protests that became destructive. Protesters smashed windows and broke into some stores across downtown.
See photos of Friday night's protests here. 
—
6:30 p.m. May 30
Protesters gather on Circle peacefully
Thousands of protesters coalesced downtown late Saturday afternoon in a continuation of protests of police violence and social inequality that on Friday resulted in widespread vandalism.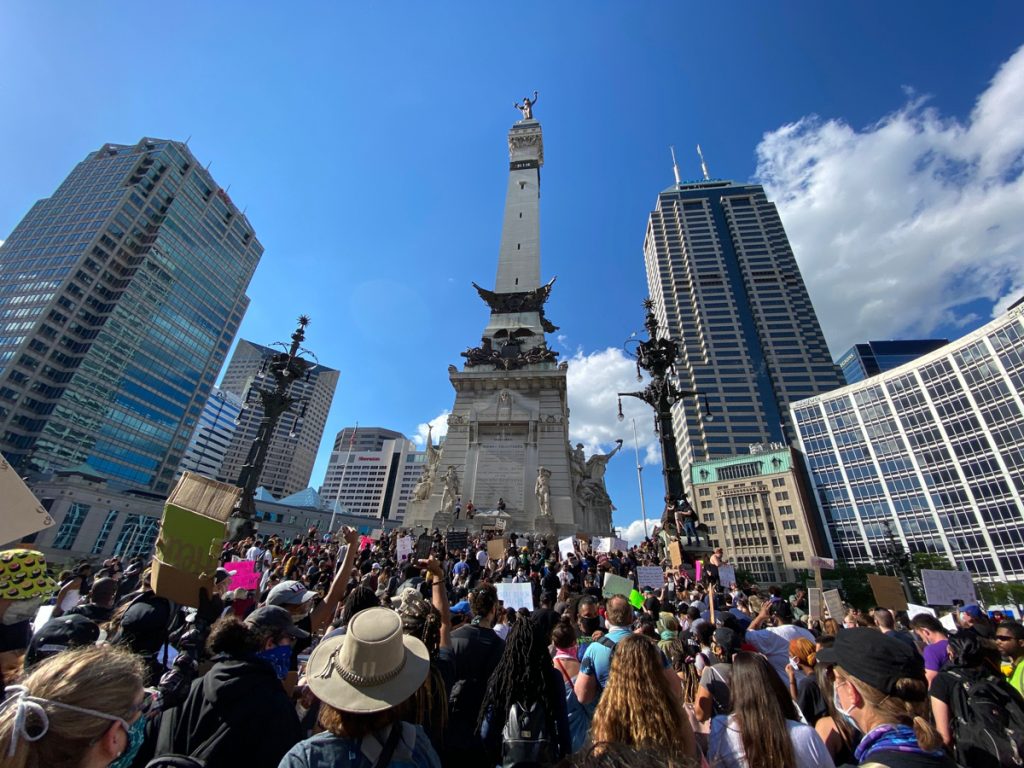 In a peaceful demonstration, a crowd of about 3,000 people gathered at Monument Circle at about 5:30 p.m., chanting "Black lives matter" and "No justice, no peace."
Protesters initially gathered on Monument Circle at about 5 p.m., with hundreds breaking off to march east on Market Street, then north on Alabama and west on Michigan Street. At the Indiana War Memorial they met up with hundreds more protesters and then marched south back to Monument Circle.
By 6 p.m., groups appeared to be splintering off from the protest, with members of groups such as Black Lives Matter and the Nation of Islam collecting in pockets in the Circle.
Mayor Joe Hogsett said earlier on Saturday afternoon that he had spoken with protest organizers and social-justice groups to arrange a protest at 4 p.m. on Monument Circle, with their assurance that it would remain peaceful and that they would help disperse the crowd afterward.
"It is my hope that as you gather in anger that you will leave your peaceful protest and return home," Hogsett said during a live-streamed press conference. He said he hoped protesters would disperse by 7 p.m.
At the protest, an organizer speaking to the crowd told protesters that Indianapolis police have "a green light to move in" on protesters at 7 p.m.
—
4:12 p.m., May 30
Faith leaders plead for peaceful protests
A group of more than one dozen Indianapolis faith and community leaders implored area residents on Saturday afternoon to continue their protests over racial inequality—but to do so peacefully.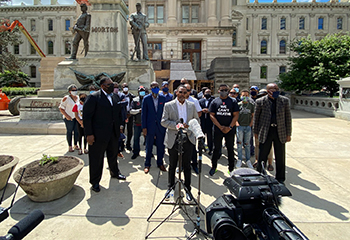 The leaders, who represented several Indianapolis churches and faith organizations, said they supported those taking to the streets to express anger and frustration over the death earlier this week of George Floyd in Minnesota, as well as other recent cases of African Americans being killed by police.
"The boarding of these windows and this extra care is not a 'new norm' we want to create," said Dr. Clyde Posley of the Antioch Baptist Church. "There is nothing that was accomplished for us as a (black culture) … where violence was the solution."
Speaking from the steps of the Indiana Statehouse, Posley and others said they wanted to see people of all races continue to push back against existing policies and laws that they said permit inequality to persist.
"Please protest," he said.
—
3:15 p.m., May 30
Photo gallery: Damage in downtown Indianapolis
Click the photo to see a gallery.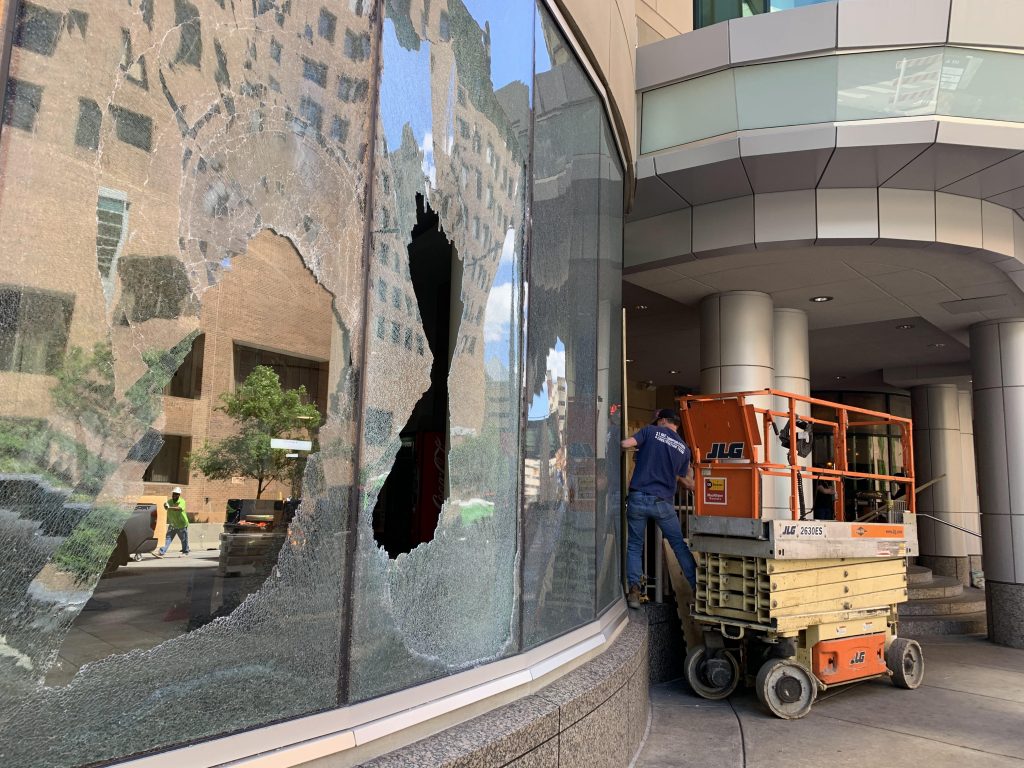 —
2:50 p.m., May 30
Democrats on council support protests, say violence and destruction must stop
Democrats on the Indianapolis City-County Council issued a statement on Saturday afternoon saying that they support peaceful protests in Indianapolis but that they do not support "intentional destruction of businesses and property and creating danger for citizens."
Here is the caucus' full statement:
"As members of the Indianapolis City-County Council Democratic Caucus, we support the peaceful assembly of our residents. The very reason the First Amendment was crafted is to provide Americans—all Americans—with a platform to have our voices heard.
Like many in our community and nation, our caucus is hurting, and we agree there are systemic issues in law enforcement specifically and government policies more broadly that must be addressed. Many of us who serve on the Council have first-hand experience with the racial tensions that have brought us to this moment in time. It is time for us as a city to come together to specifically address the concerns – peacefully.
We know there are more protests planned in the days to come and that emotions quickly get heated. What we do not and cannot support is the intentional destruction of businesses and property and creating danger for citizens. We ask that protesters use this moment in our city's history to assemble peacefully and remain steadfast in the goal of effecting the much needed change that is needed.
Indianapolis belongs to all of us and we cannot not let the destructive actions of a few individuals compromise the progress we have made and will continue to make for all those who call our city home."
—
2:45 p.m., May 30
Windsor Jewelry owner describes damage at his store
Windsor Jewelry, owner Greg Bires was working with contractors and staff on Saturday morning to clean up the mess left when protesters broke through his windows and ransacked the store. Most of the jewelry was locked up for the night, but he said thieves made off with what they could after smashing through cases and tearing through offices. He said he's still determining what was stolen and how much damage was done.
—
1:30 p.m., May 30
Holcomb says 'injuring innocent' in response to injustice is 'counterproductive'
Gov. Eric Holcomb issued a statement on Saturday about violence in Indianapolis.
"Hoosiers have long been people who find solutions to the challenges we face, whether it be in response to a pandemic or to an injustice like the world witnessed so tragically inflicted upon Mr. George Floyd in Minnesota," he said.
"As I stated yesterday, injuring the innocent in response to an injustice is counterproductive. I've asked the Indiana State Police to fully support and make resources available to local communities across our state to ensure our citizens and their property remain safe.
"In the days ahead, peaceful assembly and clear voices will be important if we are to make progress. Violence and vandalism will set us back in our shared desire to resolve differences. Let us again, each of us, be part of the solution."
—
1:11 p.m., May 30
Hogsett asks Good Samaritans to stay away from downtown as cleanup continues
Indianapolis Mayor Joe Hogsett has asked residents who wish to help with the cleanup after overnight vandalism downtown to stay away from the area.
He tweeted on Saturday morning:
"While we appreciate the groundswell of community support and residents' desire to help small businesses clean up, we'd ask that people avoid the downtown area. @IndyDPW is working to address the vandalism and damage."
Indianapolis officials are bracing for more unrest this weekend after a largely peaceful protest on Friday downtown turned violent at night and early into Saturday morning with widespread vandalism to buildings.
Mayor Joe Hogsett is planning a press conference at 1:30 p.m. Saturday to discuss the protests and the city's response going forward. Another protest is scheduled for 4:30 p.m. Saturday at the Indiana War Memorial.
—
12:42 p.m., May 30
Indianapolis police fire tear gas to disperse angry crowds
Crowds angered by the Minneapolis death of George Floyd clashed with police in downtown Indianapolis overnight, prompting officers to fire multiple volleys of tear gas and rubber bullets to disperse crowds that shattered storefronts.
The Friday protest over Floyd's death Monday after a white police officer pushed his knee into the handcuffed black man's neck for several minutes began peacefully. It turned violent Friday night, though, with some demonstrators smashing windows and glass doors on many businesses, including Circle Centre Mall, and lingering into the early morning hours of Saturday.
Fires were set in trash cans and a CVS store was set ablaze after protesters broke in and stole what was on the shelves. Protesters also ransacked a jewelry store, cellphone store and other businesses, The Indianapolis Star reported.
The violence in Indianapolis and many other cities was sparked by anger over over Floyd's death in Minneapolis on Monday, which was captured on cellphone video. It led to the firing Tuesday of the four police officers who were arresting Floyd for suspicion of passing a counterfeit bill and to third-degree murder and manslaughter charges being filed Friday against the officer who used his knee to pin Floyd down for more than eight minutes, even as Floyd pleaded for air and went limp.
At one point Friday night, Indianapolis police stood in riot gear as groups of protesters moved through clouds of tear gas chanting "I can't breathe!" and "Black lives matter."
Just before 12:30 a.m. Saturday, a police spokesperson said shots had been fired at a Marion County Sheriff's Department deputy. That deputy was not injured and did not return fire, the Indianapolis Metropolitan Police Department said.
Indianapolis Mayor Joe Hogsett said in a statement Saturday that three law enforcement officers were injured during the protest and one demonstrator was seriously hurt while kicking in glass. He said a police officer applied a tourniquet and delivered "life-saving care" to the injured protester.
Hogsett urged participants in future protests in the state's capital city to reject violence. He said that he, like many people, "was horrified by the needless killing of George Floyd," and added that he recognizes the anger and frustration "communities of color" have felt for generations because of systemic racism and a lack of liberty and justice.
But the mayor said that although hundreds of city residents peacefully exercised their right to free speech to protest Floyd's death, he was saddened that a smaller group turned violent and damaged businesses and caused injuries.
"While the emotions that fueled this vandalism may be justified, the actions that were taken and the harm that it has caused are simply unacceptable and did nothing to further the cause of progress," Hogsett said in his statement.
Please enable JavaScript to view this content.