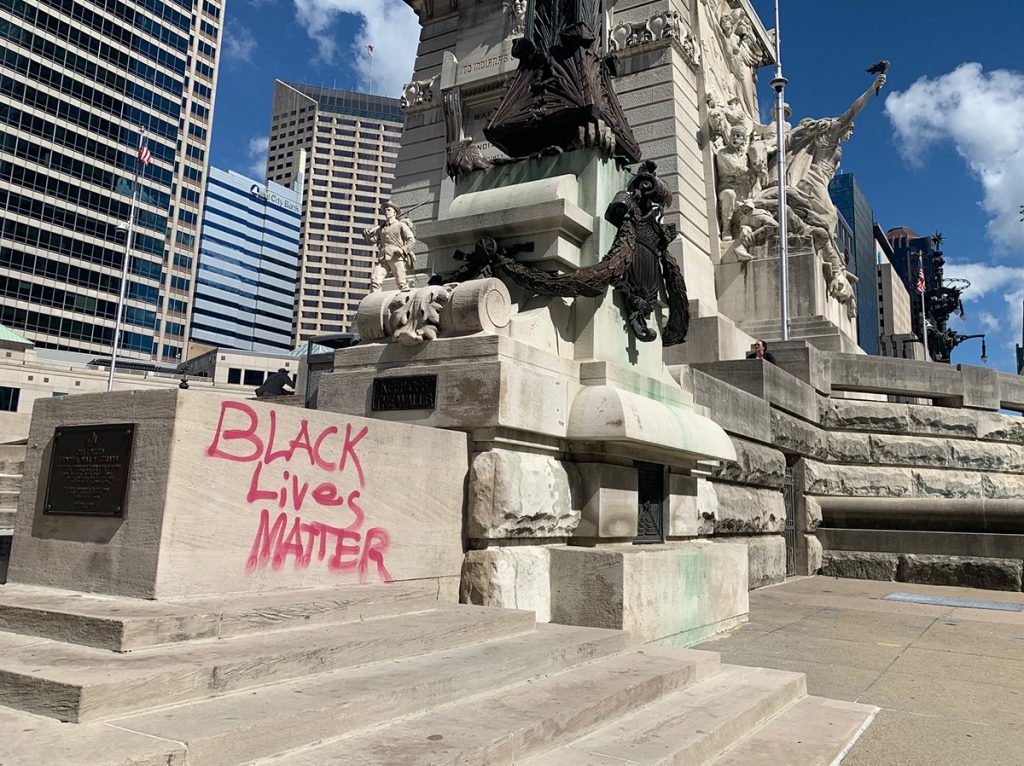 Indianapolis officials are bracing for more unrest this weekend after a largely peaceful protest on Friday downtown turned violent at night and early into Saturday morning with widespread vandalism to buildings.
Mayor Joe Hogsett is planning a press conference at 1:30 p.m. Saturday to discuss the protests and the city's response going forward. Another protest is scheduled for 4:30 p.m. Saturday at the Indiana War Memorial.
Overnight, protesters clashed with police and busted windows on Monument Circle and across the Mile Square. Officers with the Indianapolis Metropolitan Police Department used tear gas to try to break up pockets of protesters. Three law enforcement officers and at least one protester were injured, according to a statement from Hogsett.
After an organized protest ended peacefully on Friday night, some protesters remained downtown and vandalized buildings and monuments.
At one point Friday night, Indianapolis police stood in riot gear as groups of protesters moved through clouds of tear gas chanting "I can't breathe!" and "Black lives matter."
"I am saddened that so many people and businesses were injured in the violence that ensued. While the emotions that fueled this vandalism may be justified, the actions that were taken and the harm that it has caused are simply unacceptable and did nothing to further the cause of progress," Hogsett said.
"Our office and the Indianapolis Metropolitan Police Department remain committed to ensuring the safety of peaceful protesters, and I would ask all who speak out in the days that follow to reject the tactics of those who would diminish a movement toward national action into unproductive destruction," Hogsett said.
Tear gas has now been thrown at the Indianapolis #JusticeForGeorge protestors who have decided to stay. Windows to downtown buildings have been shattered. @wrtv pic.twitter.com/QtACY92n2G

— Shakkira Harris (@shakkirasays) May 30, 2020
The unrest was mirrored in cities across the country on Friday as anger over the death on May 25 of a black man in police custody in Minneapolis erupted into large-scale demonstrations about police violence. The unrest spread from Minneapolis to Atlanta, New York, Houston and Washington, D.C., where the White House was placed under lockdown. In Portland, Oregon, police declared a riot. In Lincoln, Nebraska, police urged residents to shelter in place.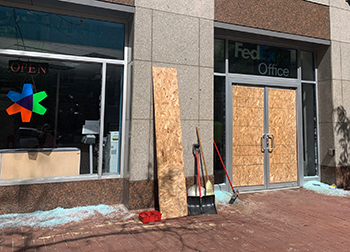 In Indianapolis, protesters spray-painted "Black Lives Matter" and other phrases on the Soldiers and Sailors Monument. Dozens of windows were smashed in buildings nearby, although Christ Church Cathedral on Monument Circle was unharmed.
Contractor Marvin Hasty was working on a broken window at Sugarfire Smoke House at 24 W. Washington St. He said he was swamped with calls for making repairs downtown, on 38th Street and on the east side of the city.
"This is the mayor's fault," he said. "He had to know this was coming, and he was unprepared."
Three workers with the not-for-profit group Downtown Indy Inc. helped clean up damage downtown on Saturday morning. Sherry Seiwert, president of Downtown Indy, said there were no estimates yet of the value of the damage.
"What took place last night did remarkable and senseless damage to businesses and residential properties that will take millions to rebuild and restore. What is most devastating is that the businesses targeted with destruction and looting are the very businesses seeking to lift up racial inequities by employing men and women of all races and minorities – but will now be closed for weeks, months and perhaps forever," Seiwert said in a statement to IBJ.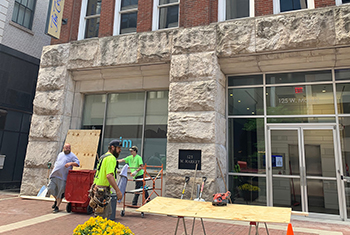 "Downtown Indy Inc. calls on all business and community leaders of all races to call for an end to illegal and dangerous behaviors that have riddled our urban core. We also call upon these same leaders to seek first to understand the pent-up anger existing in minority communities and speak out against injustice and inequality. Peaceful protests are acceptable and welcome, but not when they lead to destruction of property and violence towards fellow humans."
Kyle Maddox and his 10-year-old daughter walked on Meridian Street just south of Monument Circle on Saturday morning with a broom and cardboard signs saying "Black Lives Matter." Kyle said they wanted to both help clean up the mess and show support for the protestors.
"The protests have validity. There's a good reason to do it. And if things get out of control we can come together as a community.
"I hope that there is a peaceful resolution, that the folks felt heard and that we can make effective change as a community."
Across the street at Windsor Jewelry, owner Greg Bires was working with contractors and staff to clean up the mess left when protestors broke through his windows and ransacked the store. Most of the jewelry was locked up for the night, but he said thieves made off with what they could after smashing through cases and tearing through offices. He said he's still determining what was stolen and how much damage was done.
Bires said he received an alarm about 1 a.m. and then motion detector alarms continued until about 3 a.m. "There's no words for what happened here last night," he said.
He said he felt for protestors who had a message that needed to be heard. But he said those those that vandalized stores tainted that message.
And he's worried about what could happen on Saturday night. "We're doing everything we can to secure the front of the store. We're hoping that will work. Plus we'll have security in the store."
Hogsett tweeted Saturday morning that people hoping to help with the cleanup should stay away from downtown and let crews with the Department of Public Works handle the damage.
Chris Gibson, co-owner of a restored historic office building at 125 W. Market St. that suffered cosmetic damage overnight, said that he sympathized with the protesters.
"From a purely personal standpoint, I understand the frustration of why the protests are happening around the country, but I'm not sure damaging property is the right way to go about it," he said.
Please enable JavaScript to view this content.