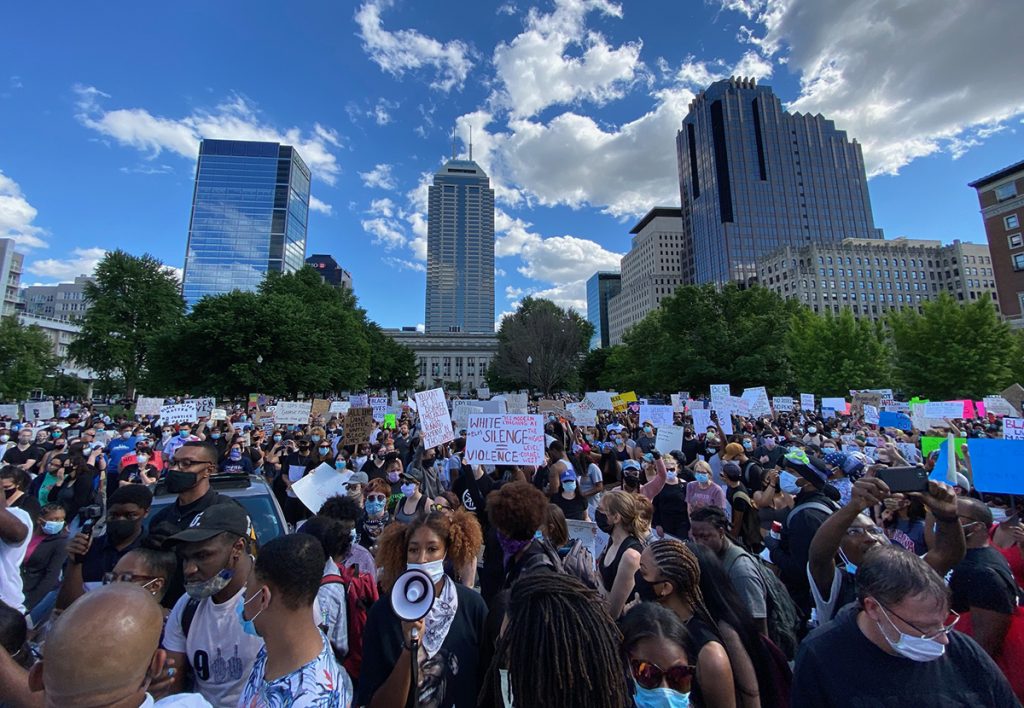 Thousands of protesters coalesced downtown late Saturday afternoon in a continuation of protests of police violence and social inequality that on Friday resulted in widespread vandalism.
In a peaceful demonstration, a crowd of about 3,000 people gathered at Monument Circle at about 5:30 p.m., chanting "Black lives matter" and "No justice, no peace."
Protesters initially gathered on Monument Circle at about 5 p.m., with hundreds breaking off to march east on Market Street, then north on Alabama and west on Michigan Street. At the Indiana War Memorial, they met up with hundreds more protesters and then marched south back to Monument Circle.
By 6 p.m., groups appeared to be splintering off from the protest, with members of groups such as Black Lives Matter and the Nation of Islam collecting in pockets in the Circle.
Mayor Joe Hogsett said earlier on Saturday afternoon that he had spoken with protest organizers and social-justice groups to arrange a protest at 4 p.m. on Monument Circle, with their assurance that it would remain peaceful and that they would help disperse the crowd afterward.
"It is my hope that as you gather in anger that you will leave your peaceful protest and return home," Hogsett said during a live-streamed press conference. He said he hoped protesters would disperse by 7 p.m.
At the protest, an organizer speaking to the crowd told protesters that Indianapolis police have "a green light to move in" on protesters at 7 p.m.
Protesters then started to splinter, with hundreds heading north out of the Circle on Meridian Street.
Hogsett's comments followed a night of violence and vandalism downtown, stemming from an earlier protest on Friday against police violence. Extensive property damage in the Mile Square included dozens of smashed windows in office buildings and retail storefronts. Three law enforcement officers and at least one protester were injured.
The violence in Indianapolis and many other cities was sparked by anger over the death in police custody of George Floyd in Minneapolis on Monday, which was captured on cellphone video. It led to the firing Tuesday of the four police officers who were arresting Floyd for suspicion of passing a counterfeit bill and to third-degree murder and manslaughter charges being filed Friday against the officer who used his knee to pin Floyd down for more than eight minutes.
Indianapolis protesters on Saturday shouted the name of Dreasjon Reed, who recorded himself being shot by IMPD officers following a police pursuit early this month.
This story will be updated.
Please enable JavaScript to view this content.