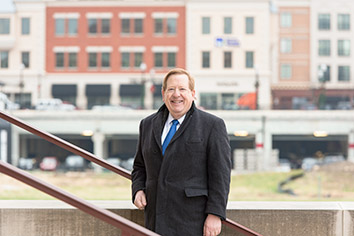 Carmel Mayor Jim Brainard is abruptly suspending his plans to sue the city of Minneapolis for the cost of increased security to deal with protests and threats of violence, saying his actions have been misunderstood.
The decision comes less than five hours after the mayor announced he hired outside attorneys to pursue the lawsuit against Minneapolis for the negligence he said the city displayed when police officer Derek Chauvin knelt on a suspect's neck for more than eight minutes following an arrest. The man, George Floyd, died later that day.
Brainard said he reconsidered after reading social media responses and talking to people whose opinions he values. He said he realized the action was being misconstrued.
"It was seen as a way to simply collect money," Brainard told the IBJ. "The point was to say, this is a mechanism through the legal system to try to change bad behavior that has caused so many deaths and so much damage in the United States."
Brainard said he intended to "send a message" by suing the city of Minneapolis for the cost of having to quadruple local police patrols during protests against the Minneapolis officers' actions.
He previously pointed to windows broken at a Kohl's store at 9895 N. Michigan Road Sunday evening as an example of vandalism that would not have occurred if not for the Minneapolis officers' negligence.
As of Monday evening, Brainard couldn't provide the cost the city has incurred for increased police presence.
According to the city of Carmel, approximately 300 protestors marched laps around the Monon Trail and the city's Arts and Design District for about three hours Monday, starting at 5 p.m.
In a written statement, Brainard said the lawsuit was not about inflicting more pain. Instead, it was a message to Minneapolis' leaders and leaders across the nation about violence and the damage that comes from an inability or unwillingness to treat all people with respect.
"Unfortunately, it was not understood that way by the public that we were doing this in support of trying to make a positive change," Brainard said.
Carmel has seen few significant impacts from the protests and violence that have erupted in Indianapolis and other major cities.
On Monday night, Brainard issued a disaster emergency declaration that will allow "the city to take swift action against the threat of civil unrest should it need to do so."
"While we appreciate the freedom we have to peacefully assemble and voice our opinions, I will not allow these public sessions to become unlawful or endanger the lives and property of our community," Brainard said in a statement.
"Indiana law allows for mayors to declare a disaster, which includes the 'imminent threat of widespread or severe damage, injury, or loss of life or property resulting from a human act.' I am taking this action now to ensure that I have the legal authority and ability to take further action if necessary to protect this community."
The city's statement said Carmel police and the mayor have been closely monitoring the messaging on social media as part of an effort to protect the community.
Please enable JavaScript to view this content.