It was the type of corporate announcement that makes you sit up with a start.
Microsoft Corp., the maker of computers and software based in suburban Seattle, declared in January it would go "carbon negative" by 2030—meaning it will reduce its emissions by half and remove from the atmosphere more carbon than it emits.
Further, Microsoft said that, by 2050, it would remove from the environment all the carbon the company has emitted either directly or by electrical consumption since it was founded in 1975. It will do that by investing in forests, wind and solar technologies—and by developing technologies to capture carbon, through a new, $1 billion climate innovation fund.
It was a breathtaking goal—one that quite possibly set the standard for U.S. companies, from the dirtiest manufacturers and utilities to the cleanest retailers and office firms.
And Microsoft is not alone. Other huge U.S. companies, from Amazon.com Inc. to Delta Air Lines Inc., have rolled out shoot-the-moon goals for reducing their carbon footprint.
Some are doing it by buying better vehicles and fuel. Others are buying "carbon offsets"—such as investing in planting trees or wind farms, and getting credit for helping to reduce net carbon dioxide emissions indirectly.
Increasingly, as the planet warms, pressure is building from environmentalists, investors, consumers and the general public for corporate America to do something about it.
That includes companies in Indiana, a state that carries an outsized reputation as a polluter and has often resisted moves to turn to greener energy sources and reduce carbon emissions.
Despite its relatively small size, Indiana ranks eighth among states in annual carbon dioxide emissions, 182.9 million metric tons, according to the 2016 figures compiled by the U.S. Energy Information Administration.
Even on a per-capita basis, Indiana's carbon footprint is sizable: 27.57 metric tons, or more than all but Louisiana, Kentucky, West Virginia, Wyoming, North Dakota, Alaska and Montana.
But lately, some local companies have rolled out big goals to try to reduce their carbon footprints.
Perhaps the biggest splash came in November, when diesel-engine maker Cummins Inc. announced it would reduce greenhouse gas emissions from all its facilities and operations 50% by 2030, and achieve carbon neutrality by 2050.
Carbon neutrality means removing the same amount of carbon dioxide from the atmosphere as it's emitting.
"It's a very tough goal, setting us on a trajectory for the next three decades," said Brian Mormino, executive director of Columbus-based Cummins' worldwide environmental strategy.
The company said the targets are science-based and achievable, following the recommendations of the 2018 report by the International Panel on Climate Change.
How much does that mean, in numbers?
Cummins sold 1.5 million engines in 2018 and said the lifetime emissions of those engines will amount to 809 million metric tons of carbon dioxide. That includes, of course, the emissions of all those engines once they leave Cummins factories and are in use by customers.
To put it more starkly, that's the equivalent of the annual emissions of 175 million cars on the road.
But Cummins said, even though it is not the player directly emitting all that carbon dioxide, it wants to reduce it to by one-quarter, 607 tons, by 2030.
"Our customers need the right tools for their work," Cummins said in a 23-page white paper, but the diesel engines and other power solutions "must comply with stringent emission regulations, help address climate change and be part of the solution for the energy and environmental challenges facing the planet."
The company said it expects to reach its goals working closely with customers to help them reduce carbon dioxide emissions.
On its own, Cummins plans a sweeping approach to reduce emissions at its factories and offices, from putting solar panels over some of its parking lots to installing more efficient air compressors in its plants.
It is also taking financial steps, such as entering into "virtual-power purchase agreements." The agreements are new types of energy contracts that allow a large customer to support green-energy projects, such as wind farms, and thus hedge electricity prices.
In 2017, Cummins became the first Indiana company to jump into the market when it signed a 15-year contract with Houston-based EDP Renewables North America to expand the Meadow Lake Wind Farm complex, which operates hundreds of turbines spread out over White, Jasper, and Benton counties in northern Indiana.
The deal allowed EDP to add dozens of turbines to the farm, cranking out an additional 262,000 megawatt hours of electricity a year. That's enough to power 20,000 average Indiana homes, Cummins said.
In the process, Cummins was able to win "renewable energy certificates." So even though it wasn't buying the green energy for its own use, it could point to the certificates as proof of its commitment to green.

Drugmakers on board
Cummins isn't the only Indiana company to try to become a big player in the green movement.
Some of the largest manufacturers in Indianapolis say they have cut carbon emissions in recent years.
Eli Lilly and Co. said it reduced its greenhouse gas emissions nearly 13% from 2012 to 2018, and wants to increase that to 20% by the end of this year.
That's happening even as eight of the drugmaker's 11 largest energy-consuming manufacturing sites, including Indianapolis, which represent nearly 88% of its total energy consumption, have increased production since 2012.
How is that possible? The drugmaker said it has been able to cut greenhouse gas emissions by improving energy-efficiency, using advanced energy monitoring systems, conducting regular energy audits and implementing new technologies.
"As our product portfolio evolves, we search for new and better ways to minimize our environmental footprint," company spokesman David Marbaugh said.
Even so, Lilly still emitted 1.38 million metric tons of carbon dioxide from its factories and offices in 2018—the equivalent of 300,000 cars on the road each year.
And the company has not announced a mega-plan to cut carbon emissions, even as some of its worldwide competitors have rolled out big goals.
AstraZeneca, based in England, announced in January a goal of becoming carbon neutral by 2025. It said it will do that by doubling energy productivity and using renewable energy for both power and heat, as well as switching to a 100% electric vehicle fleet.
"I have children and I have a grandson, and they're going to look at me and say, 'What did you do?'" Pascal Soriot, CEO of AstraZeneca, told Bloomberg News.
The AstraZeneca plan, with an estimated cost of $1 billion, will also involve planting 50 million trees in partnership with local governments and One Tree Planted, a not-for-profit focused on global reforestation.
Meanwhile, Japanese drugmaker Takeda announced in January a plan to become carbon neutral by 2040. It plans to eliminate all greenhouse gas emissions from its operations by buying renewable energy. It will also require that its suppliers cut their emissions.
And Denmark-based Novo Nordisk said last year it was on track to use only renewables as soon as this year. Switzerland-based Novartis also has a plan to go carbon neutral by 2025.
Lilly, for its part, said it plans to announce updated environmental goals later this year. None of the eight largest U.S. pharmaceutical companies have announced carbon-neutral goals.
Differing motivations
So why are companies taking these big environmental steps? After all, some would say, the primary job of a drugmaker is to develop treatments for serious diseases, not to save the planet.
Some environmentalists say it pays to watch closely. Companies might be rolling out big goals that seem ambitious on their face, but have little detail to back up how they plan to get there, and quietly shelve the plans a year or two later—a tactic called "greenwashing," or general corporate spin.
Other companies, meanwhile, could be making big investments in energy-saving lighting and heating systems but continue to be chronic violators of air and water pollution laws.
"We have a responsibility to assess the methodology of such companies when it comes to their carbon-reduction plans," said Jesse Kharbanda, executive director of the Hoosier Environmental Council. "Are they investing in renewable energy systems, or simply buying renewable energy credits?"
Some companies, he added, buy land that contains "carbon sinks"—or natural reservoirs that absorb more carbon than they release, thus lowering the concentration of carbon dioxide from the atmosphere.
"Are they buying vulnerable tracts of land to keep them in perpetuity as carbon sinks, or are they buying carbon sinks?" he asked.
Management experts say companies have a variety of motivations to take big steps on climate issues.
Amrou Awaysheh, an assistant professor of operations management at Indiana University's Kelley School of Business, said companies might see a new environmental regulation coming down the road and want to get ahead of the game before their competitors.
Or, by taking steps to become more energy-efficient, they can increase long-term profits, even if that requires a big investment upfront.
And of course, they might want to show outsiders, from environmentalists to investors, that they are good corporate citizens.
"Often, they are doing this because they want to relate to additional stakeholders that are interested in this," said Awaysheh, who researches corporate social responsibility. "If a lot of your customers or stakeholders wants you to do A-B-C as a company, you're going to start doing it."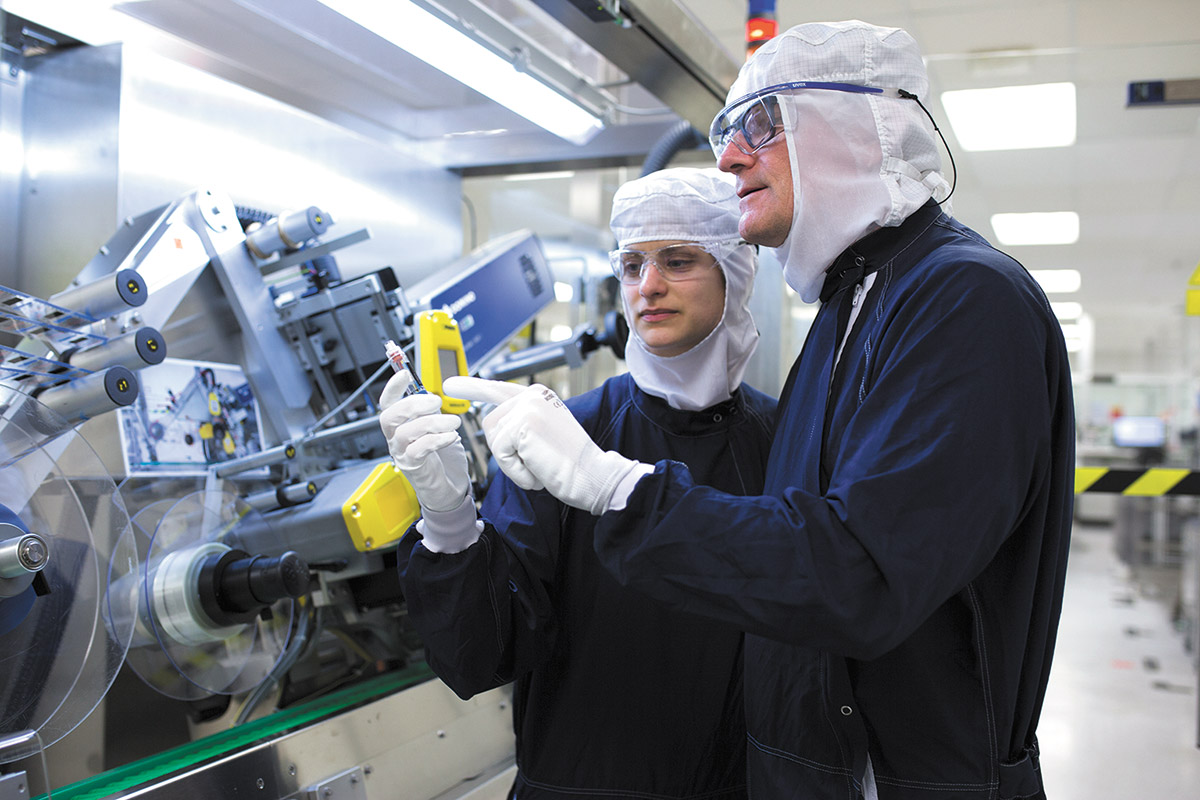 Other Indy examples
Simon Property Group, the country's largest owner and manager of malls and other retail property, said that, from 2003 to 2018, it has cut electricity consumption 38% and reduced greenhouse gas emissions 45%. In the process, it has cut more than 260,000 metric tons of carbon dioxide equivalents.
It has also installed LED retrofits at more than 200 U.S. properties, and more than 740 electric vehicle charging stations at 115 U.S. properties since 2011.
The Indianapolis-based company has yet to announce major goals on the level of Microsoft or Amazon. But in its annual sustainability report, it said it will continue to work on reducing its greenhouse gas emissions and "committing to setting science-based reduction targets."
Anthem Inc., the Indianapolis-based health insurer, said it has cut greenhouse gas emissions 30% since 2103. It did so, in part, by instituting energy-efficiency programs that have saved the company more than $10 million over that time.
It has also installed dozens of solar panels at its Los Angeles area office that produce enough electricity to power onsite electric vehicle charging stations.
Last year, Anthem committed to buy 100% of its electricity from wind and solar energy sources by 2025.
Anthem uses more than 225,000 megawatt hours of electricity per year, which is enough to power more than 20,000 homes. It said to reach its renewable-energy goals, it would take the equivalent of a 100-megawatt utility-scale solar plant—the size of more than 300 football fields of solar panels—to offset its electricity.
Rather than build or finance such a plant, Anthem said it is evaluating opportunities to enter into large, offsite power-purchase agreements from outside energy providers.
"Anthem understands the link between environmental health and human health," the company said in a statement to IBJ. "We are focused on improving the sustainability of our business and making a meaningful impact on the communities where we live and work."
Large corporations that are based elsewhere, but with large operations in Indianapolis, are getting in the game.
Last fall, tech giant Salesforce Inc. unveiled a pollution tracking tool called Sustainability Cloud, software that helps businesses track and analyze their environmental data.
Salesforce said the product grew out of a system it had developed to track its own carbon footprint. Its emissions have grown from 149,000 metric tons of carbon dioxide equivalents in 2017 to 244,000 metric tons in 2019, chiefly from electricity to power its huge data centers.
Last year, Salesforce, based in San Francisco, with a large operation in Indianapolis, pledged to reach 100% renewable energy usage by 2022.
Some of the changes announced by companies are coming from pressure from big investors.
The New York Times reported that Larry Fink, who runs BlackRock, the largest money manager in the world, with $7 trillion under management, sent a letter in January to hundreds of corporate CEOs. He demanded that they begin addressing climate change or he will start pulling his money from their companies.
"We will be increasingly disposed to vote against management and board directors when companies are not making sufficient progress on sustainability-related disclosures and the business practices and plans underlying them," Fink wrote, the Times reported.•
Please enable JavaScript to view this content.