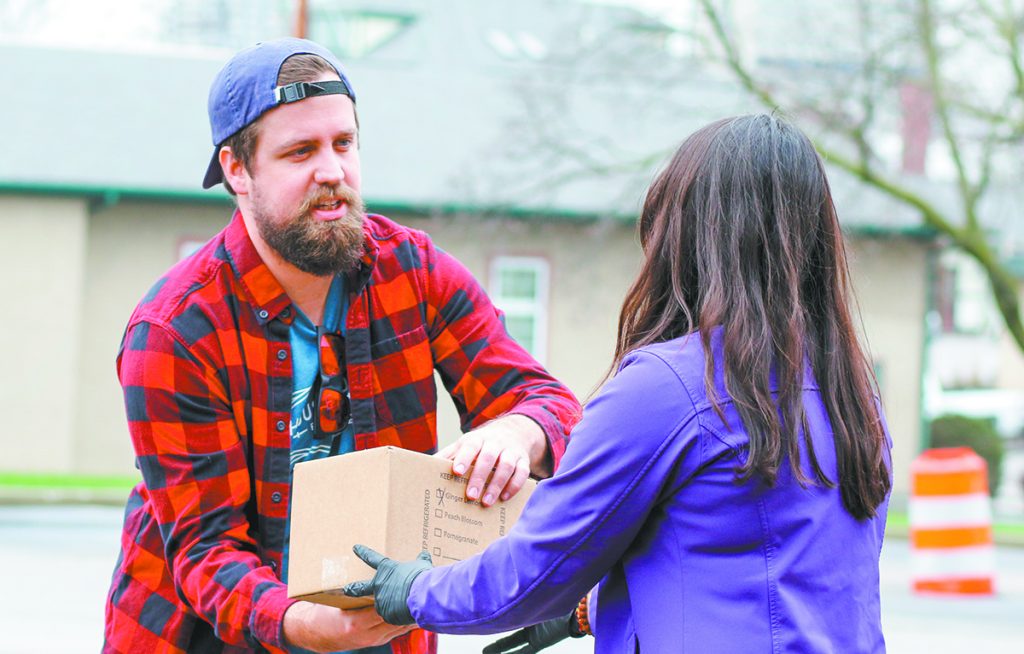 Circle Kombucha is not a retailer in a traditional sense.
But when state and local officials told restaurants, bars and most businesses they had to close to try to slow the spread of the coronavirus, at least 50% of the young company's sales evaporated.
That's because those food and drink outlets—places like Books & Brews, Public Greens and Gallery Pastry Shop—are a primary distribution channel for Circle Kombucha's namesake product, a fermented tea that is marketed as a healthy alternative to pop and other drinks.
In fact, bars and restaurants make up roughly 600 of the company's 750 or so customers, said Circle Kombucha's 30-year-old co-founder and CEO, Matt Whiteside.
"It's safe to say the majority of our businesses is being impacted by some of the measures that have been taken," he said.
That's not a complaint. Whiteside said the government action to try to stop the spread of the virus is probably necessary.
But as a result, Circle Kombucha is in the process of shutting down its manufacturing line, something that can't happen on a dime, given the drink's 30-day brewing process.
For now—although some restaurants can still sell Circle Kombucha with takeout orders—most of the company's sales are taking place at about 150 grocery stores in Indiana and the region. Those sales are up, Whiteside said, thanks to an overall uptick in grocery shopping.
"But it certainly doesn't make up for the 50%-plus of our business that's coming from the on-premise and event channels where we're seeing a big, big setback," Whiteside said.
The company is now selling four-packs of cans as well as cases out of its manufacturing facility at Elevator Hill, as the former campus of Angie's List is known, at 1050 E. Washington St. Customers order online and pick up the products on Saturday mornings. For every three cases Circle sells for curbside pickup, it is donating one case to front-line health care workers.
On March 28, a steady stream of customers came by to pick up orders, including Andy Troxel, who works for tech firm BrewLogix, which has Circle Kombucha on tap at his office.
"I've been missing it," said Troxel, who has been working at home. "And I always like to support local."
Moving into the shutdown, Whiteside said Circle Kombucha's operations were profitable, although the owners are putting that money right back into the firm.
"We are a growth-stage company," he said. "Every penny we make and more is going towards growth. We reinvest every dollar the company produces."
He said he's not immediately worried about the company's finances, despite the shutdown. "Thankfully, we've run a pretty conservative operation and we're small," he said. "Honestly, we're small enough where we can scale up and dial back at a pace that's much quicker than a massive company."
And, Whiteside added, "We've set a good plan; we've got a great outlook for the company."
There have been staffing adjustments as production has shut down (typically, Circle Kombucha has 10 full-time employees and 10 to 20 part-time or temporary positions to work events like farmers markets), although Whiteside said that situation is evolving. He and his team are investigating options for federal assistance, especially the programs meant to help small businesses keep their staffs employed.
In the meantime, Whiteside said, the lull in production and sales means his team can invest time in the company's goals for 2020—which he said have not changed, despite the challenging environment.
Among them is to become certified as a B Corporation, a designation for companies seeking to balance profit and purpose. Becoming certified requires a company to show it is minimizing its impact on the environment, offering benefits to employees and sourcing from socially responsible vendors, among other goals.
Circle Kombucha is also looking to expand to on-premise locations in five more communities, attract new talent and reduce turnover, and launch a contract-manufacturing line, meaning Circle would manufacture products for other brands.
Finally, it plans to introduce a new product later this year.
"Even though the world is in a bit of madness right now," Whiteside said, "we're trying to find ways that we can continue to be a positive influence both in our community and on the health of those around us."
Please enable JavaScript to view this content.