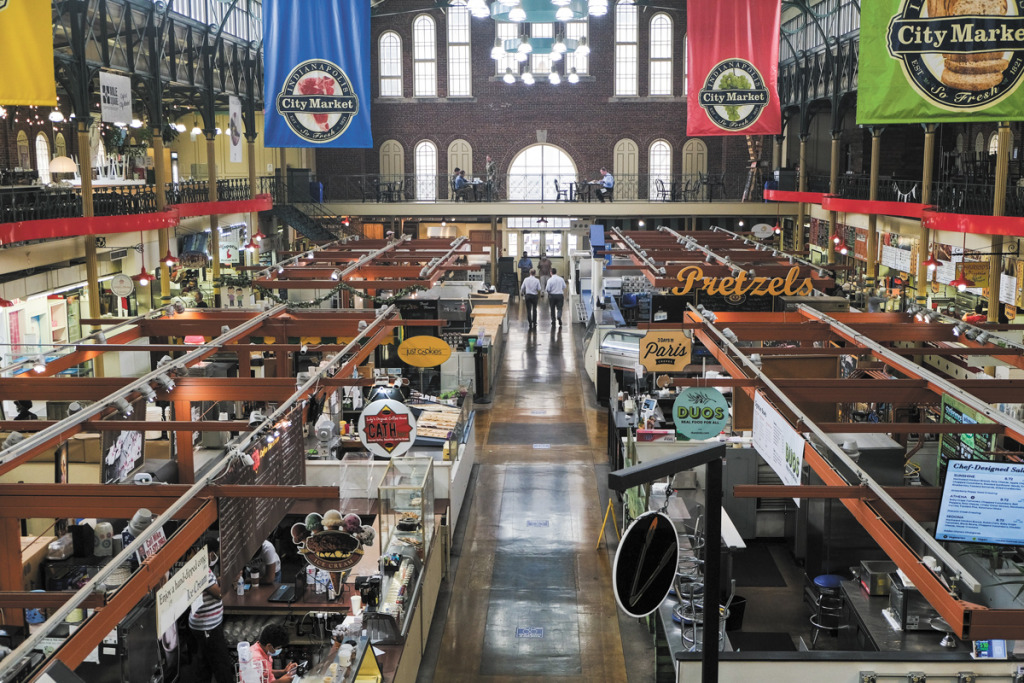 First came the pandemic and the stay-at-home orders, draining downtown of customers who might have popped over to City Market for a quick lunch or snack.
Next came the loiterers, drug dealers and fighters who descended on the property.
Then, City Market was separated from its summertime farmers market, which is operating two blocks west on Monument Circle this season because of construction on Market Street.
Now, longtime City Market Executive Director Stevi Stoesz will leave for personal reasons at the end of the month.
It adds up to a bushel of challenges for the market, a historic landmark at 222 E. Market St. The city-owned brick structure dates back to 1886, though the site has been a hub for downtown vendor activity since 1821.
"We're just in a position where we've had a lot happen in a short period of time," said Jason Dudich, vice president of the not-for-profit board that oversees City Market's operations. "It's a tough time, there's no question about that."
City Market's leaders are optimistic the market can overcome its current troubles and emerge as a stronger institution. But they also acknowledge the hurdles ahead.
Most notably: How do the market and its dozens of retail tenants keep going when most of their customers still haven't returned to work downtown?
"Every day, it's just a day-by-day challenge," said City Market vendor Ross Hanna, who owns Twenty-Two Juicery and Smoothie Bar with his wife, Leslie. The business opened at City Market in 2013.
The Hannas opted to close their 300-square-foot shop for about two months this spring, reopening in late May. When it first reopened, Ross Hanna said, business was down about 85%. Business has rebounded a bit since but has stayed down about 60% the last two months or so.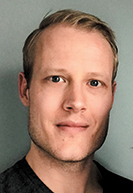 The Hannas reduced their hours of operation, and this week they revamped their menu in an effort to spark customer interest. But Ross Hanna said he doesn't see business conditions improving until downtown workers, conventions and other signs of normal life return.
"Downtown Indianapolis is very much a commuter city," he said. "Now, you just have a downtown Indianapolis that has a fraction of those commuters coming in to work, and that's on an irregular basis."
Hanna said he and his wife are still committed to their City Market location, though they have had to use personal savings to keep the business afloat.
Fellow tenant Cindy Hawkins, owner of the pastry shop Circle City Sweets, was one of only a handful of the market's 30 retail vendors to remain open throughout the pandemic.
"When the shutdown happened, it was a huge knock to all of us. Ninety percent of our customers are people who work within a three-block radius of us," she said.
Hawkins and her husband, Roger, also own three other businesses at City Market: Circle City Soups, a bakery called Circle City Sweets Boulangerie, and Mile Square Coffee.
Circle City Sweets, which has operated at City Market since 2010, is holding its own, Hawkins said. The business sells most of its products wholesale and at farmers markets, and she found creative ways to deliver to her City Market customers who didn't want to leave their homes.
Early on, Hawkins said, the biggest problem was an increase in crime—once downtown workers left, a rough crowd started hanging around outside the market, openly using and dealing drugs. "It was a violent group of people, fights all the time."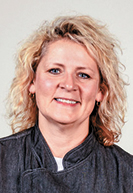 The situation has improved over the last few weeks, she said. Police are patrolling more often and many of the loiterers appear to have moved on.
Fiscal realities
To help its tenants weather the downturn, City Market offered a two-month deferral on base rent in April and May, though tenants were still expected to pay monthly maintenance fees.
About half of the market's tenants opted for deferral, Stoesz said. Those tenants have up to 24 months to pay the deferred rent, or they can extend their lease for two months.
Stoesz said her staff has also been working to help tenants shift their business models so that they're not so dependent on walk-in traffic. Some tenants have resisted making changes, she said, but others have embraced services like Carmel-based delivery company Market Wagon or grocery delivery service Mercato.
So far, City Market has held on to most of its tenants. It was fully leased before the pandemic hit. Since the beginning of the year, three merchants have vacated: Pat's Philly Pretzels, Rebellion Doughnuts and Three Carrots.
Stoesz said some degree of turnover is expected—tenants sign only two-year leases, and the market often serves as an incubator for merchants that eventually move on for other locations.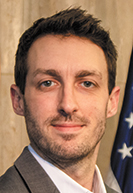 She said she doesn't foresee a rush of tenants leaving when their leases expire, though it's hard to predict. "Right now, I'm not getting any sense that there will be any sort of mass exodus. But we're in survival mode right now."
Unlike some other retail landlords, City Market does not have a revenue-sharing agreement with its tenants. The market's only source of revenue from tenants is rent.
That rent, in fact, represents the largest portion of City Market's revenue. In its 2021 proposed budget, the market expects to bring in $516,000 in tenant rent—the same as this year's budget.
Rental revenue has largely recovered, and the market is optimistic that it will hold steady next year, said City Market board treasurer Rusty Carr. Carr is also the chief financial officer and chief operating officer at the city's Department of Metropolitan Development.
The market was in a strong financial position before the pandemic, he said.
Its second-largest source of revenue is an annual subsidy from the city of Indianapolis, most of which covers utilities. The market expects to receive a $271,400 city subsidy in 2021, the same as this year.
But it is expecting events revenue to decline, both this year and next.
This year, City Market had expected to bring in $52,000 from private events and public gatherings, including ticketed tours of the catacombs beneath the market. The 2021 budget assumes only $31,000 in event revenue.
The market's preliminary 2021 budget is built around the assumption that it will host none or few events during the first four months of the year.
"We're all in this kind of tentative space about what this next year looks like," Carr said.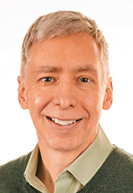 Largely as a result of the decline in events revenue, City Market's preliminary 2021 budget shows the market operating at a loss next year, with revenue of $849,600 not quite covering expenses of $864,812. The 2020 budget assumed a small profit of $11,300.
Sharpening operations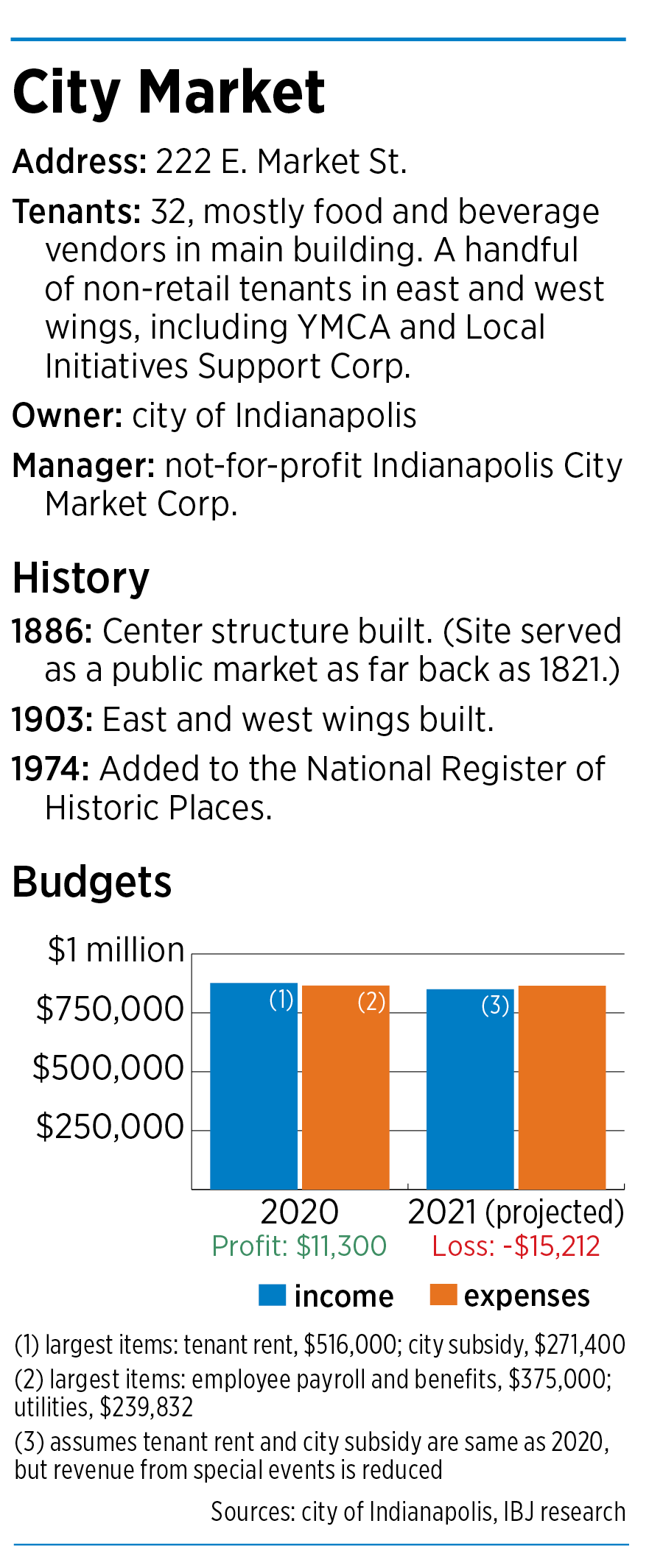 In addition to weathering the drop in foot traffic and customer spending, the market is looking for ways to improve business.
One big area of opportunity, Stoesz said, is partnerships with other area entities.
Last year, City Market began talking about ways to team up with other nearby public spaces, including Cummins Inc.'s outdoor plaza at its 301 E. Market St. offices; and Lugar Plaza at the City-County Building, 200 E. Washington St.
City Market has also been in regular conversation with Gershman Partners, which purchased several nearby properties along with fellow Indianapolis developer Citimark in 2019. The entities purchased the 20-story Gold Building at 151 N. Delaware St., Two Market Square Center at 251 E. Ohio St., and a parking garage between them.
Stoesz said her organization is working with Gershman on a potential partnership that could help further develop City Market's campus as an amenity for Gershman tenants.
But Stoesz, executive director since 2011, is in her last weeks on the job—she's leaving to become a full-time caregiver for her mother, who recently suffered a stroke. That means it will be up to a new director to carry things forward.
Board members and merchants have some ideas of their own.
Dudich, the board vice president, said he's in favor of adopting a centralized point-of-sale system for vendors, who now use a patchwork of systems. Using a single system, Dudich said, would give City Market insight into its tenants' sales—something market management does not currently have. That information, he said, could help the market's management work with tenants on ways to boost revenue.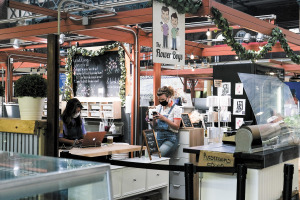 Implementing such a system, Dudich conceded, would be costly and require many parties to buy in to the concept.
Tenant Ross Hanna said he'd like to see additional marketing, plus renovations to spruce up the interior.
"I think the place needs a massive breath of fresh air," Hanna said, while adding that he believes Stoesz has done "an incredible job."
Board member Carr said he wants the next executive director to stay true to the market's heritage and its function as a retail incubator, while also taking a creative approach to operations. "There is a lot of opportunity, especially as we get on the other side of the pandemic."
The market's board has hired Indianapolis-based consulting firm Charitable Advisors to help with the executive director search.
Don Gulbrandsen, who is Charitable Advisors' director of consulting and is leading the search, said his first task is to gather information from tenants, board members and other stakeholders on what they want to see in a new executive director.
"I was really gung-ho to take on this project, in part because I'm a big fan of City Market," Gulbrandsen said.
The board aims to have a new executive director by the end of the year, he said, a goal he considers realistic.
Despite the market's current challenges, Gulbrandsen said, it has a bright future.
For one thing, he said, the market sits within the Market East district, which has seen significant commercial development in recent years.
He's also optimistic that downtown will recover and that, when it does, customers will return to City Market.
"This is a negative point in time, but it's kind of a snapshot in a much longer, more positive history."•
Please enable JavaScript to view this content.