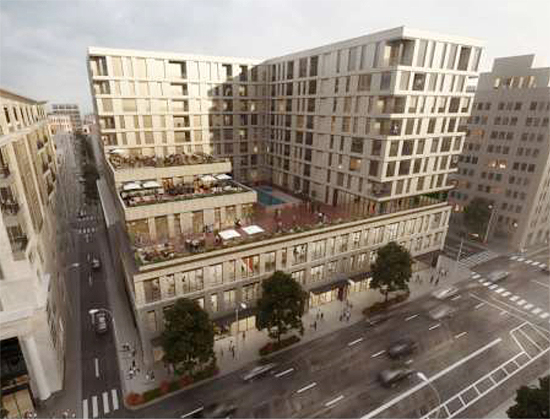 Indianapolis City-County Council members on Monday night narrowly voted to advance proposals that would award nearly $10 million in financial incentives to a Denver-based developer behind a proposed $66 million downtown mixed-use building across from the Indiana War Memorial.
The council's Metropolitan and Economic Development Committee voted 6-5 to send two proposals concerning Charles Street Investment Partners' mixed-use project at 421 N. Pennsylvania St. to the full City-County Council, where all 25 members of the body will have a chance to weigh in.
One proposal would create a single-site tax-increment financing district on the site. The other would award a $9.8 million developer-backed TIF bond to the development. The 25-year bond would be paid back with 80% of the TIF funds generated by the development, with 20% going back to the city.
The votes on the two proposals had bipartisan supporters and detractors—meaning their fate is still in jeopardy on the Democrat-controlled council.
"It barely made it out of this committee," Vice President Zach Adamson said. "It could run into issues at the [full] council."
On Monday, Democrats David Ray, Jared Evans and Maggie Lewis, joined Republicans Colleen Fanning, Jason Holliday and Brian Mowery in supporting the proposal.
Voting against it were Democrats La Keisha Jackson, Leroy Robinson, and Adamson, along with Republicans Jefferson Shreve and Janice McHenry.
Adamson said he believes TIF should be used when a property would otherwise not be able to be developed.
"With all the needs we have in this city it's harder and harder for the council to embrace [these] kinds of things," Adamson said. "Otherwise, we're just giving away money. It's hard to imagine any scenario where the 400 block of Pennsylvania Street would not be able to be developed."
The committee approval on Monday comes after the vote on the incentives failed to advance in July after a 5-5 deadlocked vote. However, Ray, one of the supporters on Monday night, was absent during the July vote.
Ray told IBJ he voted in favor of the proposal because it is "better than what's there now." The property was once the site of the Essex Hotel but has been a parking lot for the last 25 years.
"Any sort of development downtown is good," Ray said.
Along with ground floor retail and office space, the development will have 213 residential apartment units, and 20% will be available for workforce housing dedicated to residents earning 80% of the area median income.
However, some of the council members had concerns that even the workforce housing units were going to be too expensive for working people.
"How affordable is a $1,200 apartment?" Shreve said at the July hearing. "Who are we serving [by] creating space at that level?"
IBJ reported in December that Charles Street was in the process of buying the property from Cincinnati-based Chavez Properties, a Parking Company of America affiliate.
The property has long been used as a 165-space parking lot by Chavez. Chavez razed the Essex Hotel in 1994 with plans to redevelop the site, but it has been unable to since.
There were plans in the early 2000s to develop the property into a high-rise condo complex, but that deal fell through in 2004.
Please enable JavaScript to view this content.