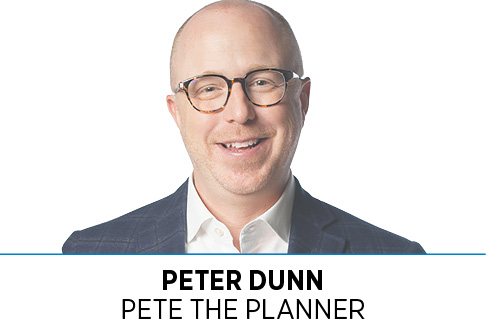 I hope this doesn't come as a surprise, but you're supposed to invest time and energy in relationships. No matter where a relationship starts, if that relationship is important to you, you must make a sincere effort to nurture it.
The reason is simple—unfettered trust is one of the most beautiful and enjoyable assets in the world. Deeply trusting someone, then partaking in the byproducts of that trust, is a luxury few people intentionally seek.
Don't worry, this isn't a romance column now. I'm talking about your financial adviser, or any other business relationship for that matter. And, yes, I guess I'm talking about your personal relationships, too.
I know this seems rude, but I want you to summon into your brain the image of someone you do business with, whom you don't really trust at this point. Because of your lack of trust in them, you undoubtedly hold back. Which is understandable, because you don't want to get burned. When that person asks you to do something, you spend a fair amount of time questioning their motives, and because of that, the solution or outcome you're both hoping for can seem tainted or distant. It's a terrible feeling.
Not everyone deserves your absolute trust, but most people do have the opportunity to earn it. However, this isn't a one-sided audition where a person has to perform a series of benevolent acts in order to satisfy your royal requirements. In fact, in order to trust someone, you must be vulnerable. You've got to put yourself out there and risk marginal levels of embarrassment and even shame. When you see how the person reacts to your gift of transparency, you get to make a judgment about how that reaction made you feel. Again, this is a beautiful thing, when it goes well.
Of course, it's not a good thing when it doesn't go well, and at some point, you're better off moving on from that relationship, if you're able to. But truthfully, it's your effort and willingness to endure small amounts of discomfort that give the relationship room to grow.
In a professional setting, a trusted relationship can take an otherwise risky proposition and turn it into an enjoyable experience that helps you achieve your goals more efficiently. I can't think of a better example of trust leading to positive outcomes than the trust you develop in your financial adviser.
Today, I need you to come to one of three conclusions. The first is that you've invested heavily in growing trust in your adviser, and she has earned your unbridled trust. If this is the case, lean into that relationship. Ask her what else you need to do in order to accomplish your goals, then do what she says. Follow her recommendations and enjoy the serenity that comes with this trustful journey.
The second conclusion up for grabs is whether you're being vulnerable enough to build a healthy relationship. Tell your adviser what scares you. Tell him where your behavior challenges are. And tell him about the entire financial picture. Don't hold back information, as people often do, as a way to test the adviser's intent. Tell him everything. Sharing information isn't dangerous; it's an investment in your relationship. If you don't want the person to manage all your money, just tell them. But acting like that money doesn't exist is incredibly counterproductive.
Finally, if you've invested time and energy in your relationship with your adviser, and you still don't trust them, be done. Move on. Start anew. Not only do you owe that to your financial future, but you owe it to your mental well-being. Operating in a trustful way is invigorating. You deserve that. The peculiar thing about being in a toxic relationship that lacks trust is, you can begin to think you don't deserve a healthy, trustful relationship.
When I enter into a new professional relationship, in which I'm intending to take the guidance of the other party, I'm quite explicit about my desire for that relationship to be a partnership. I don't want to view the other party as a vendor or a commodity. I want to invest my trust and benefit deeply from that trust. This has worked for me, and you might find utility in it as well.
One last note: The biggest lever in this entire exercise is you. You have to be vulnerable. You must risk a person ignoring your feelings and insecurities. That's hard to do. Financial products don't plug these moments of uncertainty, the relationship does.•
__________
Dunn is CEO of Your Money Line powered by Pete the Planner, an employee-benefit organization focused on solving employees' financial challenges. Email your financial questions to askpete@petetheplanner.com.
Please enable JavaScript to view this content.