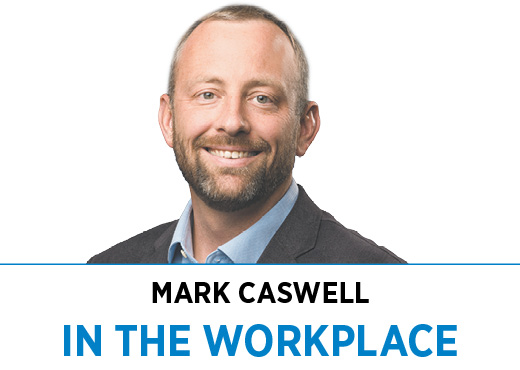 A few years ago, one of my career mentors shared a thought that has had a profound impact on the way I think about work relationships.
"It's weird," he said, "that people talk a lot about intentionally working on your relationships with your spouse and kids and friends, but nobody ever tells you that you have to be just as intentional—if not more so—about working on your relationships at work."
We don't necessarily choose our co-workers or the people we manage, and yet we spend more time with them than just about anybody else in our lives. Think about it: When was the last time you spent 30-40 hours per week communicating with your spouse? In the world we live in today, much of our work lives consist of meeting with or answering emails from co-workers. Yet somehow, we don't spend nearly as much time thinking about how to improve our work relationships as we do our personal ones.
Strong, deep relationships don't just happen. Intentionality is essential. But the level of intentionality required for those of us working remotely has increased tenfold. There's no such thing as a "chance encounter" anymore. We've also lost those precious minutes before a meeting officially starts to catch up, because video calls feel a lot more structured and transactional than face-to-face meetings.
But our work relationships aren't and shouldn't be transactional; all relationships are human relationships. This means taking the time to get to know the whole person, not just the employee. And that requires a different approach.
Getting to know a whole person means showing your personhood.
If you're working on improving the relationship with someone you manage, it's worth noting that they probably won't naturally open up unless you lead the way. It's when you show up as a whole person—not just your "work" self—that you give them permission to do the same with you. When you share some of your story, thoughts and emotions, it creates space for the other person to be who they are—not who they think you expect them to be.
Consider scheduling a virtual coffee or lunch with someone you know well as an employee but don't know well as a person, and just talk. This might sound like common sense, but in a COVID-19 world, it's easy to forget how important non-work conversations are to building strong work relationships.
You could ask about their kids and pets, and talk about yours, too. You could ask them to share the story of how they found their way into their career, and what they love most about the work they do. If all else fails, asking about favorite TV shows, movies, books and podcasts are a great way to get a conversation going. You might even find you have something in common.
When you begin to see employees and co-workers as whole people with emotions, perspectives and unique experiences, grace and thoughtfulness come a bit more naturally. And that's always a good thing.
Strong relationships create more strong relationships.
As we go about building relationships as leaders, it's also important to keep in mind that our time and capacity for deep relationships is finite. In our organization, I typically interact with people many times throughout their tenure. But it would be harmful if I believed I could have deep relationships with hundreds of employees. Even if I tried, none of them would be real, because no one can maintain 300 friendships.
Now, of course we want to be friendly and cordial to people and genuinely care about their well-being. But when you think about your work relationships, it's those you work closest to that need investing in for the long run.
And as you build those relationships, you teach those people how to build deep relationships with the people they work closely with, and the cycle begins again. Before long, a network of interconnected relationships ripples out across the entire organization. And as a leader, I can think of nothing more rewarding.
Strong work relationships are good for business, and not just because they make work more enjoyable. When we have relationships with whole people—not just employees—we unlock the deep trust that's required to productively disagree, proactively resolve conflicts and provide candid feedback. And in doing so, we make one another better leaders and better people.•
__________
Caswell is CEO of KSM Consulting, an independent technology, data analytics and management consulting firm based in Indianapolis.
Please enable JavaScript to view this content.