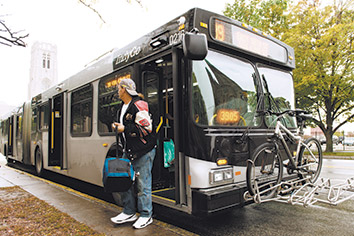 Heeding the call for a crosstown bus on the north side, IndyGo in 2013 launched the 86th Street route connecting Trader's Point and Community Hospital North.
Ridership grew to 11,956 boardings in August, up 54 percent from the same month last year. Yet Route 86 sees an average of just six boardings per revenue-hour, making it the most unproductive bus in IndyGo's network, according to a consultant's report. (Revenue-hours measure the
cost of a bus and driver for time spent on the route.)
If IndyGo poured those same resources into one of its most efficient routes, Route 39 on 38th Street, or Route 8 on East Washington Street, the ridership growth could be exponential, according to consultant Jarrett Walker and Associates. Buses on those routes run every 15 minutes, but IndyGo could make them even more frequent.
"The ridership actually goes up out of proportion to the increase in frequency," said Michelle Poyourow, senior associate at the Portland, Oregon, firm, which is helping the transit agency with a long-range plan. "You get people who are like, 'Oh, that bus comes every 11 minutes now. Why should we have a second car?'"
The ridership recipe is simple, but the question for IndyGo is whether it's palatable. Any dollars spent maximizing ridership on high-performing routes won't be available to maintain or expand geographic coverage.
That's a tough choice for an agency where more than 50 percent of riders say they have no other means of transportation, and their primary reason for using the bus is going to work. What's more, a remarkable number of Indianapolis' low-income neighborhoods are in suburban settings, which are difficult for transit to serve efficiently, Poyourow said.
IndyGo isn't threatening, as it has in the past, to eliminate routes, but it is trying to craft a policy to guide it through landmark changes: next year's opening of the $20 million Downtown Transit Center and, possibly, the passage of a referendum in favor of a regional rapid-transit system.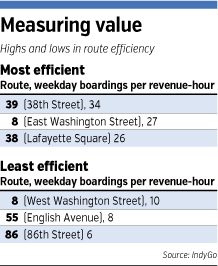 "What we come up with at the end is going to be a policy that guides us, period, whatever that ends up looking like," spokesman Bryan Luellen said.
The current network is 60-percent ridership-focused, with buses running every 15 minutes to a half hour on key routes. IndyGo posed the frequency-or-coverage question to the public through meetings in September, and 67 percent of respondents said they would put 80 percent of the money into high-frequency service, Luellen said.
The public will get a taste of what that means when IndyGo unveils on Oct. 29 new downtown routing to serve the transit center, which is to be built on the southeast corner of Delaware and Washington streets, across from the City-County Building.
"There's some notable streamlining that will be proposed," Luellen said.
IndyGo went through a series of budget crises before adopting in 2011 a special property tax, which is projected to generate $10.8 million for next year's budget of $66.7 million.
Indiana law allows public transit agencies to adopt a special tax if their expenses exceed the maximum property-tax levy. IndyGo's total operating levy for 2015, including the special tax, is $29.5 million, which comes to 0.8 cent per $100 of assessed valuation.
Ridership has been growing, and IndyGo assumes fare revenue will increase 5.7 percent next year, to $12 million.
IndyGo says its budget is still stretched too thin. The agency relies on Federal Transit Administration money to maintain buses, and there's no local money available to expand the fleet.
Indianapolis has the lowest per-capita investment in public transit of a group of peer cities—Salt Lake City; Portland, Oregon; Cincinnati; Nashville, Tennessee; Louisville; and Columbus, Ohio, Walker found. As a result, the consultant said, IndyGo also has the fewest boardings per capita—a measure of relevance.
IndyGo increased service in 2013 after the City-County Council allocated an additional $6 million.
The money allowed service to become more frequent on its three routes with the most ridership—38th Street, Washington Street and 10th Street—which together delivered 40 percent of IndyGo's 6.8 million boardings through August.
IndyGo also extended the hours on other routes, including Route 31 to Greenwood and Route 34 on Michigan Road. Those buses are not nearly as packed as No. 8 on East Washington Street, which had in excess of 1 million boardings through August, but they are cheap to operate, so they are highly productive, according to Walker.
Attracting more riders isn't just a matter of spending more money. The dollars have to be deployed in the right places, Poyourow said.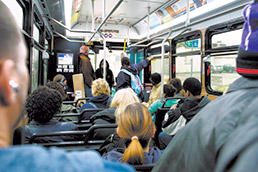 More than half the people who use IndyGo say they have no other means of transportation. Most riders primarily use the bus to reach their jobs. (IBJ photo/Eric Learned)
The ridership recipe, according to Walker, centers on population density, linear travel patterns, continual boardings and walkability. That last component is what's holding back Route 86, Poyourow said.
The walking routes to stops along 86th Street are long and unpleasant, she said, and 86th Street itself is difficult to cross, so a bus stop will be easy to reach only from one direction.
"It's a challenging environment in which to get people on the bus," Poyourow said.
Under Walker's maximum-ridership scenario, Route 86 would be eliminated. Luellen said that is not in the works, mainly because it serves major employment centers.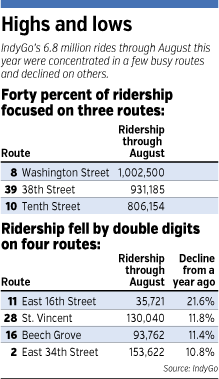 North-side City-County Councilor Angela Mansfield said she has received few emails about IndyGo over the years, except people asking for service along 86th Street. Mansfield said she would be against eliminating any route, especially if it means people lose their transportation to work.
"I think we all benefit from having people out working, for many reasons," she said.
Other cities, including Houston; Columbus, Ohio; Fresno, California; and Edmonton, Alberta, have redesigned their networks to maximize ridership, Poyourow said. That could leave some people stranded, but there are ways besides regular bus service to extend a lifeline, she said.
One option is limited service, running a couple of times a week to a shopping center or hospital, Poyourow said. Van pools are another way to cover the gaps and get people to jobs in far-flung places. With van pools, an employer or some agency—not necessarily the transit agency—assigns a van to an employee and compensates him or her for driving.•
Please enable JavaScript to view this content.