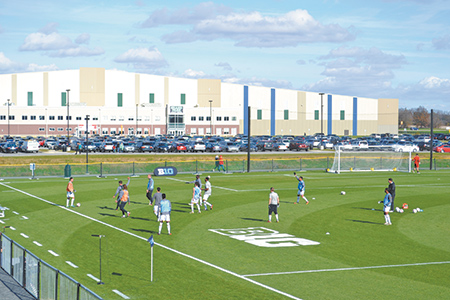 Jonathan Byrd's dreamed of becoming a major player in the hospitality industry and saw Grand Park Sports Campus as the place to hit a home run.
But the move to the Westfield park might have been a swing and miss.
The company, which does business under a variety of names under the umbrella of Byrd Enterprises of AZ Inc., spent two years laying the groundwork for what the city of Westfield and the Byrd family believed would be a long-term investment at the nearly 400-acre youth sports complex.
The plans started with a restaurant and catering operation in the park's events center, expanded into hotel development, and dipped into event management. It was the full-scale hospitality opportunity the Byrds had been seeking.
"It really made sense for us to make a major move there," said David Byrd, vice president of operations and development for Byrd Enterprises Inc. of AZ.
It would be somewhat of a new start for a company Jonathan Byrd launched in 1982 as a Kentucky Fried Chicken franchise and transitioned into a cafeteria in Greenwood. He also expanded into catering, racing and hotels. Last year, seven years after the company's namesake died, the family closed its Greenwood operations with the goal of moving most of its business north—with a focus on Grand Park.
By summer, that plan was in full swing, with the proposed hotel being developed, two restaurants open, the Jonathan Byrd's name secured to a building for 10 years, and responsibility for scheduling events at the soccer arena, known as the Grand Park Events Center.
But it didn't last. Within months, the company was retrenching. And by the end of January, Jonathan Byrd's stopped doing business at Grand Park completely.
Still—according to public documents, interviews and thousands of emails IBJ obtained through a public records request—Jonathan Byrd's optimism about its investment at Grand Park never faltered, despite signs of struggle.
Even now, the company exudes a positive outlook, saying it's refocusing its business model.
"We just determined that, long term, that we needed to go a different direction," Byrd said. "It was certainly not a decision taken lightly. We had a big vision for there."
But others tell a different story. The city of Westfield—while calling the split with Jonathan Byrd's amicable—says it evicted the company after it missed multiple rent payments. Officials say the company owes Westfield $127,000 and might have put the city in a tough spot financially.
Records and interviews indicate Jonathan Byrd's could owe more than $1.6 million to private firms as well.
"I think in this situation it appears that Jonathan Byrd's folks took on too much too soon—not just with us, but several other entities that are having to sort out similar problems," Westfield Chief of Staff Todd Burtron said. "If it were us all by ourselves, I'd feel really stupid. But their business decisions have affected many others at a much greater degree than the city."
Byrd maintains the business is doing well. He said the company served more meals in 2016 than any year in its history. According to information submitted to IBJ for its annual list of local caterers, Jonathan Byrd's had $4.4 million in gross sales in 2016—up from $3.5 million in 2015.
Byrd credits the increase to recent investment in its 502 East Event Centre in Carmel. In addition to events there, Jonathan Byrd's also caters at public and private facilities, including The Center for the Performing Arts in Carmel and the Forum Conference and Event Center in Fishers.
The closures of its two restaurants at Grand Park—one in the events center and another in the private fieldhouse bearing its name—were a result of "spreading ourselves too thin," Byrd said. "If we couldn't give everything the full attention that it needed, then we needed to determine what was the best for us to focus on."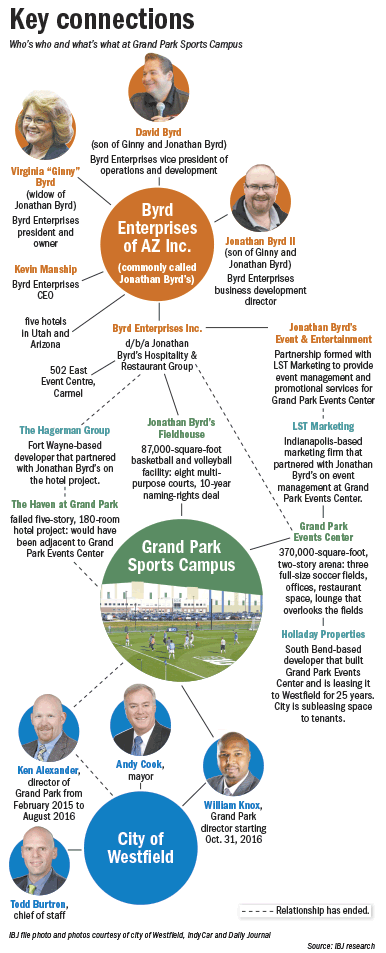 Building the brand
Jonathan Byrd's involvement at Grand Park started on day one.
At the complex's June 2014 grand opening, Westfield Mayor Andy Cook announced plans for a 370,000-square-foot indoor soccer arena that would have food services provided by the well-known family business.
The relationship between Jonathan Byrd's and the city grew stronger from there.
In November 2015, the city selected Jonathan Byrd's, under its Byrd Hotel Group, to develop a five-story, 180-room hotel that would be adjacent to the soccer arena. Of several bids, Jonathan Byrd's was the only one that didn't ask for public dollars, so city officials said they felt it was the best option.
A lot was riding on the hotel, according to accounts from city officials and Byrd. A major user was eyeing the park for a long-term agreement and requested lodging be provided on site. So the city made clear in its request for proposals that the hotel needed to open by mid-July.
City officials declined to identify the potential customer. But several documents IBJ received through its public records request indicate it was likely the Indianapolis Colts, for their spring training camp.
But Grand Park didn't secure the deal. Last month, the Colts announced training camp would move from Anderson University to the team's headquarters, the Indiana Farm Bureau Football Center on the northwest side of Indianapolis.
In the midst of the hotel project, Jonathan Byrd's took on even more responsibility at Grand Park. In April 2016, Westfield announced that Jonathan Byrd's Event & Entertainment LLC, a joint venture with locally based LST Marketing, would be responsible for event scheduling and management of the indoor soccer arena.
For Jonathan Byrd's, it was the last leg of the full hospitality package it wanted at Grand Park. The company now would be responsible for scheduling events, providing hotel rooms for guests, and feeding visitors. It was the ultimate trifecta.
But the bliss didn't last.
Red flags
In fact, the day after the marketing partnership became public, then-Grand Park Director Ken Alexander indicated in an email that he believed The Hagerman Group, a Fort Wayne-based contractor, would soon take legal action against Jonathan Byrd's because it was owed $250,000 for the hotel project.
"There are some stability concerns regarding liquidity that should concern us with their ventures," Alexander wrote in an email to John Rogers, Westfield director of enterprise development.
The amount Jonathan Byrd's owed Hagerman increased. By mid-May, it reached $475,000, and Cook became involved.
"I am hearing there is a problem with proceeding and/or dealing with Hagerman," Cook wrote in an email to Byrd Enterprises CEO Kevin Manship and owner and President Virginia "Ginny" Byrd. "Would you or Mrs. Byrd please explain progress?"
Manship told the mayor the project was "backwards because of the Colts," but changes had been made and costs reduced and they were finishing up financing.
David Byrd also emailed the mayor to assure him everything was OK.
"This is one of those times that what looks like trouble on the surface actually turns out to be a blessing! We won't let you down!" Byrd wrote. "Your faith in us is well placed and all that we are doing in Grand Park is a cornerstone of our future!"
But in early June, Alexander rang the alarm again.
"I found out today Byrd still has not paid Hagerman ($500K+). I think we need to have an intervention," Alexander wrote to Burtron and Rogers. "This is getting out of hand and we are losing opportunity. As it stands, it will be tight to get hotel built in time for training camp next year."
Alexander and Hagerman declined to comment for this story.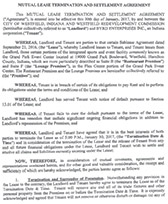 CLICK FOR LARGER VIEW.
Westfield officials say Jonathan Byrd's stopped paying rent on its Grand Park space last fall, which led to a termination agreement signed in January. (Document courtesy of city of Westfield)
Restaurant ready
Despite the hotel problems, the city believed in Jonathan Byrd's ability to manage a restaurant—so much so that it never intended to pick anyone else for the job. The company was already planning its move into the events center when the city actually requested bids. And on July 7, the Westfield Board of Public Works and Safety voted to accept the proposal from Jonathan Byrd's—the only one submitted.
Jonathan Byrd's was "part of the design, the build out of the events center," Burtron said. "We had already gone past what we thought was the point of no return on the food service operation."
Less than 24 hours later, Jonathan Byrd's wanted to open for business.
That morning, emails zipped back and forth between the city administration, attorneys and South Bend-based Holladay Properties, developer of the $25 million events center. The restaurant was expected to open in less than three hours, about two weeks before the building's official opening.
Did the city have a sublease agreement signed with Jonathan Byrd's yet? What insurance protection was in place?
"Can we have JB's delay this until at least Monday to give us some time to review?" wrote Charles Marshall, Holladay Properties asset manager.
Burtron assured him the city and Jonathan Byrd's had an operating agreement, then he emailed the city's attorneys asking for the document, "so I can affix signature."
"I don't have an operating agreement. I prepared a nine-page agreement but that was rejected," replied Krieg DeVault LLP attorney Paul Reis. "I will see if I can find the one page agreement."
According to documents obtained by IBJ, the city and Jonathan Byrd's signed a temporary use agreement for the restaurant and kitchen facilities on July 8—the day the restaurant opened.
The full, 10-year agreement wasn't signed until Sept. 21, although it was retroactive to July 8. Jonathan Byrd's would pay $406,016 annually to the city for the restaurant and lounge space, and the amount would increase 2 percent every year.
Money talks
On Aug. 10, Hagerman filed a mechanic's lien against Jonathan Byrd's on the hotel property, asserting it was owed $712,863.
In September, the mayor thought Byrd was ignoring city officials. "I'm not impressed," Cook wrote in an email.
But at the end of October, Byrd emailed the mayor and Burtron again, reassuring them the hotel project would move forward and that the partnership would be successful.
"I know that things have been a bit slower than we had hoped on the foodservice front … we continue to be bullish about the future on that front and in the whole of our hospitality based engagement with Grand Park," he wrote.
The mayor still was not impressed.
"First, I am beginning to receive political heat in that the project has not progressed and a lien was out on our property. Very embarrassing," Cook replied. "I need a definite start date. The last thing I want to do is to be forced to reissue the RFP."
Meanwhile, Holladay Properties had broken ground on a Westfield Hampton Inn, and Cleveland companies Ceres Enterprises LLC and The Orlean Co. broke ground in November on a Cambria Suites. A hotel at Grand Park was becoming less necessary.
This January, the city confirmed the Grand Park hotel was on hold indefinitely.
Slowing service
Westfield officials noticed in October—only three months after the events center restaurant's opening—that it was reducing its hours.
And then Jonathan Byrd's stopped paying rent. In January, the city evicted Jonathan Byrd's, ending its 10-year agreement with the company after less than seven months.
Westfield said Jonathan Byrd's paid $75,000 in rent but still owes about $127,000.
According to the termination agreement dated Jan. 30, the company will pay that amount through 10 monthly installments—and if it doesn't foot the bill, David and Ginny Byrd are personally on the hook for it.
The company also has stopped operating the restaurant and concession stand at Jonathan Byrd's Fieldhouse.
"Once we were out of the events center, it didn't make sense for us to do any food operations up there," Byrd said.
Andy Card, the entrepreneur who led the private development of the fieldhouse, said Jonathan Byrd's name will remain on the building. But the city of Westfield's spokeswoman, Erin Murphy, said the city was told to remove Jonathan Byrd's from the name of the facility for the Grand Park Fan Guide that will be printed later this month.
Jonathan Byrd's could also be on the hook for $888,000 to Indianapolis-based C&T Design and Equipment for equipment it had installed at the restaurant and lounge in the events center, according to emails between Burtron and Byrd. C&T did not respond to IBJ's request for comment.
In March, Byrd told Burtron he expected C&T Design to file a lawsuit against Jonathan Byrd's soon. Byrd hoped the city would find a restaurant operator to use the equipment, but the city doesn't see the dispute as its problem.
"… this issue needs to be settled between you and them," Burtron emailed to Byrd on March 16.
Burtron told Byrd the city's "economic situation is dire in large part due to your departure."
Grand Park had been on track to end 2016 with a $3.21 million deficit.
But Murphy said later that Burtron was trying to pressure Byrd and that the city is on solid ground financially.
Other entities doing business with Jonathan Byrd's, including LST Marketing and Indianapolis apartment developer Buckingham Cos., declined to comment on the specifics of their relationships with Jonathan Byrd's.
But the Indianapolis Colts confirmed that Jonathan Byrd's is no longer the team's official caterer as of the end of last season.
Other ambitions
Westfield wasn't the only place Jonathan Byrd's had aspirations.
A Jonathan Byrd's investment proposal prepared by Indianapolis-based BMG Capital Group LLC in August 2016 detailed eight potential projects totaling more than $109 million. The $17 million hotel at Grand Park was just one of them.
Others included new lodging facilities in Georgia and Oklahoma, hotel acquisitions in Arizona, and two additional Indiana projects—a hotel and parking garage at the 502 East Event Centre in Carmel and a hospitality center in Whiting.
The Byrds were seeking financing through the EB-5 foreign investment program, which allows foreign investors to finance projects that create jobs and then apply for U.S. visas. Byrd described the controversial program as "one more way to secure capital, secure financing,"
The $15 million project in Whiting would have included a hotel, events center, restaurants, catering kitchen, concession operations and event management. The city issued a request for proposals for the hospitality center along the shores of Lake Michigan in the fall. Jonathan Byrd's was the only company to respond.
Whiting Mayor Joe Stahura told IBJ the city has to complete a separate shoreline project before the hospitality center can move forward, but he hopes to work with Jonathan Byrd's on it when the time is right.
When news stories were published about the Whiting project, officials in Westfield were confused.
"I read today you are involved in a proposal in Whiting," Cook emailed to David Byrd in October. "This is very difficult for my board [council] to comprehend. May I hear from you?"
Byrd told IBJ the EB-5 proposal was intentionally ambitious.
"You never know what it's going to be that triggers someone's interest," he said. But he added that the package never went out to investors, and all the projects are on hold.
"We've put growth on hold because we need to make 502 East work," Byrd said. "We're not pursuing any new hotel projects right now."•
Please enable JavaScript to view this content.