Real estate developer Holladay Properties plans to build a $20 million indoor soccer facility at Westfield's Grand Park, providing a year-round venue at the sprawling sports campus—and a home for south-side institution Jonathan Byrd's first restaurant in Hamilton County.
Mayor Andy Cook announced the project Saturday afternoon at Grand Park's ribbon-cutting ceremony, an event that also drew Gov. Mike Pence, Congresswoman Susan Brooks and a stage full of other dignitaries.
South Bend-based Holladay Properties could start work on the 370,000-square-foot facility along 191st Street within 60 days, Cook said.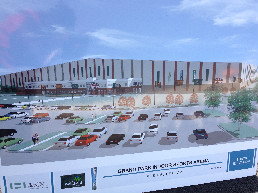 Officials unveiled a rendering of the indoor soccer facility on Saturday. (IBJ photo)
When construction is done next year, the building is expected to include three full-sized soccer fields and a "sizeable" food-service component operated by Jonathan Byrd's, he said.
Owner Ginny Byrd said she is "very excited" about bringing the restaurant to Westfield. The company closed its iconic cafeteria line in Greenwood spring, switching to a fast-casual concept it calls JB Express. The Grand Park eatery also will offer quick-service options, she said.
Holladay, which developed the AmeriPlex industrial park near Indianapolis International Airport, has been discussing the Westfield project with city officials since late last year, said partner Chris Wilkes.
The upshot of the brutal winter that delayed construction of Grand Park's 31 multiuse fields and 26 ball diamonds, he said: The need for an indoor facility became "that much more pronounced."
Grand Park is a game-changer for the city, said Wilkes (a Westfield resident for 13 years), and the development firm wanted to contribute by bringing its "craft" to the community.
Cook said the project will be financed without any public contributions. Holladay will buy property in the city-owned park, making it taxable, and the city will work to find a private operator for the facility.
Grand Park is an economic-development play for Westfield, which hopes to draw businesses seeking exposure to the million-plus visitors expected each year. The sports campus already has attracted nearly 400,000 visitors, Cook told the crowd, injecting an estimated $30 million in the central Indiana economy.
Westfield's lone hotel is booked every weekend, Cook said, and neighboring communities have been inundated with uniform-clad visitors.
Please enable JavaScript to view this content.