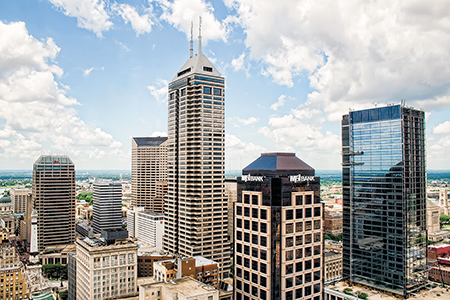 When it comes to Amazon's search for a city to host its second headquarters, the Indianapolis metro area has some considerable advantages if state and city officials put it in contention. It's also got some weaknesses that might weigh on its stock, business leaders and observers said.
The Seattle-based tech giant announced Thursday that it's looking for a city in which to build a second home, which it's calling HQ2. That destination city, the company said, can expect to see a $5 billion investment in construction, as many as 50,000 new jobs, and a development that's "a full equal to Amazon's current campus in Seattle" over the next roughly 15 years.
If the Indianapolis region enters the sweepstakes, its strengths include an existing Amazon footprint, rich logistics and technology expertise, and relatively low rent and wage costs.
Its weaknesses: its size, a few taxes considered tech unfriendly, and its inability, so far, to shake being overlooked as a top tech hub—even though it has the credentials.
"Indianapolis doesn't get looks, sometimes, just because they're not on the radar screen," said Tim Cook, CEO of Indianapolis-based KSM Location Advisors.
"I think when the the central Indiana area gets hard looks, it gets serious consideration. But it's still in the process of educating Fortune 500 companies that this is a place that you should look at to do a project like this."
For the most part, observers and tech leaders expressed more excitement than concern about Indiana's prospects. And some prominent leaders even vouched for the city and state.
"Salesforce loves Indy," Salesforce CEO Marc Benioff told IBJ Thursday in a text message. "And I couldn't recommend Indianapolis and Indiana any higher to any company looking for a headquarters location."
Salesforce, which entered Indiana after acquiring ExactTarget in 2013, announced plans in 2015 to add 800 workers in Indianapolis, its second-largest location outside its San Francisco headquarters.
Technology veteran Scott Jones, who lives in Hawaii but has deep Indiana ties, told IBJ he thinks "Indianapolis is a near perfect fit for Amazon." (Amazon CEO Jeff Bezos was among the earliest individual investors in Jones' startup ChaCha Inc., which shut down operations last year.)
"Jeff told me himself that he appreciated the work ethic of Midwesterners as well as the much greater loyalty that Midwestern workers have toward their employers, unlike Seattle, where Amazon competes for employees."
Strengths
Amazon is already the 15th largest employer in Indiana, according to IBJ research. It employs more than 9,000 full-time workers at its five Indiana fulfillment centers, four of which are in central Indiana.
That relationship with the state goes back several years and could be an advantage, said Mohan Tatikonda, professor of operations management at Indiana University's Kelley School of Business.
"When companies are having a big strategic decision like this—a multi-decade kind of commitment—it helps to have an established and positive relationship," he said. "So I think that puts Indiana in very good stead."
The region also enjoys a rich transportation and logistics ecosystem, highlighted by firms including FedEx Corp. and trucking company Celadon Group. Amazon could tap into that ecosystem for people, including managerial talent.
Even companies such as pharmaceutical giant Eli Lilly and Co. have expertise in logistics and supply-chain-management, having to source raw materials and distribute sometimes temperature-controlled drug products. Tatikonda noted that Amazon's future, given its acquisition of Whole Foods, will involve grocery sourcing and distribution.
"The headquarters is not primarily a distribution center," Tatikonda said. "But this is where a lot of planning activity will occur. And the supply-chain capabilities that are here and the logic of being in this part of the country with access to so much of the American and Canadian population is extraordinarily attractive."
The area has also seen its tech scene grow rapidly over the past several years, boosted in part by the growth and sale of software firms including ExactTarget, Interactive Intelligence and Aprimo. The generals and soldiers of those firms have largely stayed in Indianapolis and invested their time, money and talent in new and emerging tech outfits.
Real estate firm CBRE said in a July research report that Indianapolis had about 35,000 tech-related employees in 2016. For comparison, there were 49,800 tech workers in Charlotte, North Carolina; 68,800 in Austin, Texas; and 136,900 in Seattle.
The size of Indy's tech labor pool grew 42.3 percent between 2011 and 2016, the 12th fastest rate among the 50 cities surveyed.
Despite its size, Indianapolis emerged as the top "bang for your buck" market in the U.S. with respect to tech talent. Of the 21 U.S. cities deemed by CBRE to have "very high quality" tech workforces, Indianapolis had the lowest average annual salary for software developers ($77,970).
"If it becomes a financial decision—and some element of it is going to be that—then that could play very favorably for Indianapolis," said Cook of KSM.
Here's how Indianapolis compared to Seattle in other cost-related areas, according to the CBRE survey.
Annual operating costs (500-person tech firm occupying 75,000 square feet of office space):
Indianapolis – $36.1 million ($34.7 million in wages and $1.4 million rent)
Seattle – $49.3 million ($46.9 million wages, $2.4 million rent)
Tech wage to apartment rent ratio:
Indianapolis – 12.7 percent ($77,672 in annual tech wages versus $9,836 in annualized apartment rent)
Seattle – 17.8 percent ($113,906 in wages versus $20,328 in apartment rent)
Weaknesses
The Indianapolis-Carmel-Anderson metropolitan statistical area had about 2 million people in 2015, according to the Bureau of Economic Analysis, making it the 34 largest MSA in the country.
Amazon said its looking for regions with at least 1 million, so the area is well within the threshold for consideration. However, some observers think its public accommodations—particularly transit—aren't yet robust enough to support 50,000 workers.
"Fifty-thousand employees means a lot of people and a lot of collateral services that those people would want," Tatikonda said. "I'm going to guess that Indianapolis is on the lower-end of metropolitan areas that they would look for given the size."
Another issue deals with two taxes—the sales tax and personal property tax—that tech firms want to alter.
Officials with Indiana Chamber of Commerce's Technology and Innovation Council, a policy lobbying group, said data centers, for instance, are hit three times by such taxes in Indiana. They pay 7 percent sales tax on new equipment, 7 percent sales tax on electricity, and a property tax of between 2.2 percent and 2.8 percent on equipment. 
John McDonald, who chairs one of the organization's committees, said although Amazon has not indicated that it's looking to build a data center, those taxes would still apply to its investment. "The ability to expand their footprint to include more corporate data capacity would likely be a factor in the decision process," McDonald said. "And with so many [requests for proposals] going out we can ill afford to be marked down in any potential category."
Separately, McDonald raised another potential financial issue related to taxing software-as-a-service, or subscriptions to software sold over the internet. 
"Today, software-as-a-service is distinctly not taxable in most of the states surrounding us, but our laws are ambiguous on this. We are also advocating for 'parity and clarity' regarding SaaS not being taxable here," he said. "It's another issue as Amazon serves up a lot of data (particularly video streaming) and they would not want that to be a taxable service."
Indianapolis has enjoyed some big tech industry wins, observers said, including Salesforce's 2015 job-expansion pledge and the May announcement by IT-services giant Infosys to add 2,000 workers over five years. 
Landing more deals could be more likely if corporate decision-makers outside the market began to see Indianapolis as a top city with the amenities millennials are after—restaurants, culture, ability to travel and more.
"I think Indy is often underestimated in that regard," Tatikonda said. "The fact that Boston and Raleigh-Durham-Chapel Hill are thought of well before people think of Indianapolis is a bit of a challenge."
Please enable JavaScript to view this content.