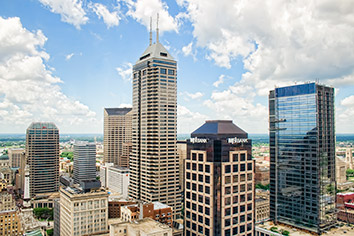 Tech giant Salesforce.com Inc. plans to invest $40 million over 10 years in its Indianapolis operations as it adds 800 employees and occupies a new regional headquarters in the state's largest office building.
The firm announced its plans at a press conference on Friday morning, confirming an earlier report from IBJ. The 800 jobs would be added over the course of five years, according to Scott McCorkle, CEO of the Salesforce Marketing Cloud division based in Indianapolis.
Pending approval from the Indiana Economic Development Corp. board of directors, the IEDC plans to offer Salesforce up to $17.2 million in tax credits and up to $750,000 in training grants. The credits are conditional, meaning they can't be claimed until the firm meets hiring goals.
The incentive deal ranks among the largest the state has offered to a company in the past decade.
Rolls-Royce was offered up to $18 million in incentives last year when it announced plans to invest $584.5 million to improve and expand its manufacturing operations in Indianapolis. Medco Health Solutions was offered up to $18.25 million in 2007 based on the company's plan to create 1,300 jobs. And Honda Manufacturing of Indiana was offered almost $24 million in incentives in 2006 based on the company's plans to create 2,067 jobs.
The IEDC said "the incentives are directly proportional to the number of jobs and related wages, and are within the same parameters of past projects both big and small."
Salesforce will take take about 250,000 square feet in downtown's 48-story Chase Tower, according to a source close to the deal. The building will be renamed Salesforce Tower Indianapolis. The company will begin moving into its new space in 2017.
The tower "will give our amazing employees a fantastic place to work and serve our customers and community every day," McCorkle said in prepared comments. It currently splits its local workforce between three downtown buildings.
IBJ reported in March that Salesforce was negotiating for naming rights, as well as up to 400,000 square feet of space in the 905,000-square-foot building.|
The announcement caps, in the most definitive terms, what McCorkle had been stating for months: that Salesforce would grow its roughly 1,400-person Indiana workforce by 50 percent or so in the next several years.
Salesforce is currently hiring and plans to add new positions in both business operations and technology development, officials said.
The move comes a year after Marc Benioff, CEO of San Francisco-based Salesforce, severely criticized Indiana politicians for passing the Religious Freedom Restoration Act, which many interpreted as a device to allow discrimination of gays, lesbians and transgendered people.
The subsequent "fix" in the law brokered by local business leaders and signed by Gov. Mike Pence made Salesforce's current plans for expansion possible, McCorkle said.
 
Please enable JavaScript to view this content.