As the e-commerce sector continues to expand, so does Amazon.com Inc.'s already-sizable local em-ployment base.

And although the pay at the cavernous facilities—where workers receive merchandise and re-sort it into outbound shipments to customers—is far lower than the area average, experts say the jobs are still valuable to the region.

Seattle-based Amazon employs more than 9,000 full-time workers at its five Indiana fulfillment centers, four of which are in central Indiana.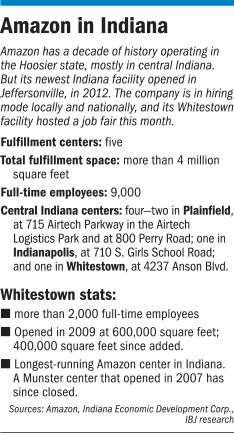 It ranks as the 15th-largest employer in the state, according to IBJ research. The e-tail giant has slightly fewer Indiana employees than Memphis, Tenn.-based FedEx Corp., which has a major hub in Indianapolis, and slightly more than Luxembourg-based ArcelorMittal, which has a steel plant in Burns Harbor.

And now Amazon is working to fill more than 1,500 additional jobs at its four area locations: one in Indianapolis, one in the Boone County community of Whitestown, and two in Plainfield. (The online retailer's fifth Indiana fulfillment center—its largest in the state by number of workers—is in Jeffersonville, just across the Ohio River from Louisville.)

"We need to continue building our workforce to meet customer needs," said Amazon spokeswoman Katie Larsen during a job fair at the Whitestown center this month. It was Amazon's first ever nationwide job fair, where applicants could tour one of 10 selected fulfillment centers and apply for jobs, with the hope of landing a same-day offer.

These are not high-wage jobs: Amazon's advertised wage for local fulfillment center positions is in the range of $12.50 to $13.50 per hour. That compares to the Indianapolis area's mean hourly wage of $22.52.

And the work is physical.

"At the end of the day, especially when you first start, you are going to be sore," said Daryl Mickens of Fishers, who has worked at Amazon's Whitestown facility about 2-1/2 years. "On the [warehouse] floor, there's very few places to sit down. Everybody's moving."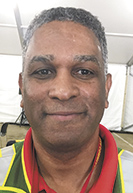 Mickens
The company has faced criticism over the years for its difficult working conditions, although it has defended its operations and added air-conditioning. Still, on its own website, Amazon warns applicants about the job demands: Work hours may vary, warehouse temperatures "will occasionally exceed 90 degrees," noise levels "can sometimes be loud," and "good shoes are a must!" according to a recent job posting for the Whitestown center.

As a quality-assurance employee, Mickens said, his job is more stationary. But people who work as "pickers" and spend their shifts assembling customer orders might walk up to 10 miles a day, he said.

Mickens, a retired Army drill sergeant who also worked for a time at the Indiana Department of Transportation, said he likes his job and the fast-paced environment.

The region likes the jobs, too.

"It's not about the pay. It's about the entry-level worker getting in and getting their foot in for a job," said David Holt, vice president of operations and business development at Conexus Indiana. The Indianapolis-based organization works to strengthen the state's advanced manufacturing and logistics industries.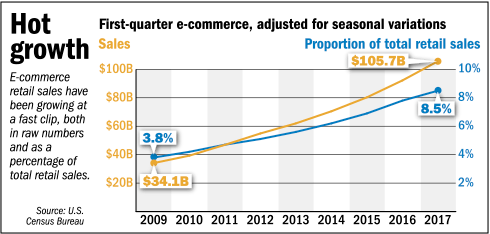 Amazon touts the fact that nearly 15 percent of its entry-level managers started out as hourly employees.

"They are very good about moving people up internally," Holt said.

Especially during seasonal peaks, Amazon also brings in temporary employees via staffing agencies. Some of those employees later get a chance to hire on permanently.

And even if a temporary job at Amazon doesn't turn into full-time employment, Holt said, a worker can likely find a job at another company, using the Amazon experience to command a higher-than-entry-level pay rate.

Big Boone County impact

In both Indianapolis and Plainfield, Amazon is one employer among many. But in Whitestown, the company's impact is more noticeable. That facility alone has more than 2,000 full-time employees.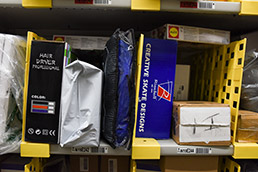 An elaborate system of scannable locations keeps track of products and orders at Amazon fulfillment centers. (IBJ photo/Eric Learned)
"Certainly, they're one of our largest private employers in the county," said Molly Whitehead, executive director of the Boone County Economic Development Corp.

Landing Amazon has been beneficial to Boone County in a few ways, Whitehead said.

First, having such a well-known company as Amazon come to town has helped Whitestown attract other employers, she said. "Similar companies like to locate near other similar companies."

Since Amazon opened in the community in 2009, a number of other companies—including General Nutrition Centers and drug benefits manager Express Scripts—have established warehouse-and-distribution operations nearby.

Another benefit: Amazon's presence has helped bring bus service to Boone County, Whitehead said.

In July 2015, the Central Indiana Regional Transportation Authority began offering Whitestown Connector service—a bus that runs between several Whitestown employers and an IndyGo stop in the Traders Point area on Indianapolis' northwest side.

CIRTA adjusted the route in May, and it now includes stops near several employers along Indianapolis Road. Having access to that CIRTA service, Whitehead said, helps local employers connect with a larger pool of potential workers.

CIRTA Executive Director Lori Kaplan pointed out that the Whitestown Connector is open to anyone, not just employees at certain companies.

But she also acknowledged that having a major employer like Amazon helps build demand for the bus line. "If Amazon wasn't there, ridership might not justify a connector," Kaplan said.

Whitestown Connector ridership fluctuates seasonally along with warehouse employment. Its peak to date was in October 2016, when monthly ridership hit nearly 1,200.

The state has taken steps to lure Amazon to Indiana, despite its lower pay, offering incentive packages worth millions for some of the company's investments.

The Indiana Economic Development Corp. has inked contracts for incentives worth nearly $10 million for Amazon projects in Whitestown, Plainfield and Jeffersonville. More than half of that amount was in the form of EDGE tax credits, which reduce a company's income tax burden once the company actually creates jobs.

But Amazon has also done some expansion that didn't involve state incentives, said Indiana Secretary of Commerce Jim Schellinger.

"When Amazon first picked Whitestown and Plainfield for its initial Indiana facilities in 2008, and when the company added another Indiana facility in Jeffersonville in 2012, the IEDC provided tax incentives to help attract these competitive, long-term commitments," Schellinger said in an e-mail to IBJ. "And now that they're here, those initial incentives keep paying dividends for our state, as Amazon continues to announce expansions and hiring rounds without needing that extra incentive."

Indiana has the seventh-highest number of Amazon employees in the nation. Washington, where Amazon is headquartered, tops the list with 40,000 workers.

Driving up pay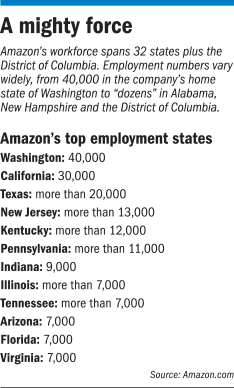 Area employers notice Amazon's impact, especially when it comes to competing for workers.

Plainfield-based logistics company Integrated Distribution Services, which specializes in logistics for e-commerce companies, has about 120 local warehouse workers, and that number might rise to 200 during seasonal rush periods.

The company's CEO, Mark DeFabis, said Amazon is just one in a sea of companies with warehouse operations in Plainfield. But the e-tail giant stands out in one significant way: its pay rates.

Although they're low compared to average salaries overall, they're higher than the hourly rates paid by other distribution companies.

While Amazon is paying entry-level wages in the $12.50- to $13.50-per-hour range, "everyone else is probably a dollar or two below that," DeFabis said. "Their strategy is to pay to attract the folks that they need."

DeFabis said his company's strategy is different. It tries to appeal to workers by offering a pleasant physical work environment and a predictable schedule of 32 to 40 hours a week.

Anecdotal feedback suggests that employees appreciate these offerings, DeFabis said, but his company isn't resting on its laurels.

"We're constantly refining our strategy with our staffing agencies to be sure that we're going to be able to fill the positions that we need."

Benefits help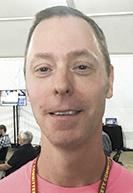 Timko
Tom Timko of Castleton took a pay cut to work at Amazon and doesn't mind. The 46-year-old started at the Whitestown facility as a temporary employee in late 2009 and became a permanent employee several months later. He now spends much of his time training managers, working 10-hour shifts four days a week.

Timko joined Amazon after more than 15 years in the restaurant industry. Compared to the long hours and constant stress of food service, Timko found the Amazon job easier both physically and mentally.

"You can work at a very predictable pace, whereas in the restaurant industry, you walk around like you're on fire. There is an urgency to everything."

Timko said he's also delighted by Amazon's benefits package: generous health insurance that's available from the first day on the job, stock options that vest after two years of employment, and access to a 401(k) retirement savings plan.

At his restaurant job, Timko said, he had health insurance that offered minimal coverage and high out-of-pocket costs, and he had no 401(k) plan.

After eight years with Amazon, Timko's still making less money than at his old job. But the benefits—and the predictable work schedule—make the trade-off worth it.

Timko's wife, Christine, also works at Amazon. Between the two of them, they have schedules that allow them to care for their 6-year-old son without using day care—a big savings on its own.

"I would gladly trade the difference in pay for the quality of life," Timko said. "From my perspective, I'm happy—and happy goes a long way."•