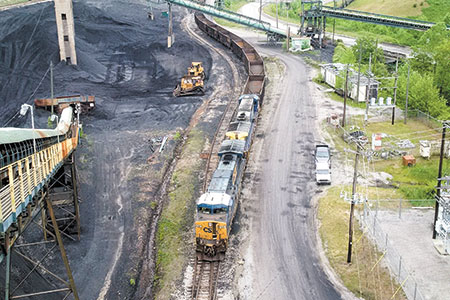 The American coal industry seems headed for the slag heap. At least five major coal companies have gone bankrupt since 2015. More than 60,000 coal miners have lost their jobs in the past decade. Last year, U.S. coal consumption hit its lowest level in 40 years.
But a small Fishers company looks at those numbers and sees a bright, shining future.
American Resources Corp., formed in 2015, specializes in buying distressed coal assets from struggling or bankrupt coal operators. Once it takes over, it trims the workforce, strips away expensive legacy costs, and streamlines operations.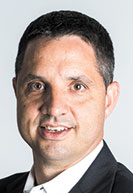 Jensen
Since setting up shop, the company has bought five coal mines in Indiana, Kentucky and West Virginia, and scooped up permits on more than 30 other coal sites. And CEO Mark Jensen has no plans to slow down.
"We have three more mines starting up this year," he said. "We're evaluating others now."
American Resources has moved swiftly on the financial side, too, going public in a reverse merger with a shell public company in 2017, just two years after opening its doors. And last month, it moved from the low-glamour Over-The-Counter Venture Market—a home for many early-stage public companies—to Nasdaq.
In the process, it raised another $4 million shares in a public offering. It plans to use the proceeds for future acquisitions, additional mining equipment, rehabilitation of existing idled mines, and repayment of debt.
What American Resources is doing is quietly betting that its small size will allow it to succeed where bigger operators have failed.
The company has just 230 employees (and another 70 contract workers), compared to more than 7,000 employees at Peabody Energy, based in St. Louis, one of the largest U.S. coal companies, which struggled under billions of dollars in debt before filing for bankruptcy in 2016. The huge company was forced to cut expenses and $5 billion in debt after exiting bankruptcy a year later.
American Resources, which trades under the ticker AREC and has a market value of $94 million, said it is obsessed with keeping costs to a bare minimum. The company is run out of rental space in an industrial park in Fishers, where six executives work. The suite of offices has no frills—only desks and chairs, along with a couple of leather couches that used to sit in one of the partner's apartments.
Jensen said controlling costs and finding good bargains is his mantra.
"Basically, the industry is run by big legacy operators that have really high costs and like to fly around on private jets and have all the toys and spend money on big trucks," Jensen said. "They didn't need to focus on running lean and efficiently … because it's been done that way for generations."
Bargain hunting
American Resources looks for steep discounts wherever it can, including on coal mines, equipment and labor costs. It refuses to pick up steep legacy costs, which often include pension plans. On its website, the company touts its "low-cost, efficient coal mining model."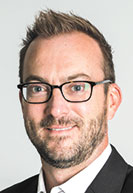 Taylor
In an interview, Jensen said his approach is to buy assets, not companies, which allows him to leave the legacy costs behind.
"The day we acquire it, we start it under a fresh, new umbrella," he said.
He added: "We don't assume the pension plan. It's maintained under the prior operator. … We're not burning people. But what we don't do is, we don't absorb that. We set it up where it's our compensation structure for our people when we hire."
Kirk Taylor, the company's chief financial officer, painted a similar picture in an interview.
"We will buy the assets of a subsidiary of a larger company," he said. "The subsidiary will only come with the assets we want. Any liability we don't want, we'll get it siphoned out of the asset purchase."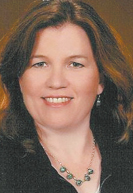 Perras
But some critics say that transformation of the industry from large operators to smaller companies, which buy only selective assets, comes at a cost. Last month, for example, a bankruptcy judge in Houston said Westmoreland Coal Co. of Colorado could eliminate retirement health care and a union contract—a move that would affect about 1,500 union retirees and dependents—in order to sell one of its mines to a Virginia businessman. The prospective buyer told the Star-Tribune of Casper, Wyoming, that changes to benefit plans were "painful" but necessary.
Jodi Perras—who manages Sierra Club's Beyond Coal campaign in Indiana, Kentucky, Michigan and Ohio—said such moves hurt coal mining communities, which are left holding an empty bag instead of the pension they were promised.
"What we've seen in coal company bankruptcies is complete disregard for coal mine workers and promises that were made to them years ago in terms of retirement and health benefits," she said. "When a coal company goes bankrupt, often the first thing they ask the bankruptcy judge is to allow them to cancel pension and health insurance obligations to workers."
Investment professionals acknowledge there's money to be made from the misfortune of others. George Schultze, a self-described "vulture investor" and manager of New York-based Schultze Asset Management, pointed out in a 2016 essay for Forbes that the growing number of coal bankruptcies was good news for a certain kind of investor.
"Whenever there is the kind of carnage that all these coal company bankruptcies have created in the marketplace, there are opportunities for investors who know how to find them," he wrote.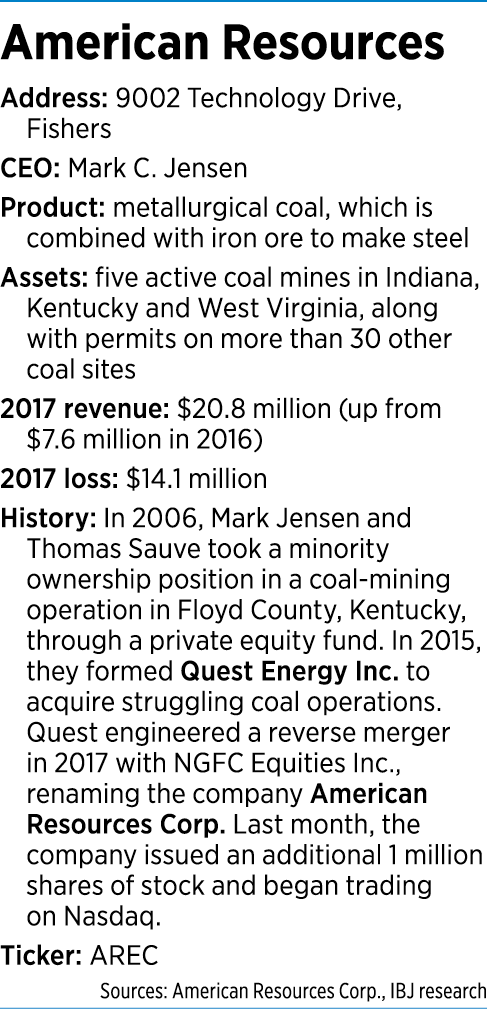 Niche player
And American Resources seems to know how to find them. The company specializes in a niche sector of the industry. While most coal companies mine coal chiefly for power plants, which burn it to generate electricity, American Resources mines mostly metallurgical coal, a more profitable type, which is melted down into coke and combined with iron ore to make steel.
That makes the business a little steadier. So even as power plants increasingly shift from coal to cheaper natural gas, steelmakers continue to buy metallurgical coal by the trainload.
And American Resources keeps busy loading trains: 11,000 tons for every train that pulls out of one of its huge coal yards, bound for Newport News, Virginia, where it gets loaded onto ships bound for steelmakers in Turkey, India and other countries.
In the process, American Resources generates brisk sales. It rang up revenue of $20.8 million in 2017, up from $7.6 million only a year earlier, and says it is on track to beat that for 2018. For the first nine months of the year, it posted $23.5 million in revenue. (The company has not yet reported year-end earnings.)
But despite its penny-pinching mindset, American Resources has yet to turn a profit. In 2017, it lost $14.1 million. For the first nine months of 2018, it lost another $8.2 million. The company did not say when it expects to turn a profit.
And the market for metallurgical steel has dropped and spiked several times in recent years, according to trade publication Metal Bulletin. The latest pricing information shows a dip: The average price of U.S. metallurgical coal was $115 per short ton last fall, down 6 percent from a year earlier, according to the U.S. Energy Information Administration.
And the near future doesn't seem much brighter. Projected global demand is flat to slightly declining, according to a January report from the Brookings Institution, a think tank based in Washington, D.C.
"The outlook reflects both a slowdown in global steel production growth and changes in steelmaking techniques that are likely to reduce the amount of metallurgical coal used per ton of steel produced," the report said.
Still, American Resources sounds optimistic notes when discussing the markets and its business activity.
"We're excited about it," Jensen said. "We've had some successes. … We've grown our revenue rapidly."
The company has yet to catch the eye of Wall Street analysts, however. No analysts follow the stock, aside from its underwriter. And the company has not generated much publicity in the national press, and only short items in the trade press, mostly connected to acquisitions.
Winding path to coal
Jensen is not a lifelong coal operator. He grew up in the Fort Wayne area with an eye on a business career, earning bachelor's and master's degrees in finance from Indiana University. His first jobs were as a portfolio manager at Barron Partners LP and then as founder of T Squared Partners, a private equity firm in New York.
While running the equity fund, he and a partner, Thomas Sauve, began dabbling in the coal market, buying a minority stake in a coal-mining operation in Kentucky. About a decade later, as the coal industry was going through a wrenching downturn, the two saw an opportunity to do something bigger. They began buying selected assets out of bankruptcy sales and from distressed operators, and put them together under a holding company called Quest Energy.
In the process, Jensen moved back to Indiana from New York and set up shop in Fishers, to be a little closer to his family and company operations.
By late 2016, the company was producing coal at its first mine, and began building a network with a hub-and-spoke model, allowing nearby mines to share expensive processing equipment, holding down costs.
Two years later, it acquired a public company called NGFC, which had been set up years earlier to acquire natural-gas fueling stations, without much success. The move allowed Jensen and his team to get access to the public markets without the expense of an initial public offering.
Jensen renamed the public company American Resources. Then, late last year, he moved to boost the float of the thinly traded stock and raise capital by registering to sell 4 million shares in a public offering.
But the process was bumpy. To get the shares sold, American Resources priced them at $4, 67 percent below where they'd been trading. In response, shares plunged, and they remain in the $4 range.
Mark LaVerghetta, the company's vice president of corporate finance, blamed the stock collapse on a combination of bad timing—the government shutdown happened in the middle of its registration, interrupting and delaying the process—along with multiple acquisitions the company paid for by issuing new shares, a move that diluted the stock.
"Our pricing [of 1 million new shares] came at a discount," he acknowledged.
But the company said it is not slowing down. It is gunning for more acquisitions, more growth and a bigger role in the coal industry.
And instead of focusing on the company's market value, Jensen prefers to talk about "enterprise value," which includes cash and debt. The company said the enterprise value is about $100 million.
"Our enterprise value has been growing," Jensen said. "People in this space have seen that and have come to us and asked us to acquire them. … None of our growth is speculative. We've been revenue-producing since 2016. We see a bright future."•
Please enable JavaScript to view this content.