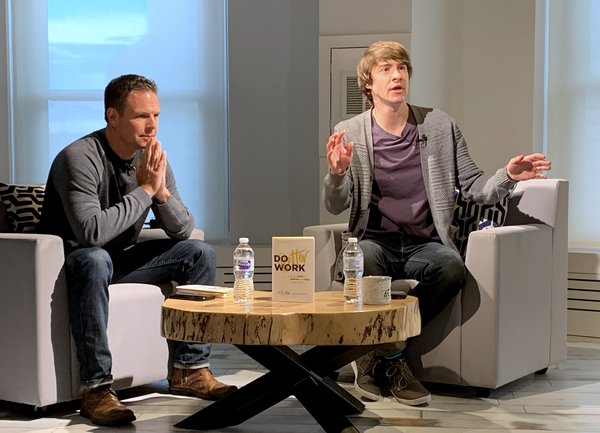 When Max Yoder, the 31-year-old co-founder and CEO of tech firm Lessonly, decided to write a book about leadership and teamwork, he had no idea it would take more than a year and involve dozens of people at his company.
Most of that time, "I was nervous as heck," Yoder told a crowd gathered Thursday for a discussion and book signing at the offices of High Alpha, the venture studio that has Lessonly in its portfolio. "I was worried that it was not going to be good enough, that I was going to miss something big."
And so Yoder enlisted the help of his team—something he espouses in the book,"Do Better Work: Finding Clarity, Camaraderie, and Progress in Work and Life"—to critique his writing and his theories along the way.
About 100 people worked at Lessonly at the time Yoder finished writing (there are 110 there now), and about 40 of them participated in editing the book, mostly by reading the chapters he made available in a Google document and offering feedback, suggestions and ideas.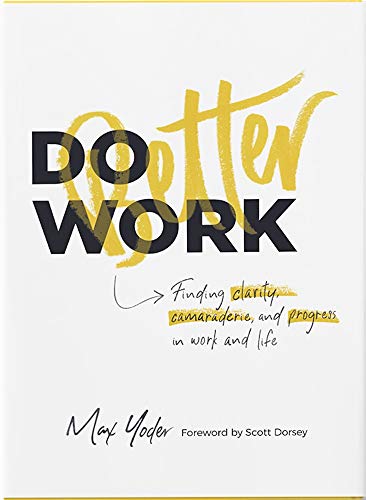 In fact, Yoder rewrote some of the chapters—which include the titles "Share Before You're Ready," "Highlight What's Working" and "Get More Agreements"—as many as 17 times, trying to get the advice just right.
Lessonly's marketing director, Ben Battaglia, was the book's editor, and Helen Gardner, a senior designer at the company, did the design and illustrations.
The book hit the market Tuesday. And by Friday, Amazon listed it as the top selling new release in its workplace behavior category, even though it's self-published by Yoder and Lessonly, which develops and sells employee-training software.
That wasn't the original plan. Initially, Yoder and his team approached publishers about taking on the project. But Yoder said he didn't like the pitch: "You pay us a bunch of money, we'll own the copyright, and then we'll pay you maybe 30 percent if we sell something."
Plus, the publishers weren't even interested without a commitment to writing at least 40,000 words. Yoder thought that was unnecessary. He wanted the book to be a quick, snappy read. "So we did the whole thing," Yoder said. His final book is 125 pages or about 15,000 words.
"We got to write the book we wanted to write," Yoder said. "We get to share it with other people. They get to help us share with other people."
IBJ talked to Yoder about the process of writing the book and what he hopes that readers learn.
Max, you run a tech firm that's growing fast. Do you think the lessons in the book apply only to that sector or to business and management generally?
I wrote them to apply more broadly. I have the perspective of being in a tech company, but I also work with a lot of companies that are not tech companies. And I just think this is about fundamental relationship behaviors, positive relationship behaviors. So the short answer is: 100 percent, they apply, tech or non-tech.
You also said during your High Alpha talk that these principles apply even beyond the office. What did you mean?
This was a book written about doing better work. But the whole idea is that if you take these behaviors and you bring them into your life outside of the office, you're going to see positive experiences just the same.
When I talked about sharing before you're ready, to make sure that you're working on what's needed, you're getting done what's needed, that matters at home just as much as it does at work. To make sure you're getting agreements with your significant other or with your family, that matters just as much at home as it does at work. These are just fundamentally positive behaviors for building relationships, no matter where those relationships are built.
If you could pick one thing that readers would take away from this, what would it be?
I think what I want people to walk away and say is, "If I want to change something, I just have to start with me. If I want these behaviors to exist in the world, I have to do them first." The general idea is that it all starts with you. You can sit there and wait for other people to do these things or you can do them. And I hope people just do them themselves and they don't wait for others.
Do you think anyone could really benefit from the advice in the book, whether he or she is a manager or not?
This book was specifically written to apply to anybody on a team, manager or not.
The first chapter is titled "Be Vulnerable." Why is that important?
In any given team dynamic, nobody has all the answers. And anybody who acts like they have all the answers can discourage good communication and conversation. So when we're vulnerable, we say things like "I don't know" or "what do you think?" When we're vulnerable, we say, "I'm sorry, that's my fault." We acknowledge reality. That's what vulnerability is.
If I had all the answers, why would I need any teammates? We clearly don't have all the answers, but sometimes we posture as though we do. And when we do that, we really can decrease the amount of communication on the team. And it's my belief that anything that is decreasing communication, well, I'm nervous about it.
It seems like this "be vulnerable" idea is the basis of almost everything else in the book. It kind of builds from there.
It does. Every behavior is contingent on vulnerability, on an acknowledgement that we need one another to live and thrive and flourish. And we do. And if we're not comfortable admitting that, it's going to be a tough life. But if we're comfortable admitting that we need one another, we can live a rich and fulfilling lives.
If you're going to read anything in the book, read that chapter. It'll probably take eight minutes. That's the one because it just sets the stage for the rest of the book.
How did you come to the knowledge that you're sharing here?
I'm going on seven years of Lessonly. I've been given the opportunity of trial and error many, many times in seven years. I've been given the opportunity to see what works and what doesn't through my own behaviors and through the behaviors of others.
Consistently, I've seen that vulnerable people—it's not that they don't have any answers, it's that they acknowledge when they need help and assistance—they just make more progress. It's because people want to help people who are honest about things. People want to help people who need help.
So it's really just seven years of watching our team grow, as seen through trial and error of what works and what doesn't, and taking notes, taking mental notes as you go.
What did you learn while you were writing the book?
Oh, I learned so much about myself. One of the main things I learned is that in certain situations, I was carrying contradictions in my head. I would maybe act one way in a certain situation and act a different, contradictory way in a different situation. And as I was writing out just how I wanted people to behave, I could see those contradictions on paper and start to realize that, hey, that's not OK. Writing things down just really reveals that.
Do you feel like you're a different boss for having written the book?
I feel like I'm 100 percent a different boss, and here's why: I feel like I can communicate what I need from people more clearly. I'm a crisper communicator about the things that I need from my teammates. And they have a resource now [in the book] that is as clear as it's ever been, so they can understand behaviors, what behaviors that I need from them to make the most progress on our team, to build the most clarity and create the most camaraderie.
What are your expectations for book sales or for the outcome of this project?
What's really encouraged me so far are the notes that I received from people about the behaviors that they're going to do differently because they read about them in the book. The more that happens, I think, the better we'll do. I mean, it's almost like putting some good energy out into the world. It's going to come back and help us. Ultimately, I want people to understand how Lessonly operates, how Lessonly thinks and works so that they feel more comfortable picking us as a partner.
But a day from now, a week from now, a month from now, somebody coming and saying, "This broke something open in my life in a positive way. It showed me something that I wasn't doing that I could be doing. And now that I'm doing it, I'm grateful." That's the goal and the more that happens, the better.
The last chapter is called "Bring Brightness to the Room." That seems almost a bit of a standalone idea. Why that was important thing to include?
I see people who don't see how much their energy matters. I think we believe sometimes as individuals that it is not our job to bring high energy to places because maybe we're not the manager of a team. But it's everybody's job to bring energy to projects.
I would just argue that a good teammate consistently brings brightness to the room. So I needed to make sure I put it in the book, because this is all about the fundamentals of being a good teammate. And the best teammates we have at Lessonly, they bring good energy to the projects they work on. They bring good energy to meetings, they show up, and they're just happy to be alive.
Please enable JavaScript to view this content.