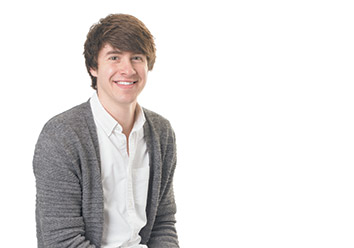 Co-founder and CEO
Lesson.ly
Max Yoder was approached by investors who had an idea for changing the way learning management systems worked in business. He built the business plan and launched Lesson.ly, which now has more than 175 clients.
Parent trap: Yoder's father was a funeral director. His mother was in the RV industry. "Their jobs gave me insight into what would be a good fit," he said. "Being a business owner, my Dad was in control of his destiny. … Mom wasn't. When the RV business got hit in '07 and '08, it was a very scary time. … I was in college watching these storylines play out."
Making it up: "I was like a lot of college students—pretty lost in respect to what I want to do post-college," Yoder said. "I started out as a communications major but realized it wouldn't be the best thing to graduate with that degree." A professor suggested he apply for an individualized major program and Yoder created what became a Brand Management & Advertising degree at IU.

Quick Facts
Age:
28
Hometown: Goshen
Family: single
Social media: "If anything, it's Twitter … but only checking in once a week. I'm a non-social-media kind of guy."
Reading pile: "A lot of Steinbeck, Fitzgerald and Hemingway. And Bill Bryson is my go-to writer for breaking down complex ideas so that a mind like mine can understand. And Billy Collins if I'm not sleeping very well—he's the Seinfeld of poetry."
Playlist: Dawes, Blake Mills, Josh Ritter
 
Adaptive learning: Lesson.ly is designed to build bite-size lessons on the topics that matter to business or to edit premium courses to fit company needs. Teaching how to talk about pricing, for instance, or how to position a project or feature. The idea is to create an always-learning company with back-end data on who is actually learning. And it helps employees understand why they are there.
Educational firsts: Yoder is founding director of The First Fund, which helps first-grade students and their parents or guardians establish, seed and grow post-secondary savings plans. From underserved students nominated by first-grade teachers, First Fund selects students and opens 529 savings plans with an initial $1,000 investment and continues to educate the students and their parents/guardians on savings strategies.
Sound escape: Yoder also finds joy in making music. "It turns out if you read those books [such as 'The Complete Idiots Guide to Music Theory'] and practice, you can go from writing really bad music to writing some not-so-bad music." He's putting out an album on vinyl in 2016, enjoying studio work more than playing live. "The production part is what drives me—getting it down and actually producing layer on layer."•
Check out more 2016 Forty Under 40 honorees.
Please enable JavaScript to view this content.