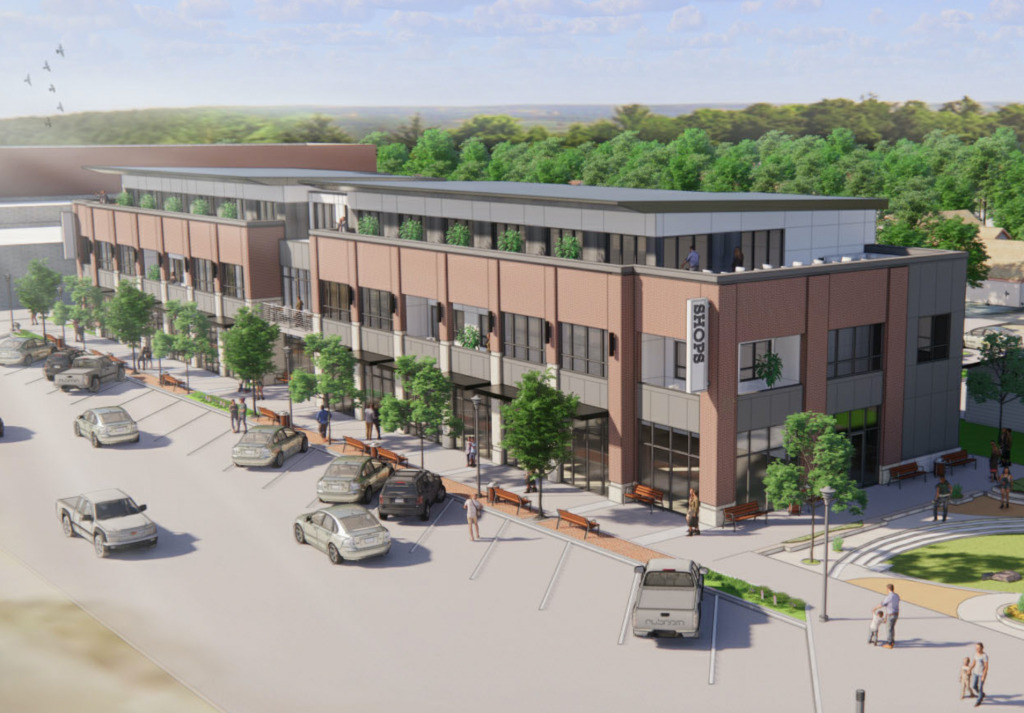 A firm with plans to construct a three-story mixed-use development in downtown Speedway has streamlined its proposal, with hopes of breaking ground before the end of the year.
Fishers-based Rebar Development is working with town officials to finalize an economic development agreement for a 27,500-square-foot building in the 1300 block of Main Street.
The $6 million project is expected to feature retail space on the first floor—already fully pre-leased—along with apartments on the second floor and condominiums on the third.
The 1300 Block project was first announced in February 2019 as an $8 million, two-building development with office space on the second floors.
Rebar President Shelby Bowen said the firm modified the development after it determined office space would not be supported in the Speedway market, particularly in a post-coronavirus environment.
"It was a tough sell," he said. "Because office rents aren't tracking with the cost of construction, it's hard to build a beautiful vacant office space and get the kind of rents you need to make that work."
He said the group decided to combine the two buildings into one to save on construction costs and not have to worry about phasing the project. However, the redesigned 1300 Block is largely the same size as the earlier two buildings combined.
"It was just more efficient and economical for a variety of reasons," Bowen said. "It made it easier to reach a deal with the town and financing and investing in the project."
Bowen said the firm is working closely with town officials to finalize a preliminary economic development deal. Often, such deals include a contribution from the town for site infrastructure or other elements, but since the agreement has not been finalized, those terms have not been made public.
Tim Gropp, Speedway's economic development director, said the town hopes to have a finalized agreement within "30 to 60 days," as it's currently working from a general outline.
"We're going to have to tweak it quite a bit to make it fit within what we're able to do," he said. "Conversations are ongoing. We have a general concept for the project's scope. We're in general agreement with what each floor will have on it. We're going to start digging into the agreement here in the next 30 days."
According to site plans provided by Bowen, the first-floor commercial users include a restaurant that will occupy about 3,900 square feet at the northern end of the property, near 14th Street. A salon and additional retail user are each expected to occupy more than 2,000 square feet.
The development's apartment offerings would be composed of six one-bedroom apartments at 805 square feet each; and two two-bedroom units with 1,255 square feet. Most of the apartments would have balconies with sight lines toward the Indianapolis Motor Speedway.
Rebar's project also would feature four condos ranging from 1,270 to 1,350 square feet on the third floor. Each unit would have two bedrooms and two bathrooms, along with separate garages constructed as part of a larger 46-unit surface parking lot to the rear of the building. The two end units would also have large wraparound balconies.
About 20 diagonal parking spaces would be added along Main Street, and a large pocket park would be fashioned at the southwest corner of Main and 14th streets.
Bowen said the firm hopes to begin going through the approval process with the town in mid-August and start utility and infrastructure work by October or November.
"I think we've got time to get going," he said. "I would expect us to get started in late fall. That's my goal."
Rebar bought the property in early 2018 through Bowen Development LLC—a subsidiary the firm uses for its development projects—with a contribution from Carmel-based real estate firm Hageman Group.
The purchase included two buildings: the former Ted's Beauty Shop at 1344 Main St. and the old AutoTech car maintenance shop at 1302 Main St. Both buildings already have been torn down.
Hageman still has an option to join as an equity partner in the project if it chooses, Bowen said, but the firm typically focuses on larger developments.
Speedway is also continuing to work with Rebar on the Founders Square project near Interstate 465 and Crawfordsville Road. Site work for that 25-acre development is underway.
Additionally, the town is trying to shore up a deal with local developer Loftus Robinson for the Wilshaw hotel project at the southeast corner of Main and 16th streets. The project has been stalled for more than a year as Loftus Robinson has tried to resolve financing issues.
Gropp said Monday that a locally based hotel group, which he declined to identify, is considering joining the project as a partner.
But the group is still in a due-diligence period, meaning it has not yet fully committed, he said.
"There are positive conversations, [and] there is a partner hotel firm that is interested in figuring this thing out," Gropp said. "Hopefully, we'll be able to announce more details on that as it moves along."
Please enable JavaScript to view this content.