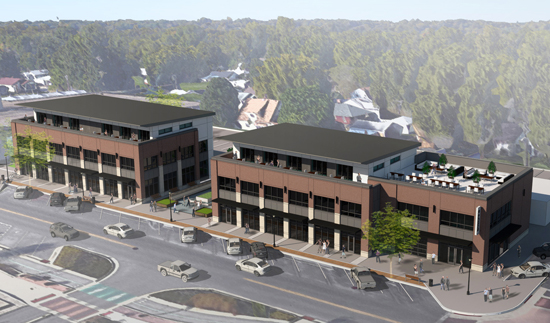 A Fishers-based developer is proposing a mixed-use project along Speedway's main drag, drafting on Main Street's momentum after a decade of new development.
Rebar Development said it plans to invest $8 million to erect two new buildings in the 1300 block of Main Street that would house condominiums, office studios, retail store fronts and additional amenities.
"If you see what Speedway has done in terms of investing in their (downtown), … I think they've created a more vibrant destination that attracted us to that area," said Shelby Bowen, president of Rebar.
The section of Main Street between 10th and 16th streets has exploded with new businesses, building renovations and development projects since 2015. They in large part are the fruit of efforts by town officials since 2008 to promote the area southwest of Indianapolis Motor Speedway as a retail, tourism and entertainment district. (See map for details.)
The property on which the Rebar project will be located was bought in two parcels by Bowen Development LLC—a subsidiary of Rebar uses for its development projects—in February 2018 for a combined $575,000. Carmel-based real estate firm Hageman Group contributed to the purchase.
The purchase included two buildings. One of the buildings, which previously housed Ted's Beauty Shop at 1344 Main St., has already been demolished while the other, home to car mechanic AutoTech at 1302 Main St., is expected to be torn down in coming months.
Bowen said Rebar is investing upward of $8 million in the project, including the money spent to buy the property and demolish existing buildings. He said the development firm will consider adding an equity partner—possibly Hageman—later in the construction process.
The Rebar project will be built in two phases, starting with the northernmost building. It would offer about 17,500 square feet of space, with retail and office space on the first two floors and several condos on the third. The southernmost building would have a similar configuration with about 15,000 square feet of space. Together, the buildings could have as many as nine condos, which would include outdoor patios and covered parking, Bowen said.
Bowen said he'd like to begin construction on the first phase of the project in spring, but noted that may be delayed due to weather and the need to work with the city on approval for the development. The first building is expected to be finished by spring 2020.
The largest development project currently in the works in Speedway is the Wilshaw, a mixed-use apartment, retail and hotel project at the southeast corner of Main and 16th Streets. It includes 150 hotel rooms, 90 apartment units and about 14,000 square feet of retail space, through a partnership between Loftus Robinson and Scannell Properties announced in May 2018.
"We welcome the opportunity to work with Rebar and its construction partners on the proposed redevelopment of a key Main Street property," said Tom Popcheff, president of the Speedway Redevelopment Commission. "This proposal reinforces our belief that Speedway and Main Street have the capacity to support more residential growth, as well as mixed-use amenities in the heart of our town."
Please enable JavaScript to view this content.