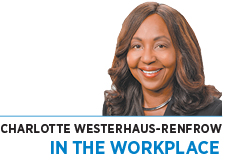 What is the first word that comes to mind when you hear the following two words: "performance evaluation." Dread?
If so, you're not alone. In fact, many managers and supervisors dread giving feedback to employees. Similarly, a lot of employees don't like receiving feedback when it's given within the shadow of constructive criticism. This ilk of feedback often stings and conveys a notion of what author Eric Berne coined, "I'm OK; you're not OK." Many employees unconsciously reject any constructive criticism that walks, talks or even resembles the slightest hint of "not OK."
Another plausible reason some employees don't respond well to constructive feedback is that the feedback is not actually "constructive." Rather, many companies and organizations rely upon the three C's of feedback—candid, consistent and critical—to tell employees what supervisors think of their performance. This ignores opportunity for improvement. It's not surprising that this type of feedback can cause alienation and subsequent employee disengagement.
Worse yet, criticizing employees with a recap of all their mistakes over the past six to 12 months does not help them learn to perform better. According to research conducted by Richard Boyatzis, a psychologist and professor at Case Western Reserve University, the brain responds differently to critical feedback versus positive feedback. Critical feedback activates brain circuitry wired for anxiety. Thus, people regard critical feedback as a threat, which makes it harder for a person to adapt and learn new, creative and productive behavior.
Boyatzis' research indicates that pushing people into discomfort by focusing on their blunders during their performance evaluations might diminish their desire to learn new skills. On the other hand, constructive feedback focused on an employee's contributions, goals and dreams activates brain centers that energize the ability to focus better, which can lead to improved job performance.
A recent article in the Harvard Business Review by Marcus Buckingham and Ashley Goodall highlighted a constructive feedback technique used by legendary Dallas Cowboys coach Tom Landry. He was encouraging his initially struggling team to excel and win more football games. Instead of focusing on instances when the players dropped balls or missed tackles, Landry went back through the tapes to find examples of each player's natural strengths. Landry figured that the number of wrong ways to achieve a play far outnumbered the ways to do it right, and so he leaned into this "knowable" approach to identify the best ways to help each player excel. From now on, he told each team member, "we only replay your winning plays.'"
When applied to the performance evaluation, this feedback technique highlights an employee's strengths in a way that can help generate a sense of accomplishment and motivation. This invites employees to revisit and recognize their personal, unique patterns of excellence and the reality of what those look like. As a result, employees can learn, repeat and gain even greater focus on how to improve their personal version of excellence.
Today's job market is red hot for workers. Yet, this reality is not a valid excuse for avoiding or skipping performance evaluations. For businesses and organizations to achieve success and thrive, employees need to commit to the pursuit of excellence at work. Constructive feedback is imperative to helping every employee and business prosper.
So, here's a suggestion: The next time you hear the words "performance evaluation," train yourself to think of this word, instead: Thrive. Done properly, performance evaluations can reap tangible benefits for an organization and its employees. Remember, some of the world's most influential and successful people were former employees who made mistakes at work—sometimes repeatedly. As the saying goes, "Making mistakes is better than faking perfections."•
__________
Charlotte Westerhaus-Renfrow is a clinical assistant professor of business law and management, and faculty chair of the undergraduate program at the Indiana University Kelley School of Business at IUPUI.
Please enable JavaScript to view this content.