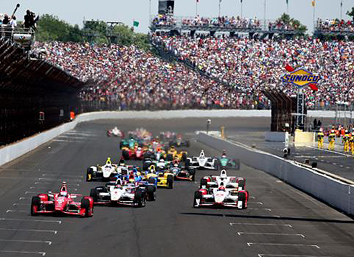 The 2020 running of the Indianapolis 500 will go forward without fans in the stands, Indianapolis Motor Speedway officials announced Tuesday.
The decision is a concession to the coronavirus pandemic that has continued to infect more Hoosiers, despite efforts to slow the spread of the virus.
The race had been postponed from its usual Memorial Day weekend date to Aug. 23, before announcements that the track would limit seating to 50% and then later 25%—with masks required—and now with no fans at all.
"This tough decision was made following careful consideration and extensive consultation with state and city leadership," IMS said in a statement.
"As dedicated as we were to running the race this year with 25% attendance at our large outdoor facility, even with meaningful and careful precautions implemented by the city and state, the COVID-19 trends in Marion County and Indiana have worsened."
On Tuesday, the Indiana State Department of Health reported 836 new COVID-19 cases, the fifth time in the past six days that new cases have exceeded 700.
Marion County reported an increase of 166 cases, the 19th straight day that cases in the county have risen by more than 100. The county's 7-day testing-positivity rate rose to 9.1%, above the state's 7-day rate of 7.3%
As a result of the increases, Mayor Joe Hogsett, a Democrat, and Indiana Gov. Eric Holcomb, a Republican, have slowed or pulled back on efforts to reopen businesses.
"We said from the beginning of the pandemic we would put the health and safety of our community first, and while hosting spectators at a limited capacity with our robust plan in place was appropriate in late June, it is not the right path forward based on the current environment," the IMS statement said. "We encourage Hoosiers to continue making smart decisions and following the advice of our public health officials so we can help get Indiana back on track."
Holcomb issued a statement immediately after the IMS announcement.
"Throughout this unprecedented process, the Indianapolis Motor Speedway has always prioritized the safety of the fans," Holcomb said. "I am grateful for Roger Penske's leadership and his entire team for thoughtfully approaching this decision with transparency and collaboration."
IMS had already announced that NBC's broadcast of the 104th race would not be blacked out in central Indiana.
Driver James Hinchcliffe urged fans on Twitter to tune in.
I'll miss each and every one of the fans on race day, but there is NO excuse not to watch the race this year. Spread the word. Be a friend and tell a friend. August 23 @ 1pm on @nbc!#Indy500 // #INDYCAR // @Genesys // @FollowAndretti // @hondaracing_hpd

📸 – @emotiveimage pic.twitter.com/vxilnE1XLS

— James Hinchcliffe (@Hinchtown) August 4, 2020
In addition to no fans being permitted at the race, all on-track activity throughout August—including practice and qualifications—will be closed to the general public and instead broadcast through NBC Sports Gold, NBC Sports Network or NBC.
Fans with tickets to this year's running will be credited for the 2021 race, scheduled for May 30.
Penske Corp., which bought the track, has made a number of investments in the track and its owner, Roger Penske, had been looking forward to showing off those improvements.
"While we were very excited to showcase the investments and enhancements we have made in the guest experience, we know we have reached the right decision," the IMS statement said. "As much as Roger Penske and everyone associated with the '500' wanted to race with fans this year, we ultimately reached this conclusion in partnership with the state of Indiana and city of Indianapolis."
Penske had said in early June the race would only occur with fans in the stands, even if it meant moving it to October.
"Roger Penske and the entire leadership team at the Indianapolis Motor Speedway have consistently made clear that their highest priority is the safety of Indy 500 fans," Hogsett said in a written statement. "That has been evident throughout the last several months, as they have consistently lived up to their commitment to collaborative planning and careful consideration of the data."
Without fans in the stands on race day and in the weeks leading up to the event, it's likely Indianapolis and central Indiana will miss out on hundreds of millions of dollars in tourism-related revenue.
Much of that revenue goes to local businesses, including restaurants and hotels, that welcome fans with tickets to the events at IMS. But the race also generates millions in tax dollars for the city and state, most of which will go unrealized without fans at the speedway.
"As a strategic partner we work with year round in planning for the Indy 500, we ultimately understand the thoughtful decision IMS has made to first and foremost protect residents and visitors," said Chris Gahl, senior vice president of Visit Indy. "Clearly, there will be short term economic pains by virtue of not being able to welcome the world to Indy, yet it is ultimately the right decision, ensuring generations to come will be able to enjoy the world largest single day sporting event."
The town of Speedway issued a statement expressing disappointment about the decision.
"Our town thrives year around, but truly comes to life in the month of May," said David Lindsey, president of Speedway Town Council. "We have all held onto hope that we could see some normalcy in August with fans in the stands, parking cars in our yards, and racing family returning home to Speedway. We have watched the staff and leadership at the Indianapolis Motor Speedway take every precaution possible to get us back on track both literally and metaphorically. They have consistently stayed focused on doing whatever it takes to present the 104th Running of the Indianapolis 500 to a cheering crowd."
Unfortunately, town officials said, that is not feasible at this time.
"We know without a doubt that the employees of IMS are just as disappointed as the fans that the race will run on August 23rd in an empty stadium," said Town Manager Carlos May.
The decision will mean a hit for Speedway businesses as well as local not-for-profits that park cars as fundraisers.
Former Speedway Lions Club President Davina Merrell said in a statement issued by the town that parking has long been the group's primary fundraiser. "We have volunteers who work in the lots all day to park cars and collect money. This fundraising sustains us throughout the year in providing scholarships to students, event sponsorship, and community support," she said.
Merrell said the group is working with Run(317) to host a race on Sept. 17 to try to raise some money.
Please enable JavaScript to view this content.