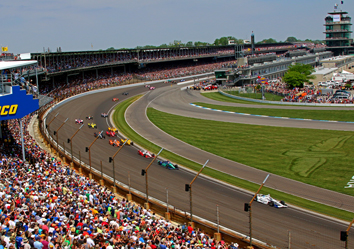 Indianapolis Motor Speedway is moving forward with plans to run the Indianapolis 500 in August, but plans to do so with a 50% capacity limit for the venue.
The decision follows weeks of speculation about whether the race might be bumped from its Aug. 23 slot because of concerns over COVID-19.
The race was moved from its original May 24 race date because of the pandemic, but track and IndyCar series owner Roger Penske said in early June the race would only occur with fans in the stands, even if it meant moving it to October.

Doug Boles, president of IMS, said the racetrack is taking extra precautions to ensure the risk of COVID-19 to fans is mitigated, working closely with local and state health officials.
"We will be limiting attendance to approximately 50 percent of venue capacity, and we are also finalizing a number of additional carefully considered health and safety measures," Boles said in a statement to IBJ. "We'll unveil the specific details of our comprehensive plan in the coming weeks."
IMS said it is communicating with existing ticketholders and offering credits to those who choose to adjust their plans. It's also encouraging high-risk populations to not attend this year's event.
About 175,000 tickets—most of them renewals—have been sold for the race, IMS confirmed to IBJ. Ticket requests are still being accepted, going into a queue for fulfillment after existing ticketholders have been accommodated.
"Customer response from today's message will inform our final gameplan," an IMS spokesperson said. "It's important for us to determine what percentage of our current ticketholders plan to attend the race in order to finalize our full plan for Race Day."
IMS is hosting NASCAR's Brickyard 400 and the IndyCar GMR Grand Prix on Independence Day weekend without fans.
Chris Gahl, vice president of Visit Indy, said it is a "relief" to see IMS moving forward with fans in the stands.
"We applaud [IMS's] thoughtful decision to ensure the health and safety of all the visitors and fans who want to enjoy the iconic Indy 500 experience," he said. "Arriving at this decision was not easy, but still allows for visitors to arrive and the tradition to continue."
He said the decision will be a boon for the city at a time it desperately needs an infusion of visitor spending, after months of being without major sporting events and conventions and a tattered slate of events on the horizon.
He said hosting the Indianapolis 500 even at 50% capacity will help businesses with a boost in revenue and give meeting planners an opportunity to showcase the city to prospective groups. It will also likely mean a boost in tax revenue for the city and state, including the Capital Improvement Board, which operates the Indiana Convention Center and Lucas Oil Stadium.
Patrick Tamm, president of the Indiana Restaurant & Lodging Association, said he too is appreciative of the decision to move forward with fans.
"It's a huge thing for the city, and it's a huge thing for the sport and the community," he said.
Please enable JavaScript to view this content.