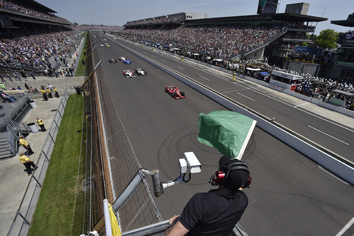 The Indianapolis 500 will run with about 25% of the fans that attend a typical race—and they will be required to wear face masks, Indianapolis Motor Speedway officials announced Tuesday.
Officials said that ticket sales for the Aug. 23 race will not be permitted after Friday, which could further limit the number of people who attend the 104th running of the Indy 500.
The decision to limit the crowd to 25% means the track this year will welcome a maximum of 87,500 people to its nearly 560-acre campus, which has a maximum capacity of about 350,000.
Even with a diminished crowd, it is still expected to be the highest-attended sporting event in the world since the coronavirus pandemic began earlier this year. Most professional sports leagues have strictly limited event capacity or outright suspended fan attendance at their events.
IMS officials said they have prepared a 95-page plan that will provide guidelines and protocols for how the race will be run this year. The plan will be released publicly Wednesday, but officials already said that face coverings will be required for all attendees.
The plan is expected to include seat reassignment to allow for social distancing, the distribution of hand sanitizer, temperature checks and changes to concession stands—including a shift to mostly pre-packaged foods.
IMS and IndyCar leaders have been in contact with local and state officials in recent weeks to ensure the 500-mile race goes ahead with fans.
The decision to further reduce capacity comes roughly a month after IMS officials announced the race would run with stands at 50% capacity. But since then, coronavirus cases have been increasing in Indiana, and both the state and city have slowed plans to reopen the economy. Indianapolis Mayor Joe Hogsett has also imposed a mask mandate.
The race was moved from its original May 24 race date because of the pandemic, but track and IndyCar series owner Roger Penske said in early June the race would only occur with fans in the stands, even if it meant moving it to October.
"In June, we announced the race was on and that attendance would be limited to no more than 50% of capacity," said Penske Entertainment Corp. CEO Mark Miles in a statement on  Tuesday.
"We also made clear we intended to do things differently this year. By offering credits to fans who had previously purchased tickets, encouraging those over 65 to stay at home, limiting attendance in the infield, reducing tickets in our suites and promising fans their decision to not attend would not impact their seniority or right to renew tickets for 2021, we now anticipate attendance at approximately 25 percent of capacity," he said. "We will welcome fans back, and we have an aggressive plan in place, which has been developed through collaboration with national, state and local health experts."
"From a tourism standpoint, we ultimately understand the thoughtful decision that IMS has made to first and foremost protect residents and visitors to the city into the iconic oval," Chris Gahl, vice president of Visit Indy, said. "We know that ultimately, in the long run, this will keep the event healthy. And while there will be short term economic pains by virtue of not having 100% capacity, it is ultimately the right decision and will ensure that generations to come will be able to enjoy the world largest single day sporting event."
Please enable JavaScript to view this content.