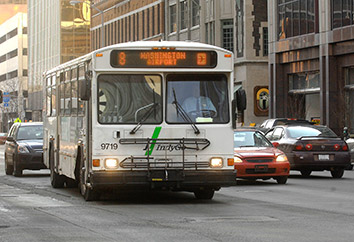 In its ongoing search for additional office and operational space, IndyGo has added two more properties to the list of sites it's considering purchasing.
One of the properties, at 2425 W. Michigan St. in the Haughville neighborhood, includes a 28,800-square-foot office building and one acre of undeveloped land. The building is occupied by IT firm Kinney Group, which has listed the property at $2.7 million and would vacate the site if it's sold.
The other, at 9050 E. 33rd St., is part of the former Celadon Group Inc. campus on the city's east side. The property, which includes a 61,000-square-foot building on a 7.64-acre parcel, formerly served as a trucking school for the now-defunct Celadon. The property is listed at $3.5 million.
At its Sept. 24 meeting, IndyGo's board of directors voted 4-0 to seek two independent appraisals of each site and negotiate a purchase agreement for the properties based on those appraisals. One board member, Richard Harry Wilson Jr., was not present at the meeting.
As a public entity, IndyGo is prohibited from paying more than the appraised value if it acquires real estate. The agency must secure two independent appraisals, and the average of those two appraisals becomes the maximum purchase price.
IndyGo is also considering a third site: the former Celadon corporate offices at 9503 E. 33rd St., which includes three buildings totaling 110,910 square feet on a 10-acre parcel. IndyGo's board voted in August to seek appraisals and negotiate the purchase of that site, which is listed at $4 million.
IndyGo spokeswoman Faith Chadwick told IBJ that the agency is evaluating multiple properties to see which would fit best with the agency's needs, and it is possible that it might purchase more than one property.
IndyGo is seeking additional space because it has outgrown its headquarters at 1501 W. Washington St., just west of the Indianapolis Zoo. The agency's staff and bus fleet have grown in recent years because of the launch of the Red Line and other route changes. The agency has about 900 employees, up from 627 in 2017, and its fleet of 209 buses is expected to grow to 271 once the Purple and Blue lines are built.
Over the last several months, IndyGo has evaluated several other properties that have since been dropped from consideration.
In May, the board voted 4-3 to secure appraisals for the former Harrison College site at 550 E. Washington St. IndyGo later abandoned those plans because several board members expressed concerns that the site would not suit the agency's needs.
In June, the board voted unanimously to secure appraisals for 3049 Post Road, but those plans fell apart when the property's owner decided to lease it to another party.
Please enable JavaScript to view this content.