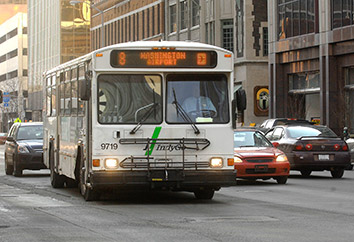 IndyGo on Monday said it would eliminate more than 500 bus stops as part of an effort to make routes more efficient.
The public transit agency said the "bus stop balancing" effort would remove about 15% of the system's stops overall.
"Bus stop balancing is the process of assessing the spacing between existing bus stops and removing stops that are too close together according to the service standards," IndyGo said in a written statement. "This makes bus travel more efficient by decreasing the amount of time a bus spends slowed or stopped at a bus stop."
Of the 3,385 bus stops currently in IndyGo's system, 544 stops will be affected by plan, which includes stops being moved, consolidated with other stops or being removed. There will be 45 new stops as a result of stop consolidations, moves and additions, and a net decrease of 524 stops.
More than 60% of stops slated for removal have fewer than two boardings per day, on average, the agency said.
IndyGo said it would begin posting stickers at affected stops starting Aug. 31. Stop removals and the installation of new stops will begin Sept. 14.
IndyGo said the balancing program would not eliminate any routes. IndyGo had planned to make major route changes this year, but has postponed those changes until next year because of the pandemic.
The agency said its service standards recommend that bus stops along frequent routes should be placed about a quarter-mile apart and that stops along less-frequent routes should be placed between four and six times per mile.
IndyGo said staff considered existing pedestrian infrastructure and accessibility, opportunities to transfer to other routes, land use and zoning, and average daily ridership when deciding which stops to change.
Riders can use an interactive map tool on indygo.net/stopchanges to see which stops will be affected and where new bus stops will be located.
Please enable JavaScript to view this content.