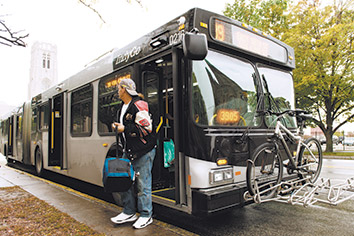 Major IndyGo route changes that were to have gone into effect in June will now be postponed until sometime next year due to the impacts of COVID-19, the transit agency said Thursday.
Pandemic-related staff shortages and other factors are forcing the delay in moving the system's current hub-and-spoke system to a grid network, Indygo says.
As standard practice, IndyGo avoids rolling out major route changes during the winter season. So the delay will last for more than six months, but at this point IndyGo isn't predicting a new start date.
"It's hard to put a timeline on it, to be very honest," IndyGo spokeswoman Lesley Gordon told IBJ. "We just know that this isn't the best time."
One big reason for the delay is that IndyGo doesn't have the number of drivers it will need to cover the new routes. A significant number of its current drivers are out on leave right now, and because of social-distancing requirements, it's not feasible to immediately hire and train new drivers, Gordon said.
Currently, 183 IndyGo employees have been approved for leave related to either COVID-19 illness or to care for children who can't attend school or day care because of pandemic shutdowns. Another dozen or so employees are in the process of seeking approval for such leave.
Gordon said Thursday that she wasn't certain how many of those 183 employees are drivers, but drivers make up more than half of IndyGo's workforce.
The pending route changes will also require more drivers than IndyGo currently employs. The agency currently has 502 drivers, and Gordon said it will need about 580 to cover the increased service hours and more frequent service the route changes will offer.
Another factor in the delay, Gordon said, is that IndyGo is currently operating on a reduced schedule because of low ridership. That change, along with a temporary suspension of fares, went into effect March 29.
For the month of March, IndyGo's ridership dropped 22% as compared with one year earlier. Ridership decreased on all routes, with declines ranging from single-digits to as high as 66%.
The changes will implement a grid system that is meant to give riders more opportunities to transfer between buses without first having to travel to the downtown transit center.
As plans stand now, the changes will include discontinuing service on eight routes and making minor to major changes on most other routes.
The upcoming changes, along with previous system changes over the past few years and the launch of the Red Line last fall are part of IndyGo's ongoing efforts to improve its service network.
Please enable JavaScript to view this content.