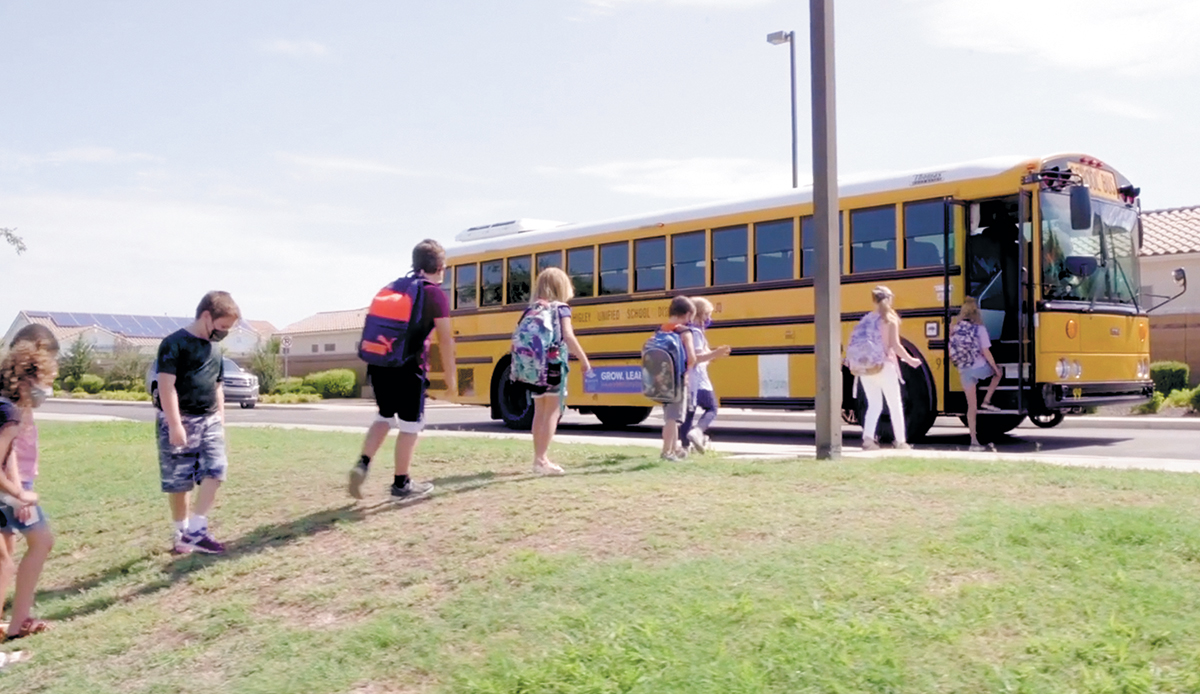 Synovia Solutions has been in the business of making students safer on the school bus for almost two decades.
So it's no surprise the Indianapolis-based maker of bus- and student-tracking hardware and software sprang into action when the pandemic swept across the United States.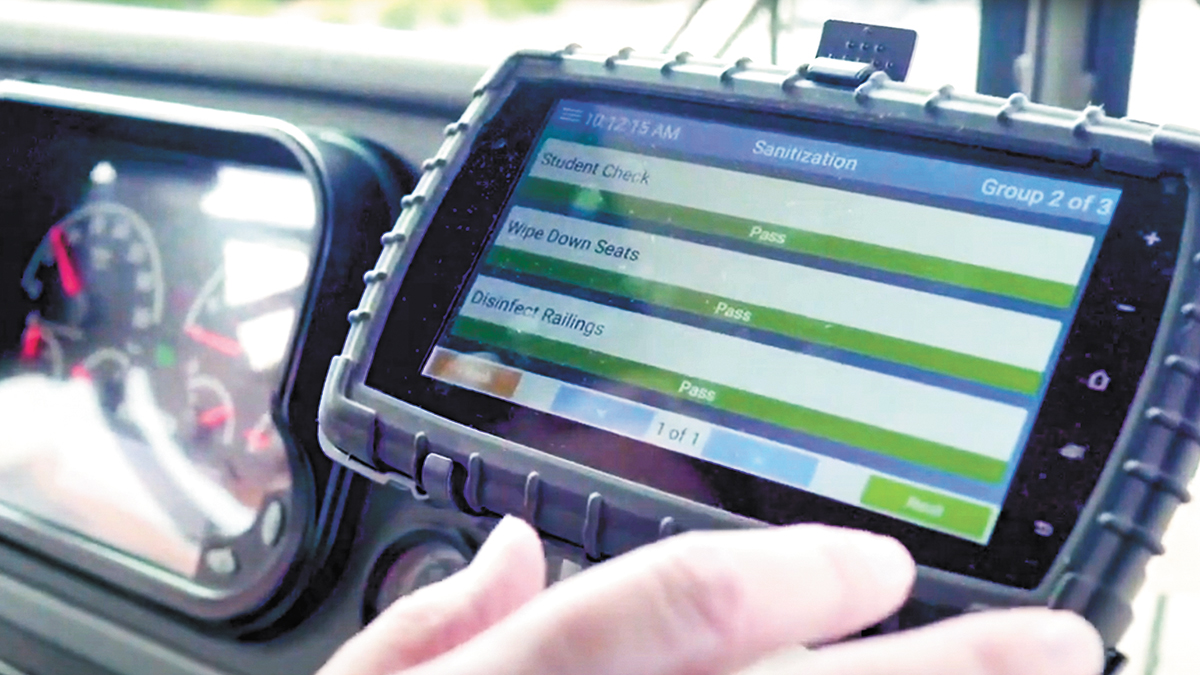 Bus travel is seen as one of the most difficult parts of trying to contain the spread of the highly contagious coronavirus in schools—and yet the return to school depends on it.
Synovia, which was founded in 2001 and acquired by California-based CalAmp for $50 million last year, this spring began working on a new platform—Bus Guardian—that helps with contact tracing and hygiene verification for school buses.
Synovia officials say the offering—launched last month—can have a huge impact for the company, which last year had $31 million in revenue, and for school administrators and parents.
"This technology is major. It's being used by school districts that operate thousands of buses and serve hundreds of thousands of students," said Synovia spokesman Bryan Mitchell. "As more adopt this, it's not unthinkable that it will impact more than a million students."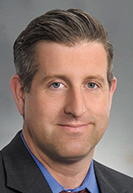 Bus Guardian has three elements: a student tracking system, a driver health check, and a bus hygiene/disinfecting checklist and tracking system.
The software, which was developed on an express schedule by staffers in Indianapolis, is already being widely lauded by Synovia customers—new and old—and has become a major revenue generator for the company.
'Next growth phase'
Synovia was already on a roll coming into this year with its popular app called Here Comes the Bus, which is designed to allow parents and students to track their bus at all times and send alarms to their cell phones or tablets when the bus is close to their home or arriving at school.
Here Comes the Bus' 2014 launch was the company's first business-to-consumer foray. The app was piggybacked on Synovia's bus-tracking GPS system previously marketed to school officials only.
From its founding until 2015, the company's revenue steadily climbed to $15 million. Here Comes the Bus—which one transportation expert called Uber for kids—was so popular with students and parents it caused schools to rush to do business with Synovia like a student one tardy short of suspension running for the bus. By 2018, company revenue hit $30 million.
Now, Mitchell predicts that Bus Guardian will continue to ratchet up revenue at a double-digit annual clip.
"There's every reason to believe we could see growth in revenue approaching what we saw with Here Comes the Bus because Bus Guardian increases the value that much," Mitchell said. "We are looking for this to be part of our next growth phase as society settles into the knowledge that this virus will be with us for a while, and we need a way to manage it moving forward."
Synovia has more than 1,000 customers and is monitoring 120,000 vehicles nationwide. About 250 of its customers so far have adopted Bus Guardian, and company officials said that number is growing fast—through both existing and new customers.
"Schools are absolutely adopting [Synovia's monitoring system] at a much faster rate than in the past," said Brad Bishop, co-founder of Synovia who now serves as CalAmp product director.
And it's getting a push from national exposure. Last week, Bishop and Synovia's Bus Guardian were featured on ABC's "Good Morning America."
"Synovia's product line was an excellent tool prior to COVID, and now with COVID, we are able to seamlessly track and log our additional sanitizing and cleaning schedules," said Josh Crosby, director of transportation for Higley Unified School District in suburban Phoenix. "Additionally, with the scanning of students as they board and de-board the bus, we will be able to provide information helpful for contact tracing to our district nurses if needed."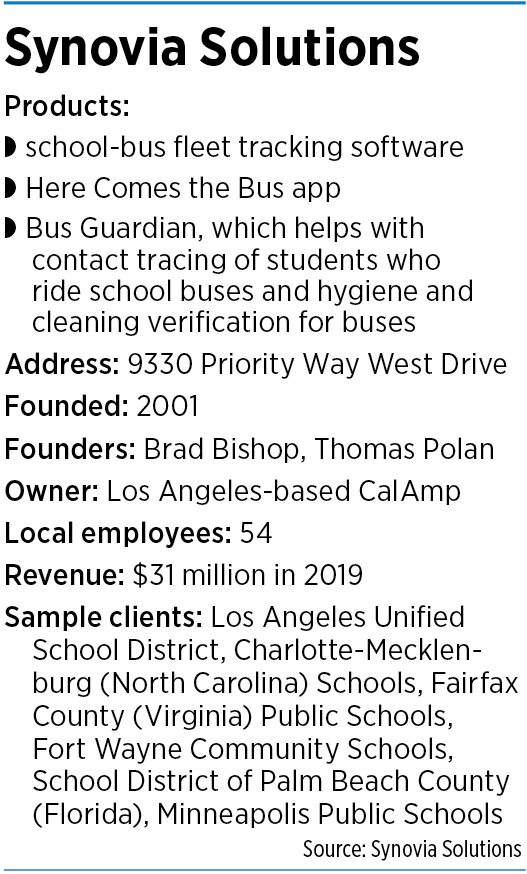 Direction change
The GPS vehicle-tracking market began to grow significantly more than a decade ago, but it was primarily targeted at over-the-road trucks and other commercial vehicles. Only recently has the technology been expanded to schools, where Synovia officials say they have an advantage as an early entrant.
Then this summer, with much of the hardware—such as GPS trackers and monitors and card-swipe systems for bus riders—already in place, Synovia programmers went into overdrive to develop Bus Guardian. The goal was to help transportation and school officials produce reports with the touch of a button that told them when and where each student got on and off the bus, how long each student was on the bus, whom they sat near or next to, which driver drove what bus and which students came in contact with that driver, when and what parts of the bus were cleaned, and other information needed for contact tracing.
Programmers also sought to ensure and chronicle bus sanitization schedules—a function that piggybacked on a system originally designed to monitor bus maintenance schedules.
"The Bus Guardian program shows down to the minute when the bus was disinfected," Mitchell said.
And that wasn't the only technology Synovia was able to apply from its original system to Bus Guardian.
It initially developed its card-scanning technology to help schools determine which routes were needed and which weren't.
"It was really an efficiency tool to see who was riding the bus day-to-day and month-to-month," Mitchell said. But it "didn't have huge demand."
The coronavirus has changed that, he said. "Now it has tremendous demand."
A customer alerted Synovia about the potential windfall.
In May, the School District of Palm Beach County in Florida—which had been a Synovia customer for five years—called the Indianapolis company to order 1,000 tablet-driven bus-monitoring systems.
"They told us they were ordered by the county to do contact tracing" and thought the tablets would work for that, Mitchell said.
A light went on with Synovia executives.
"We sat down and started thinking, 'What else can we do for life in the COVID world?'" he said.
Gearing up
In a matter of eight weeks, Synovia came up with a way to create better reports to use for contact tracing and bus hygiene monitoring. Bus Guardian sales took off almost immediately after the July launch, Mitchell said.
Synovia recently signed a $1 million contract with a school corporation in North Carolina that had been talking to Synovia "for years," he said. "With COVID, it's become a much more urgent thing."
"With a few clicks, school officials can now have the information that would have taken a tremendous amount of work to gather—or would have been almost impossible," he added.
Mitchell credits Synovia programmers and systems developers for getting Bus Guardian ready to roll for this school year.
"Our staff has certainly worked a lot more than usual this summer," Mitchell said. "The deadline was sharp and clear and the need was so great, there was certainly an intensity to this effort. We developed in two months what would typically take a year. We focused more and grinded harder."
The result, Mitchell said, was a system that allows school districts and bus management companies to produce "detailed manifests" like airlines create.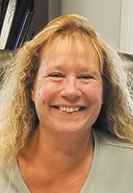 "We've been using the Synovia system for five years and they've continued to build onto and enhance it," said Elisa Schubert, who, as fleet manager for Brightbill Transportation, oversees two school districts in Lebanon County, Pennsylvania. "When they started talking about the need for contact tracing, I thought, 'The system we got from Synovia is tailor-made for this.' So I wasn't surprised at what the Bus Guardian could do."
Schubert, who started in the business as a school bus driver 18 years ago, said she was introduced to Synovia a few years ago by officials at Georgia-based bus maker Blue Bird Corp. "It's one of the best references I've ever gotten," she said.
"Everybody in this school district loves Bus Guardian," Schubert added. "The parents really love it. It gives them a real sense of security with the detail of information they can get."
Schubert said even students have embraced the system—which can check in bus riders using either a school-issued identification card or their cell phone.
"And it's not just tracking the students—which, of course, is so very important—it tracks the drivers and which students they've had contact with," she said. "That's really important because one driver in our system may drive an elementary school, middle school and high school bus. So if a driver gets sick, we can quickly produce … a spreadsheet of every student who rode the driver's bus and for how long.
"This system provides an unparalleled level of security for everyone involved."•
Please enable JavaScript to view this content.