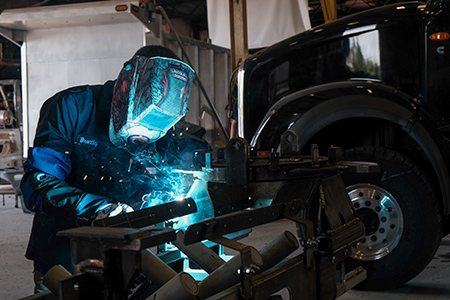 The red-hot economy that dominated 2018 shows signs of slowing, and manufacturers are taking notice.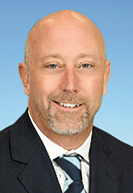 Among Fifth Third Bank's manufacturing customers, "everyone's thinking about when the next potential downturn will be," said Joe Carson, co-head of the bank's diversified industrials practice. Carson, who is based in Cleveland, worked in Indianapolis from 1998 to 2003, and his client base includes Indiana manufacturers.
Whenever the next recession arrives, Carson and others say, the state's manufacturers will be in a hardier position than when the Great Recession hit at the end of 2007. Many have diversified into new products, increased their use of automation and technology, and/or cleaned up their balance sheets.
"Not everyone's done it, but I think a lot are better prepared today to manage [the next recession]," Carson said.
Indiana's manufacturing employment plunged 20% in 2008-2009, from 544,200 at the end of 2007 to 438,400 by the end of 2009. (The state's record high came in 1973, with manufacturing employment of 743,800.)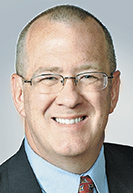 The manufacturing sector is especially vulnerable to economic downturns. In lean times, people buy less stuff.
"They defer the purchase of an automobile, they defer the purchase of a new home, they delay the replacement of a washer and dryer," said Michael Hicks, director of the Center for Business and Economic Research at Ball State University.
It takes time for manufacturers to adjust to those realities, which in past recessions often entailed paring their workforces.
But manufacturers over the last prosperous decade haven't added staff as aggressively as during previous boom times.
In part, that's because automation has become cheaper and more widely available. Many companies have invested in technology upgrades, rather than added manpower, to boost production.
Another factor is that, because of the tight labor market, many firms that wanted to hire have struggled to do so.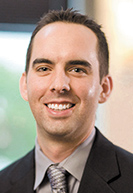 "They've had to figure out how to do more with less," Carson said.
Indiana's unemployment rate has been below 4% since January 2017, and employers—particularly those looking for skilled workers—have struggled to find qualified employees.
"We're not reliant on 'bodies,' across the board, as we were in the past," said Jason Patch, a partner and head of the manufacturing and distribution practice at Indianapolis-based accounting firm Katz Sapper & Miller LLC.
Columbus-based engine-maker Cummins Inc. is already seeing a slowdown in its financial results.
"We operate in a lot of cyclical markets," President Rich Freeland said. "We've had two years of pretty rapid growth. This year, we're looking at pretty flat sales."
Cummins last month reported second-quarter sales of $6.22 billion—compared with $6.13 billion during the same period last year. Even though that's up, analysts had expected sales of $6.36 billion.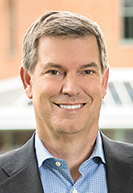 In anticipation of a slowdown, Freeland said, the company began adjusting its workforce strategy about a year ago. It's still replacing workers who retire or leave for other reasons but has stopped adding positions, leaving worldwide employment at about 62,600.
To keep employment in check, Cummins prefers giving workers a lot of overtime rather than add employees. As a result, Freeland said, production workers during boom times might see their weekly hours increase up to 30% for extended periods.
That helps reduce the need for layoffs when production slows.
"We want to really minimize the number of people leaving the company," he said.
Diversifying
Diversification is another way manufacturers can steel themselves against downturns.
If your company serves multiple markets and geographies and sources components from a variety of suppliers, you'll be less vulnerable if one of them hits a slump.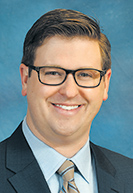 "You want a diversity of customers, diversity of products, diversity of your own suppliers," said Andrew Berger, senior vice president of governmental affairs for the Indiana Manufacturers Association.
Cummins has learned this lesson the hard way, Freeland said.
Until the 1980s, Cummins was focused on the North American truck market. The heavy-duty truck market collapsed three times during that decade, he said. "During several of those years, the company did not make money. We weren't diversified enough."
Since then, Cummins has made a conscious effort to diversify in various ways, looking for markets that appeared poised for growth.
Among those moves: Cummins increased its presence in the emerging markets of India and China, and in 2005, international sales eclipsed U.S. sales for the first time.
The company embraced stricter federal emissions laws, investing in the development of cleaner and more fuel-efficient engines. It introduced its first diesel-electric hybrid buses in 2006, and this year launched its first all-electric powertrains.
Staying nimble
Travis Pettijohn, owner of Gravel Conveyors Inc., still holds painful memories of the Great Recession but says his company should be better positioned for the next downturn.
The Zionsville-based company, which does business as GCI Slingers, makes construction equipment—trucks with devices that can sling gravel, sand, mulch and other materials onto a job site.
In 2008, it was focused exclusively on residential construction. During the recession, the company slashed its staff by nearly two-thirds—operating with as few as 10 people at one point. It closed a satellite office in Phoenix, where the swing from housing boom to bust was among the most dramatic in the nation.
"I think everyone that had been through that slowdown, it's not something you ever forget," Pettijohn said.
Now, business is booming again. The company is on track to generate $10 million in revenue this year, up from $1.5 million when Pettijohn purchased the company five years ago.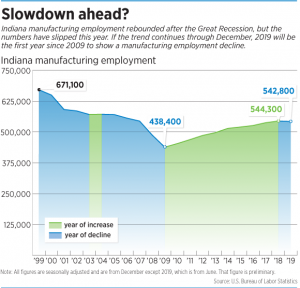 Its workforce stands at 29, up from 21 at the start of the year.
Pettijohn predicted that, when the next downturn hits, the company will be ready.
GCI now outsources much of its manufacturing to other companies, bringing components to Zionsville for final assembly. This means GCI doesn't need to have specialty manufacturing equipment in-house.
"So if a downturn does occur," he said, "we're not stuck with a million-dollar machine that we're making payments on."
GCI also has diversified its products and services. The company has added a trucking fleet for customers that want to hire a driver rather than buy a truck. And it's diversified beyond residential construction, handling everything from schoolyard mulching to highway embankment erosion control.
Pettijohn said he has even more diversification ideas in mind.
"We want to take advantage of every direction that we can go, not limiting ourselves to just one job aspect," he said.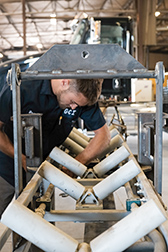 "The more things that we can do here, the more I can make sure that I can keep my team no matter what."
Managing debt
Nothing can bury a company faster during a recession than excessive debt.
The good news is that firms today generally have healthier balance sheets, with lighter debt loads, than they did before the Great Recession, bankers say.
"We're not seeing our clients nearly as levered as they were prior to 2008. I think there's more conservatism in the balance sheets than there was then," said Fifth Third's Carson.
"To the extent that you're not overlevered, you've got a lot more flexibility when things start to go bad."
Erik Miner, commercial banking leader for Regions Bank's Indiana market, is seeing similar dynamics among his clients.
"They have memories from 2008," Miner said. "There's a level of discipline within the industry that didn't exist in 2008."
While some economic indicators remain strong—unemployment was 3.7% nationwide in June and 3.5% in Indiana—others are starting to wobble.
New housing starts have shown year-over-year declines each month this year and, according to the RV Industry Association, sales of recreational vehicles in the first six months of 2019 were down 20% compared with the same period last year.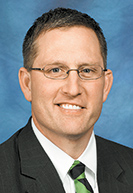 "It's a leading indicator," Hicks said of RV sales. "Once that happens, it starts to hit other places as well."
That slowdown is reverberating through northeastern Indiana, which is home to 80% of global RV production. According to the Recreational Vehicle Association, the industry contributes $32.4 billion to the Indiana economy each year.
Add in recent stock market volatility and uncertainty about international trade—some of it fueled by tariffs imposed by President Trump—and "these warning signs are definitely out there. There's no denying it," said the Indiana Manufacturers Association's Berger.•
Please enable JavaScript to view this content.