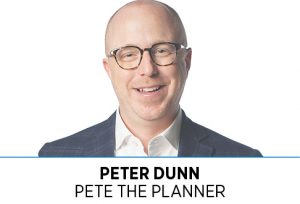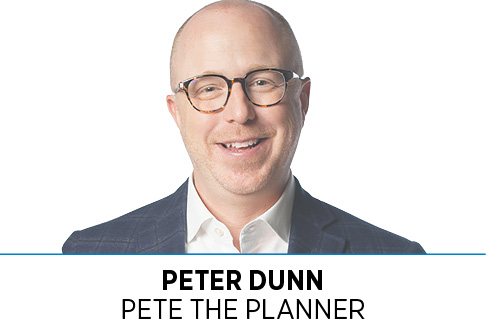 Dear Pete,
My neighbor and I were chatting about finances the other day, and your name came up. We were wondering what you consider to be the most difficult financial task a person must accomplish in their lifetime. He thinks retirement is the biggest and scariest task (absent a pension), and I think navigating long-term-care needs is the biggest and scariest task. Who's right? Thanks!
—Glenn, Fishers
Boy, that's quite the conversation among neighbors. My neighbors and I usually stick to crabgrass and discussions of our favorite roundabouts. But I'll bite. I love your discussion, and if it occurred sometime on a Monday through Friday between the hours of 8 a.m. and 5 p.m., I would have wanted to be part of it.
I hate to be this guy, but I think you're both right. And if you allow me one small qualifier, I have my own idea of a difficult financial task that will absolutely blow yours out of the water.
Your buddy is correct about how complicated long-term-care planning can be. Not only is it filled with a series of logistical challenges that are confusing and seemingly esoteric, but it also involves potentially running out of money "the right way," so you can be taken care of via Medicaid. And don't forget that it's possibly the most emotionally draining exercise a person can go through, whether you're personally experiencing it or you're facilitating the process for a loved one.
Even when you perfectly execute a long-term-care strategy, with the use of long-term-care insurance coverage, it's still gut-wrenching, despite the fact that you might have preserved financial resources. It's the saddest of realities, even in the best of circumstances. Therefore, long-term-care planning is the most difficult financial task from an emotional standpoint.
You are correct about retirement being the most difficult task, based on math alone. If a person doesn't fully accept responsibility for funding a sustainable retirement strategy at the beginning of his or her career, the task becomes increasingly difficult with each passing day. If I didn't know better, I'd think it was a mystic curse from an ancient civilization. It's almost cruel how much your inaction can burden your future self—and in an ever-increasing manner. Let's put it this way: Funding a successful retirement is the most difficult task from a math standpoint. If you start early, it's much easier; too late, and it's a nightmare.
I'd now like to introduce you to my candidate for the most difficult financial task a person must accomplish in a lifetime: decreasing an established lifestyle.
Our incomes are so intertwined with our financial obligations, self-worth, social pressures, and feats of self-care, that it's nearly impossible to unwind these elements when the product of their association is objectively unsustainable or impractical. I guess I could have just written that it's difficult to teach an old dog new tricks, even when the old tricks are hurting them.
The issue is one of tolerance. When we establish a set of decisions and habits that won't lead to a significant level of positive financial certainty, we typically choose to tolerate the inadequacy rather than address it.
And that, in a nutshell, is the essence of the human experience. People would rather get more comfortable with an unsuccessful outcome than deeply reexamine their ability to affect the outcome. Your level of resourcefulness must improve over time, especially if there aren't enough resources to outpace your level of resourcefulness.
Decreasing your financial lifestyle, when you need to, is the most difficult financial task from a behavior standpoint. Why? First, people don't like to admit when they're wrong, particularly when the change might be publicly detected. And like so many vices in our lives, bad can feel good. Good can feel good, too. But for some reason, good takes longer, and we're an instant-gratification culture.
Changing your lifestyle can include anything from moving out of a home you can't afford, to selling a car you can't afford, to removing your children from a school you can't afford. These are all relatively traumatic experiences, and rarely do they seem remotely appealing. Which is exactly why most people don't make the changes they need to make. Instead, we cope, we tolerate, we settle.
So the next time you and your neighbor chat, debate what's most difficult: an emotionally challenging problem, a math-related one, or a behavior-related one. And, by the way, my favorite roundabout is at 106th and Ditch.•
__________
Dunn is CEO of Your Money Line powered by Pete the Planner, an employee-benefit organization focused on solving employees' financial challenges. Email your financial questions to askpete@petetheplanner.com.
Please enable JavaScript to view this content.