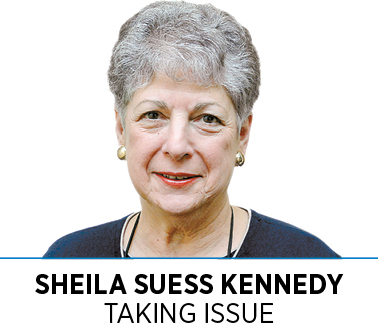 Living through the coronavirus pandemic reminds me—painfully—of the time I read an assigned schoolbook and thought, "This book taught me things I did not wish to know."
It is becoming clear that, in addition to a global pandemic, we will experience a global economic meltdown. As state governments have (inconsistently) stepped up to compensate for the lack of federal leadership, restaurants and bars, gyms and cultural venues have been ordered to close; many will be unable to weather weeks with no income, and will never reopen, vastly changing both individual lives and America's social and cultural landscape.
What lessons will we Americans learn from this current, grim reality?
As one of my friends recently noted, coronavirus would have battered the United States to some extent no matter who was in the White House. But an even minimally competent president would have listened to the warnings of public health experts and followed their recommendations, rather than wasting precious weeks denying the reality of the threat.
A competent president accepting expert advice would not have rejected the World Health Organization's offer of desperately needed test kits or dismantled the global health emergency task force that had been created by the Obama administration. And no other president would lie about the availability of tests and respirators (while incessantly congratulating himself) on a daily basis, requiring his own administration's experts to contradict him.
So—lesson number one: Elections matter. Competent government matters. The character and intelligence of our elected officials matter.
Lesson number two: America is inextricably connected to the rest of the world. Discussions of "global pandemics" and "global economies" should give "America First" xenophobes pause. (It won't, but it should.) We really are all in this together, in a world far too connected for walls, discriminatory travel bans and reflexive hatred of darker "others." Not only are those measures useless and stupid, they inevitably hurt America far more than they hurt those feared "others."
Global cooperation will be absolutely essential, not just to the management of health threats, but also to efforts to mitigate economic damage.
Lesson number three is another take on the fact that we truly are all in this together—and by "this" I don't just mean this particular health crisis or this specific economic threat. We humans are—in far more than the biblical sense—our brother's (and sister's) keeper.
A government that is not structured on recognition of that fact will be unable to mitigate disasters. That recognition doesn't require abandonment of market economics, but it does mean provision of a far more robust and less haphazard social safety net.
As a number of commentators have now pointed out, this pandemic is illuminating the consequences of the grossly inadequate safety net and willfully ineffective political system that together are forcing our most vulnerable workers to bear the brunt of economic and social damage.
The plutocrats who have been enriching themselves through public subsidies and tax cuts while disregarding the precarious state of low-wage workers are going to learn the most unpleasant lesson: When millions of people lose their ability to participate in the marketplace—when they no longer have the means to buy the widgets produced by the plutocrats' factories or to shop for the services and products in which the wealthy have invested—stock portfolios and tax havens won't shelter them from that storm.
The most important lesson to be learned by policymakers and plutocrats alike is that fortunate people are secure only when everyone is secure.•
__________
Kennedy is a professor of law and public policy at the Paul H. O'Neill School of Public and Environmental Affairs at IUPUI.
Please enable JavaScript to view this content.