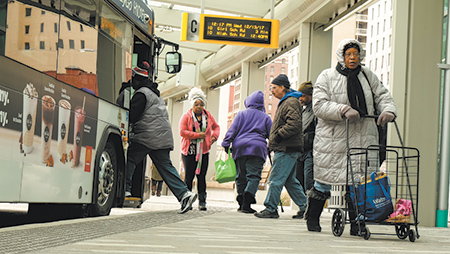 Here's some good news for IndyGo passengers and for worker-starved Indianapolis employers: The Indianapolis Public Transportation Corp. plans to add more night and weekend service on its two busiest routes, plus a handful of others, starting Feb. 11.
Another round of service upgrades will roll out in June, followed by more improvements and route changes in June 2019, when the Red Line rapid transit service is projected to open.
The changes will come about a year sooner than IndyGo originally projected, partly in response to customer demand.

The accelerated schedule is made possible by two finance-related changes to IndyGo's plan: First, the transit system has decided to assume significantly more debt than originally planned, to access more money sooner. Second, it will start leasing new buses rather than buying them, to spread that expense over a longer time frame.
A year ago, when IndyGo was working to convince the Indianapolis City-County Council to approve a 0.25 percent transit tax, the transit system said it would need $80 million in bond proceeds to help fund system improvements.
Now, it says it will need $110 million in bond proceeds. Fees and other bond expenses push the total debt to $124 million.
Originally, IndyGo planned to lean more heavily on general revenue to fund capital improvements. But since the agency now wants to upgrade non-rapid-transit routes a year early, it will need to redirect some general revenue to pay increased operating costs. For example, IndyGo will need more bus drivers to cover the extra hours of service.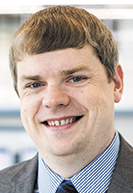 Stuehrenberg
So, the agency will need to borrow more money to pay for those capital improvements, said Justin Stuehrenberg, IndyGo's vice president of planning and capital projects.
IndyGo's 2018-2022 capital plan, which the agency's board approved in December, calls for $510.8 million in capital spending over the next five years. That includes construction of the Red, Purple and Blue bus rapid-transit lines, plus the cost of new buses, facilities and equipment to serve both the BRT and local routes.
But the agency says it's able to handle the additional bonding—and the associated increase in debt service payments—without scaling back improvements.
"We feel very confident that we have the capacity to absorb that debt service," Stuehrenberg said. "We have programmed all of our expected capital expenditures out 20 years, and that expected debt service, and it still comes out that we're OK."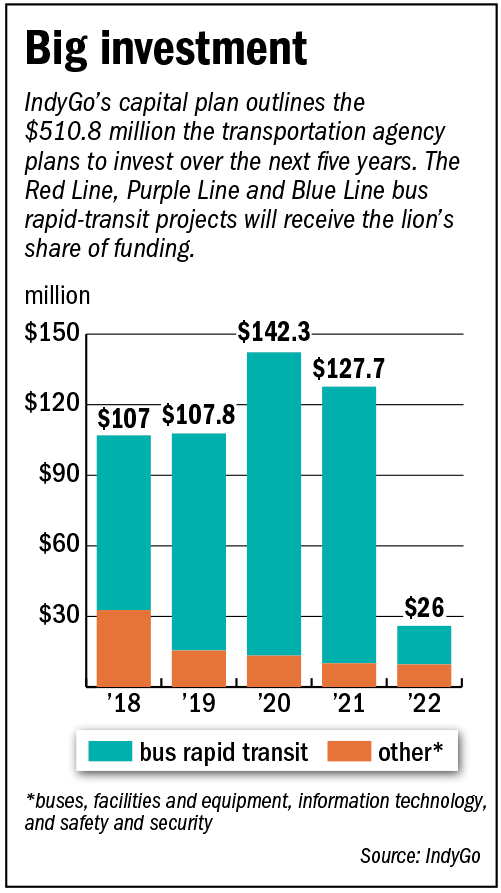 Part of the reason is that IndyGo is changing the way it finances new buses. Until now, IndyGo has purchased buses with cash up front. These purchases add up quickly, considering that each vehicle can cost $800,000 to $1.25 million, depending on size and type.
By 2022, IndyGo plans to replace 56 fixed-route buses.
Under a leasing plan, IndyGo will pay off the vehicles over 12 years, which will reduce upfront costs and improve cash flow. That plan also allows IndyGo to use federal grant money to help pay for buses, which frees up other dollars in later years.
IndyGo officials said a couple of factors, including customer demand, played into the decision to roll out local improvements faster than originally planned.
"As we were doing a lot of outreach to build the plan, people were saying, 'This looks great. Is it happening tomorrow?'" said Bryan Luellen, IndyGo's vice president of public policy.
The improvements that go into effect next month will add more frequent night and weekend service to routes 8 and 39—by far the most heavily used—and 3, 10 and 87.
From January through October 2017, Route 8, which follows Washington Street, accounted for 1.2 million rides. Route 39, which travels Meridian and 38th streets, accounted for 946,000 rides. The two together constituted 29 percent of the network's 7.4 million rides in that period.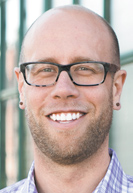 Luellen
Marion County's new transit tax also added some "political reckoning" to the equation, Luellen said.
The 0.25-percentage-point tax increase was authorized by voters in 2016 and approved by the City-County Council last February. Collections began in October, and the tax is expected to generate at least $54 million a year, to be earmarked for transit system improvements.
"We're collecting a new tax. We didn't want to be the agency that is collecting a tax and not showing improvements on the ground today," Luellen said.
Another reason IndyGo is eager to implement improvements: It believes better service will increase ridership, which has been in decline in recent years.
Ridership in the first 10 months of 2017 was down 4.5 percent from the same period a year earlier. And for all of 2016, IndyGo provided 9.2 million rides, down 4.9 percent from 2015.

Luellen said the declines reflect inadequate service.
"The product doesn't meet people's expectations, and so, as other forms of transportation can meet their expectations, that's going to happen," he said. "But our investment in frequent, reliable, all-day service is the response to shrinking ridership."
He declined to project how much ridership might increase with the changes. Such forecasts, he said, are "predictably unpredictable" because other factors—like fuel prices, weather and the economy—also contribute.
But Luellen said Houston is a good example of how service improvements can boost ridership.
That system's ridership declined 19.6 percent from 2007 to 2011, according to the Metropolitan Transit Authority of Harris County (Texas). The system launched two light-rail lines in June 2015 and revamped its service map in August 2015, putting an emphasis on more frequent service seven days a week.
The system saw ridership increase as soon as those changes went into effect.
Transportation planners say service improvements—especially in "premium" types, including bus rapid transit—often do lead to ridership increases.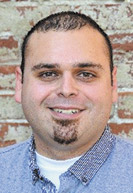 Wertman
Bobby Wertman, principal transportation planner for the Madison County Council of Governments and a Ball State University transportation planning instructor, said IndyGo's planned improvements should help.
Over the past five years, Wertman said, fixed-route bus service has seen an 8.4 percent decrease in ridership across the country. But over the same period, so-called "premium transit" options, including rail and bus rapid transit, have seen ridership increases because "they provide a better, more competitive transportation alternative."
Richard Li, assistant professor of transportation engineering at the University of Louisville, said U.S. transit ridership has declined since 2015.
"This trend is most likely caused by the low gas price over the past few years, which encourages commuters to use personal vehicles," Li said, although transit systems that make major improvements such as adding bus rapid transit "will certainly increase ridership."
But Wertman cautioned that some metro areas have continued to see ridership declines even after adding transit options. Every city has unique qualities, economic factors and travel patterns that make it "very difficult to find a common thread" to predict outcome, he said.•
Please enable JavaScript to view this content.